Entertainment
The Best Pia Zadora Movies

39 votes
17 voters
2.4k views
10 items
List Rules Vote for your favorite movies, regardless of critic reviews or how big the role was.
List of the best Pia Zadora movies, ranked best to worst with movie trailers when available. Pia Zadora's highest grossing movies have received a lot of accolades over the years, earning millions upon millions around the world. The order of these top Pia Zadora movies is decided by how many votes they receive, so only highly rated Pia Zadora movies will be at the top of the list. Pia Zadora has been in a lot of films, so people often debate each other over what the greatest Pia Zadora movie of all time is. If you and a friend are arguing about this then use this list of the most entertaining Pia Zadora films to end the squabble once and for all.
If you think the best Pia Zadora role isn't at the top, then upvote it so it has the chance to become number one. The greatest Pia Zadora performances didn't necessarily come from the best movies, but in most cases they go hand in hand.
Items include everything from Hairspray to Fake-Out.
"This list answers the questions, "What are the best Pia Zadora movies?" and "What are the greatest Pia Zadora roles of all time?"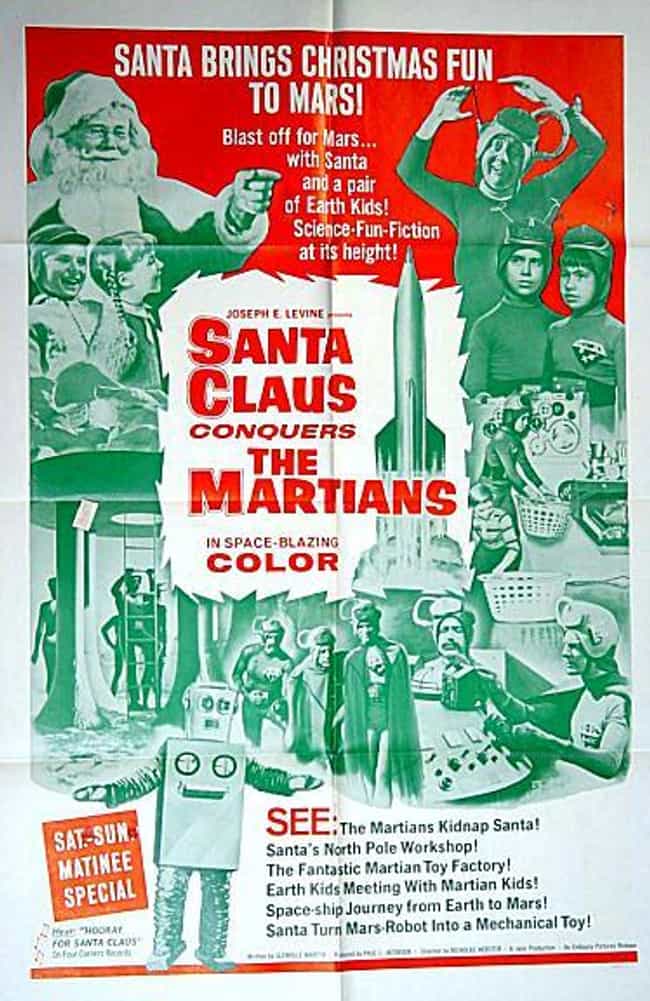 Santa Claus Conquers the Martians is a 1964 science fiction comedy film that regularly appears on lists of the worst films ever made. It is regularly featured in the "bottom 100" list on the Internet Movie Database, and was featured in an episode of the 1986 syndicated series, the Canned Film Festival. It was directed by Nicholas Webster, and it stars John Call as Santa Claus. It also includes an 8-year-old Pia Zadora playing the role of one of the Martian children and also marks the first documented appearance of Mrs. Claus in a motion picture, coming three weeks before the TV special Rudolph the Red-Nosed Reindeer also featured the character. The film took on newfound fame in the 1990s ...more on Wikipedia
Actors: Pia Zadora, Bill McCutcheon, Ned Wertimer, Doris Rich, Josip Elic, + more
Released: 1964
Directed by: Nicholas Webster

Agree or disagree?
see more on Santa Claus Conquers the Martians
Naked Gun 33⅓: The Final Insult is a 1994 comedy film, the third and final film in the Naked Gun series, which was based on the Police Squad! television series. It was marketed with the tagline: "Mostly All New Jokes." The "33⅓" of the title is a reference to the speed at which long playing phonograph records play. The film was originally going to be titled Naked Gun 33⅓: Just for the Record, but was changed after the studio felt not many understood the joke. It was also going to be called "The Naked Gun III: The Final Insult", according to some Christmas 1993 video previews. Leslie Nielsen returns as Lieutenant Frank Drebin, along with Priscilla Presley as Jane Spencer Drebin, O. J. Simpson ...more on Wikipedia
Actors: O. J. Simpson, Raquel Welch, Anna Nicole Smith, Leslie Nielsen, Priscilla Presley, + more
Released: 1994
Directed by: Peter Segal
Agree or disagree?
see more on Naked Gun 33⅓: The Final Insult
Hairspray is a 1988 American romantic musical comedy film written and directed by John Waters, and starring Ricki Lake, Divine, Debbie Harry, Sonny Bono, Jerry Stiller, Leslie Ann Powers, Colleen Fitzpatrick, and Michael St. Gerard. Hairspray was a dramatic departure from Waters' earlier works, with a much broader intended audience. In fact, Hairspray '​s PG is the mildest rating a Waters film has received; most of his previous films were rated X by the MPAA. Set in 1962 Baltimore, Maryland, the film revolves around self-proclaimed "pleasantly plump" teenager Tracy Turnblad as she pursues stardom as a dancer on a local TV show and rallies against racial segregation. Hairspray was only a ...more on Wikipedia
Actors: Debbie Harry, Jerry Stiller, John Waters, Sonny Bono, Divine, + more
Released: 1988
Directed by: John Waters
Agree or disagree?
see more on Hairspray
Mother Goose: Rock 'n' Rhyme is a 1990 American musical television film that aired on the Disney Channel starring Shelley Duvall as Little Bo Peep and Dan Gilroy as Gordon Goose, the son of Mother Goose along with a star-studded supporting cast of various other actors and musicians portraying a wide range of characters, mostly of Mother Goose nursery rhyme fame. It was released for the first time on VHS in March 1998 with the help of Lyrick Studios. ...more on Wikipedia
Actors: Cyndi Lauper, Debbie Harry, Woody Harrelson, Paul Simon, Little Richard, + more
Released: 1990
Directed by: Jeff Stein
Agree or disagree?
see more on Mother Goose Rock 'n' Rhyme