Entertainment
The Best Rachel Bilson Movies

136 votes
49 voters
7.7k views
7 items
List Rules Vote for your favorite movies, regardless of critic reviews or how big the role was.
List of the best Rachel Bilson movies, ranked best to worst with movie trailers when available. Rachel Bilson's highest grossing movies have received a lot of accolades over the years, earning millions upon millions around the world. The order of these top Rachel Bilson movies is decided by how many votes they receive, so only highly rated Rachel Bilson movies will be at the top of the list. Rachel Bilson has been in a lot of films, so people often debate each other over what the greatest Rachel Bilson movie of all time is. If you and a friend are arguing about this then use this list of the most entertaining Rachel Bilson films to end the squabble once and for all.
If you think the best Rachel Bilson role isn't at the top, then upvote it so it has the chance to become number one. The greatest Rachel Bilson performances didn't necessarily come from the best movies, but in most cases they go hand in hand.
List contains films like The Last Kiss, Waiting for Forever.
"This list answers the questions, "What are the best Rachel Bilson movies?" and "What are the greatest Rachel Bilson roles of all time?"
Movie fans who love Rachel Bilson have also been known to enjoy films starring Britt Robertson and Malin
Jumper is a 2008 American science fiction film directed by Doug Liman, loosely based on the 1992 science fiction novel of the same name written by Steven Gould. The film is directed by Doug Liman and stars Hayden Christensen, Jamie Bell, Samuel L. Jackson, Rachel Bilson, Max Thieriot, AnnaSophia Robb, and Diane Lane. The script went through a rewrite prior to filming and the roles for the main characters were changed during production. Jumper was filmed in 20 cities in 14 countries between 2006-07. ...more on Wikipedia
Actors: Kristen Stewart, Rachel Bilson, Samuel L. Jackson, Diane Lane, Hayden Christensen, + more
Released: 2008
Directed by: Doug Liman
Agree or disagree?
see more on Jumper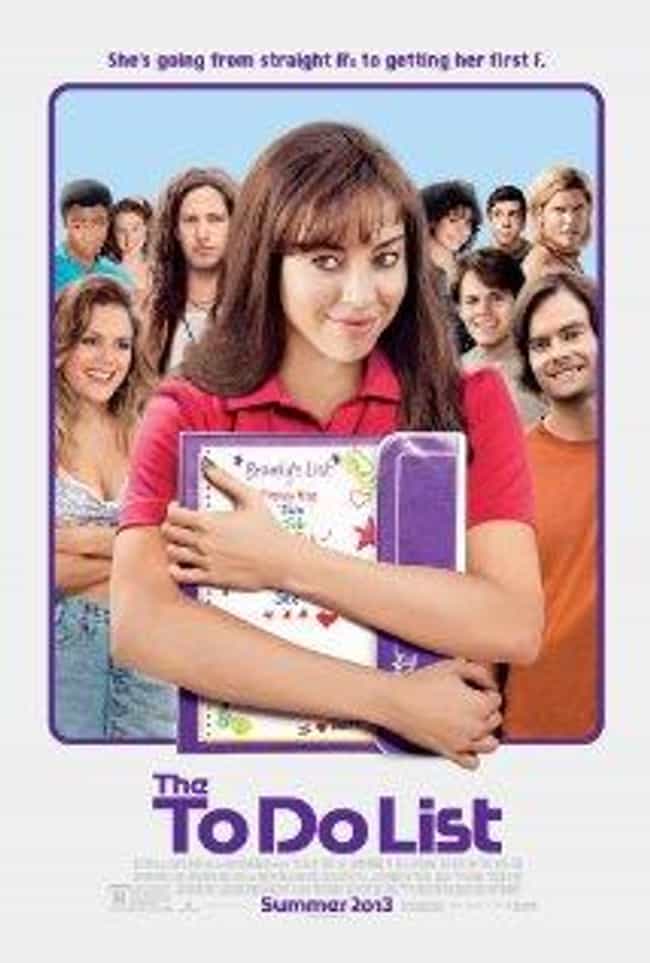 The To Do List is a 2013 American comedy film, released on July 26, 2013. Written and directed by Maggie Carey in her feature film directorial debut, the film stars Aubrey Plaza, Christopher Mintz-Plasse, and Rachel Bilson. The film is about a recent high school graduate, who feels she needs to have more sexual experiences before she starts college. ...more on Wikipedia
Actors: Rachel Bilson, Aubrey Plaza, Connie Britton, Donald Glover, Bill Hader, + more
Released: 2013
Directed by: Maggie Carey

Agree or disagree?
L!fe Happens is a 2011 comedy film written by Kat Cairo and Krysten Ritter, and directed by Kat Cairo. ...more on Wikipedia
Actors: Rachel Bilson, Kate Bosworth, Krysten Ritter, Lauren Conrad, Jason Biggs, + more
Released: 2011
Directed by: Katherine Cunningham-Eves
Agree or disagree?
see more on L!fe Happens
Waiting for Forever is a 2010 American romance film directed by James Keach, starring Rachel Bilson and Tom Sturridge. The film had a limited theatrical release beginning February 4, 2011. It was shot in Salt Lake City and Ogden, Utah. ...more on Wikipedia
Actors: Rachel Bilson, Jaime King, Blythe Danner, Richard Jenkins, Matthew Davis, + more
Released: 2010
Directed by: James Keach
Agree or disagree?
see more on Waiting for Forever