Entertainment
The Best Radhika Pandit Movies

277 votes
80 voters
6.7k views
10 items
List Rules Vote for your favorite movies, regardless of critic reviews or how big the role was.
List of the best Radhika Pandit movies, ranked best to worst with movie trailers when available. Radhika Pandit's highest grossing movies have received a lot of accolades over the years, earning millions upon millions around the world. The order of these top Radhika Pandit movies is decided by how many votes they receive, so only highly rated Radhika Pandit movies will be at the top of the list. Radhika Pandit has been in a lot of films, so people often debate each other over what the greatest Radhika Pandit movie of all time is. If you and a friend are arguing about this then use this list of the most entertaining Radhika Pandit films to end the squabble once and for all.
If you think the best Radhika Pandit role isn't at the top, then upvote it so it has the chance to become number one. The greatest Radhika Pandit performances didn't necessarily come from the best movies, but in most cases they go hand in hand.
You can rank all of these films, from Gaana Bajaana to Olave Jeevana Lekkachaara.
"This list answers the questions, "What are the best Radhika Pandit movies?" and "What are the greatest Radhika Pandit roles of all time?"
If you're a fan of Radhika Pandit, then check out our lists of the best Aindrita Ray and Ramya movies as well.
Addhuri is a 2012 Kannada romantic film starring Dhruva Sarja, in his debut, and Radhika Pandit in the lead roles. The story, screenplay, dialogues and direction are by A. P. Arjun of the Kannada movie Ambaari fame. V. Harikrishna is the music director of the film. Keerthi Swamy of Maryland, U S A and Shankar Reddy of Bengaluru have produced the venture. Soorya S Kiran of "Dildaara" fame is the Cinematographer. The film made its theatrical release across Karnataka screens on 15 June 2012. The stunts are handled by Ravi Verma. In one of the scenes Dhruva Sarja jumped from 65 feet height and done all stunts without dupes. ...more on Wikipedia
Actors: Radhika Pandit, Nagathihalli Chandrashekar, Tarun Chandra, Dhruva Sarja, Tabla Nani, + more
Released: 2012
Directed by: A. P. Arjun
Agree or disagree?
Drama is a 2012 Indian Kannada romantic comedy thriller written, directed and co-produced by Yogaraj Bhat under the banner Yogaraj Movies and Jayanna Combines. It stars Yash, Radhika Pandit, Sathish Ninasam and Sindhu Lokanath in leading roles and Ambareesh in an extended cameo appearance. Music for the film was scored by V. Harikrishna while lyrics for the soundtrack were written by the successful combination of Jayanth Kaikini and Yogaraj Bhat. Krishna was roped in as the cinematographer for the film, who had previously worked with Bhat in the massively successful film, Mungaru Male. ...more on Wikipedia
Actors: Ambareesh, R. Sarathkumar, Radhika Pandit, Sampath, Malavika Avinash, + more
Released: 2012
Directed by: Yogaraj Bhat
Agree or disagree?
Hudugaru is a 2011 Kannada-language drama film directed by Maadesh, starring Puneet Rajkumar, Yogesh, Srinagar Kitty and Radhika Pandit in the lead roles. The film, which is a remake of the successful 2010 Tamil film Naadodigal, was produced by Parvathamma Rajkumar, with V. Harikrishna having composed the soundtrack and Satya Hegde was the cinematographer. The film released on 5 May 2011 and performed well at the box office similar to Puneeth's previous film Jackie. The film earned Puneeth Rajkumar Filmfare Best Actor Award in Kannada. ...more on Wikipedia
Actors: Puneeth Rajkumar, Radhika Pandit, Rangayana Raghu, Sadhu Kokila, Yogesh, + more
Released: 2011
Directed by: K. Madesha
Agree or disagree?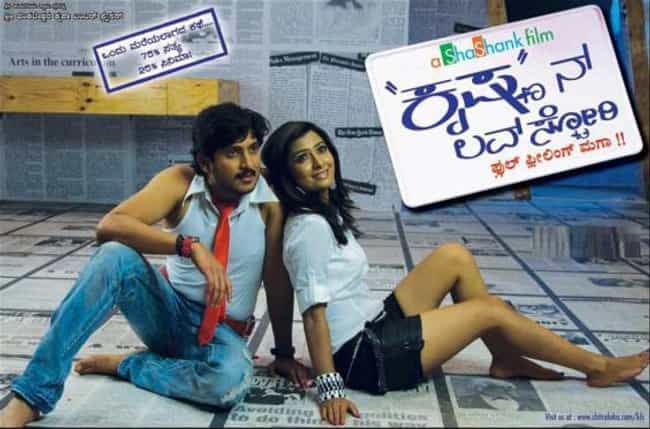 Krishnan Love Story is a 2010 Indian Kannada language action drama film written and directed by Shashank, and starring Ajay Rao, Radhika Pandit, Umashri, Achuth Kumar, Sharan, Pradeep, Harsha, Chandra. The music of this film is composed by Sridhar V. Sambhram. ...more on Wikipedia
Actors: Radhika Pandit, Umashri, Ajay Rao, Sharan, Achyuth Rao, + more
Released: 2010
Directed by: Shashank
Agree or disagree?