Entertainment
The 12 Greatest Robert De Niro Co-Star Performances

1.9k votes
895 voters
11.7k views
12 items
List Rules Vote up the best performances by any of Robert De Niro's co-stars. Only one per actor, sorry Pesci in 'Raging Bull' (and 'Casino').
Audiences across the world agree Robert De Niro is one of the greatest actors to ever grace the silver screen. As fun as it is to watch him dish out a tasty monologue or walk in slow motion to the Rolling Stones, it's just as captivating to watch De Niro play off an equally spectacular actor. Classic Robert De Niro costars like Harvey Keitel and Ray Liotta have appeared in some of the greatest scenes ever, but these are obvious choices. Some of the best Robert De Niro costar performances come from actors you may not associate with De Niro's filmography. Yes, the best Robert De Niro costars are the actors who know how to let De Niro do his thing without hampering their own pristine talents.
De Niro has appeared alongside some of cinema's greatest talents. Despite this, there haven't been many actors who can go toe-to-toe with this God of the silver screen and improve a scene, rather than looking like a kid from a high school play who wandered into the wrong role (Daniel Day-Lewis has this same effect). Whether he's appearing in a gritty '70s gangster film or a comedy about old people working in an office filled with millennials, De Niro brings something special to the screen, not just through his own work, but by offering co-stars a chance to shine. Vote up the best performances by any of Robert De Niro's co-stars, and then go get your shine box.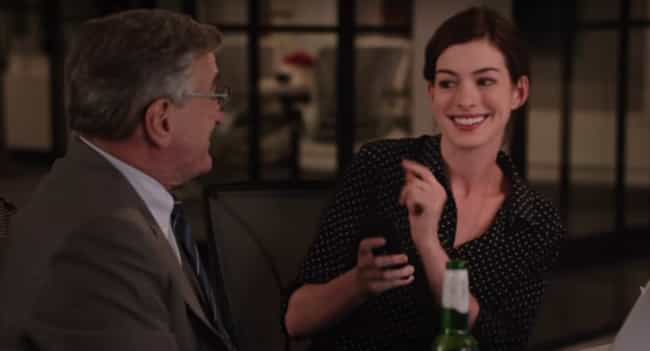 The Intern should not have been as good as it was. Everything about it lulls you into believing it's going to be a Lifetime movie with a big budget, but the moment De Niro and Hathaway are on screen together, this movie takes off like a rocket. Their chemistry even makes a scene about signing an old man up for Facebook pop. Seriously, Hathaway somehow makes the line, "I just knew that a woman with a glass of wine and a laptop had real shopping potential" work perfectly.

Agree or disagree?
see more on Anne Hathaway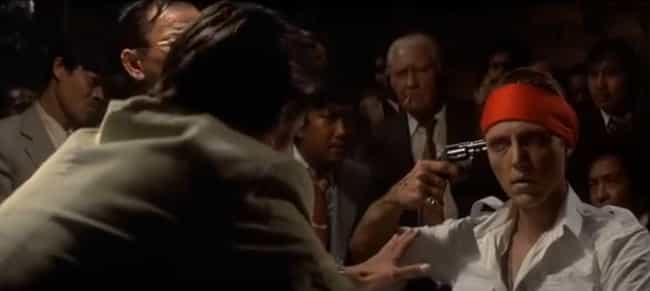 The Deer Hunter is one of the most emotionally draining, socially important movies of the 1970s. It stars Robert De Niro and Christopher Walken as a pair of friends whose lives are completely destroyed by the Vietnam War. Even if you haven't seen the film, you know about its famous, nerve-wracking Russian roulette scene, a metaphor for the war and its wasted generation, in which Walken's heartbreaking mental collapse is the perfect compliment to De Niro's deranged bravado.
The scene recurs much later, after Walken's character, suffering from extreme PTSD, has abandoned life, and De Niro goes looking for him. The scene reiterates the metaphor of Russian roulette as the war - at random, one lives, one survives.

Agree or disagree?
see more on Christopher Walken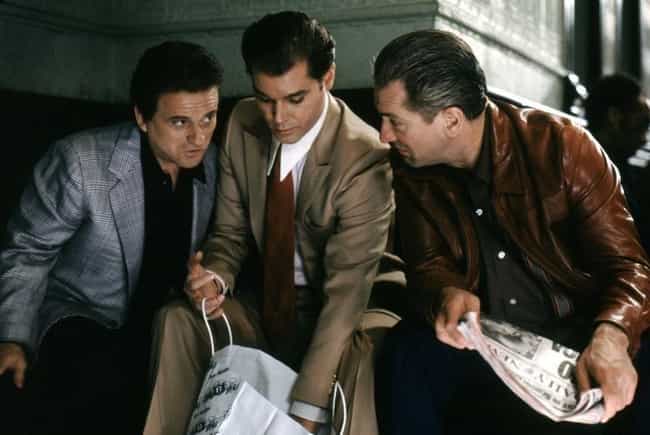 Joe Pesci has an uncanny ability to go from warm and magnetic to cold and repulsive on a dime, and be totally convincing at both. Perhaps his greatest master class in sociopathic behavior comes in Goodfellas, in which he steals the movie from star Ray Liotta, and threatens to out perform De Niro. The talents of all three are on fine display in a scene in which Pesci gets insulted at a bar by a fellow mafioso, and De Niro, at his poker-faced best, and Liotta, young and hungry for violence and loyalty, intervene.
That said, if you only ever watch one scene with from Goodfellas or featuring Pesci, make sure it's this one: "What do you mean I'm funny? Funny how? Funny like I'm a clown? I amuse you?"

Agree or disagree?
see more on Joe Pesci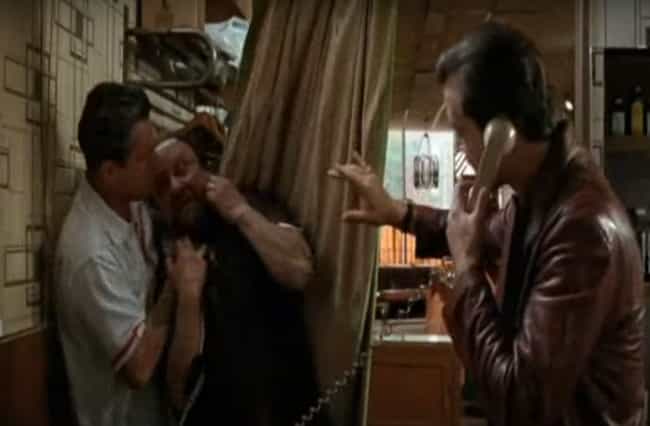 Goodfellas isn't just the story of notorious mob rat Henry Hill (Ray Liotta), it's about a community of people trying to gain a foothold on their version of the American dream in Long Island, NY. Hill follows Jimmy the Gent (De Niro) as he rises through the underworld, but never really has to the stomach to take care of business the way Jimmy does. One of the greatest moments in the film involves Liotta watching De Niro choke a business owner who owes money, with a mixture of delight and fear.
There's also a great scene of De Niro, Pesci, and Liotta having dinner with Pesci's character's mother, which highlights Liotta and De Niro's bond - both are ultimately outsiders in their world, as they aren't full Italian, and don't speak the language.

Agree or disagree?
see more on Ray Liotta