Entertainment
The Best Episodes from Season 44 of Saturday Night Live

899 votes
185 voters
5.8k views
21 items
List Rules Vote up the overall best episodes, considering the quality of sketches, musical guest, and surprise appearances.
All Saturday Night Live Season 44 episodes, ranked by fans of the long-running NBC sketch comedy series and maybe Ariana Grande too, who knows! Her former guy pal Pete Davidson remains one of the best current SNL cast members, an essential part of the new 2018-19 season. Alongside Kate McKinnon, Colin Jost, Leslie Jones, and the rest of the gang, Saturday Night Live's fourth decade continues to bring the late night laughs.
With musical guests like the controversial Kanye West, BTS's first SNL appearance, and hosts like Adam Sandler (making his 20+ year return to the show), Awkwafina, John Mulaney, Kit Harrington, and Matt Damon, this list of new SNL episodes has all the info on sketches, performances, impressions, and surprise cold open guests. Whether you think the series is past its prime or entering a new era of comedy gold, vote up the top Season 44 SNL episodes below.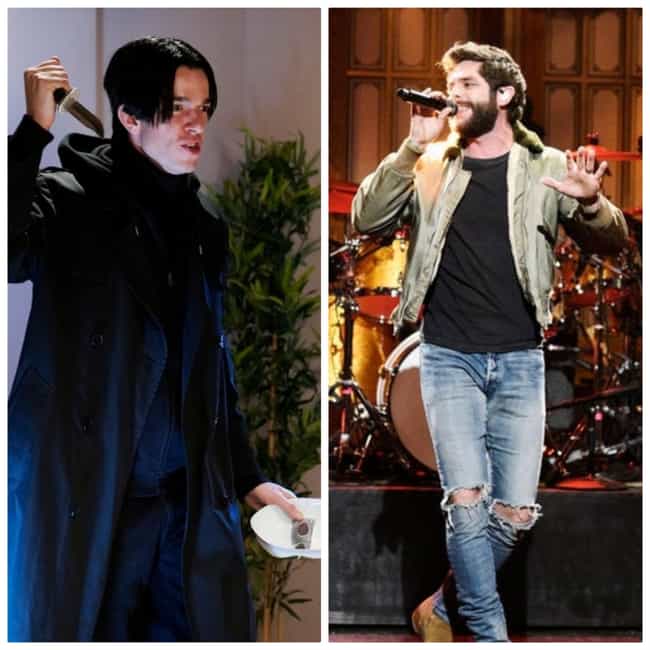 Ep. 14 - John Mulaney / Thomas Rhett
Date: March 2, 2019
Who Said "Live from New York": Ben Stiller as Michael Cohen.
Monologue: The time Petunia met Woody Allen, the male and female voices on the New York Subway, and what is up with the new police sirens.
Notable Sketches: What's That Name?, Toilet Death Ejector digital short, Shark Tank: Legal Edition, Chad Horror Movie, meat farmers Vaneta and Wylene Starkie on Weekend Update, Bodega of Love.
Surprise Guests: Bill Hader as Jim Jordan and Vince Blake, Ben Stiller as Michael Cohen.
Thomas Rhett Performed: "Look What God Gave Her" and "Don't Threaten Me with a Good Time"

Was this a great episode?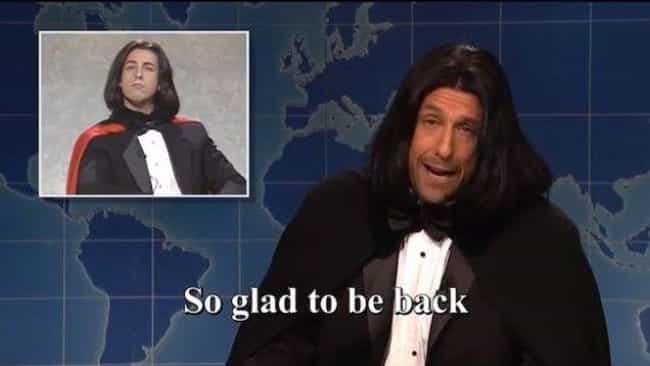 Ep. 19 - Adam Sandler / Shawn Mendes
Date: May 4, 2019
Who Said "Live from New York": Cold open cast
Monologue: Adam got fired song.
Notable Sketches: Avengers / Game of Thrones Family Feud, Clothes Are Holes digital short, Romano Tours, Sandler Family Reunion, Rectix digital short, Opera Man on Weekend Update, Last Call with Adam, Kate, and Kristen, Chris Farley song.
Surprise Guests: Chris Rock as himself, Kristen Wiig as Adam's mom and Melba Letzmantoast, Jimmy Fallon as Adam's dad.
Shawn Mendes Performed: "If I Can't Have You" and "In My Blood"

Was this a great episode?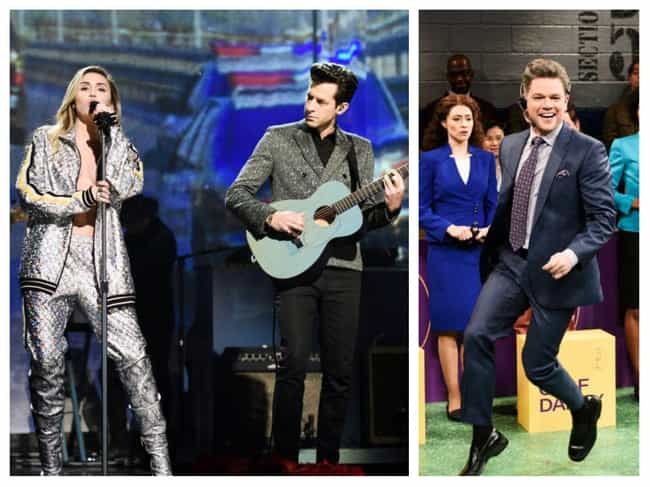 Ep. 9 - Matt Damon / Miley Cyrus and Mark Ronson
Date: December 15, 2018 (the Christmas episode)
Who Said "Live from New York": Cold open cast
Monologue: Matt expresses love and gratitude for SNL and memories of his father.
Notable Sketches: The Westminster Daddy Show, Best Christmas Ever digital short, Oscar Host Screen Tests digital short, the ornaments from the back of the tree, "Happy Christmas, Britain" with Teresa May, Weezer fans argue over dinner, Che and Jost give each other jokes to read for Christmas, Jingle Bells at the Carnegie Lounge.
Surprise Guests: Ben Stiller as Michael Cohen, Alec Baldwin as Donald Trump and the boss at the bar, Robert De Niro as Robert Mueller
Miley and Mark Ronson Performed: "Nothing Breaks Like a Heart: and "(Happy Xmas) War Is Over" featuring Sean Ono

Was this a great episode?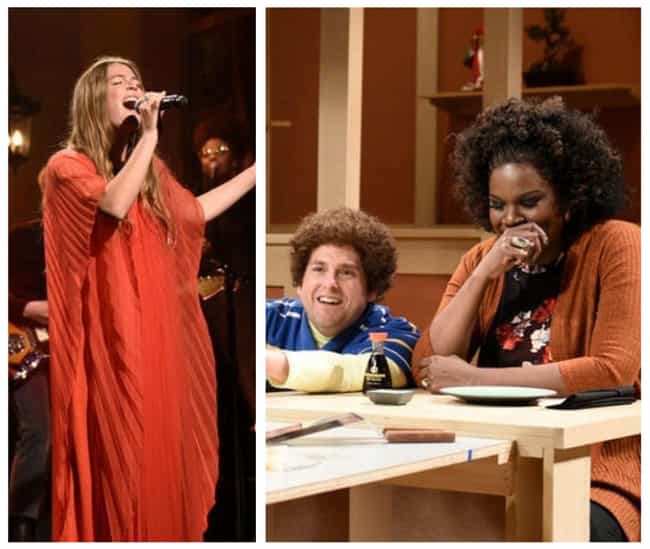 Ep. 4 - Jonah Hill / Maggie Rogers
Date: November 3, 2018
Who Said "Live From New York": Kate McKinnon as Laura Ingraham
Monologue: Jonah is welcomed into the Five Timers' Club by Tina, Candice, and Drew
Notable Sketches: Adam Grossman has dinner at Benihana, Pete Davidson addresses his breakup with Ariana Grande during Weekend Update, Every Teen Girl Murder Suspect From Law and Order on Weekend Update, "Divided We Stand" political musical digital short, Teacher Fell Down, Pug Wigs
Surprise Guests: Tina Fey, Candice Bergen, and Drew Barrymore as themselves.
Maggie Rogers Performed: "Light" and "Fallingwater"

Was this a great episode?