Film

The Best Scott Terra Movies

13 votes
5 voters
1.5k views
9 items
Follow
List Rules Vote for your favorite movies, regardless of critic reviews or how big the role was.
List of the best Scott Terra movies, ranked best to worst with movie trailers when available. Scott Terra's highest grossing movies have received a lot of accolades over the years, earning millions upon millions around the world. The order of these top Scott Terra movies is decided by how many votes they receive, so only highly rated Scott Terra movies will be at the top of the list. Scott Terra has been in a lot of films, so people often debate each other over what the greatest Scott Terra movie of all time is. If you and a friend are arguing about this then use this list of the most entertaining Scott Terra films to end the squabble once and for all.
If you think the best Scott Terra role isn't at the top, then upvote it so it has the chance to become number one. The greatest Scott Terra performances didn't necessarily come from the best movies, but in most cases they go hand in hand.
Items include everything from The Sons of Mistletoe to Going Home.
"This list answers the questions, "What are the best Scott Terra movies?" and "What are the greatest Scott Terra roles of all time?"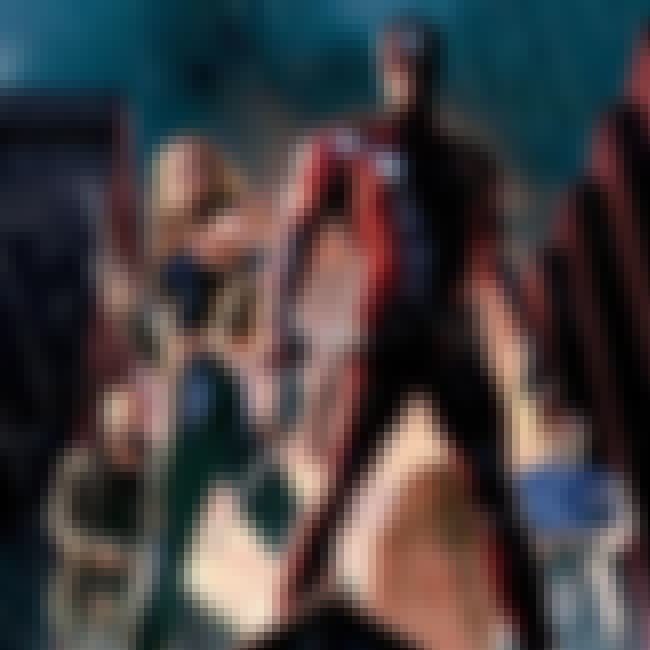 Daredevil is a 2003 American neo-noir superhero film written and directed by Mark Steven Johnson. Based on the Marvel Comics character of the same name, the film stars Ben Affleck as Matt Murdock, a blind lawyer who fights for justice in the courtroom and out of the courtroom as the masked vigilante Daredevil. Jennifer Garner plays his love interest Elektra Natchios; Colin Farrell plays the merciless assassin Bullseye; David Keith plays Jack "The Devil" Murdock, a washed up fighter who is Matt's father; and Michael Clarke Duncan plays Wilson Fisk, also known as the crime lord Kingpin. The film began development in 1997 at 20th Century Fox and Columbia Pictures, before New Regency acquired ...more on Wikipedia
Actors: Jennifer Garner, Ben Affleck, Colin Farrell, Ellen Pompeo, Stan Lee, + more
Initial Release: 2003
Directed by: Mark Steven Johnson
Also Ranked
#77 on The Best Superhero Movies Ever Made
#66 on The Greatest Comic Book Movies of All Time
#26 on Superheroes You'd Like to See Played by Actors of Different Races

Agree or disagree?
see more on Daredevil
Motocrossed! is a 2001 Disney Channel Original Movie about a girl named Andrea Carson who loves motocross, despite the fact that her father finds her unsuited for the sport, being that she is "just a girl". When her twin brother Andrew dislocates his knee just before a big race, their father is forced to go to Europe to find a replacement rider. In the meantime, Andrea secretly races in Andrew's place with her mother's help. The movie is a loose adaptation of William Shakespeare's Twelfth Night. ...more on Wikipedia
Actors: Riley Smith, Mary-Margaret Humes, Alana Austin, Trever O'Brien, Scott Terra
Initial Release: 2001
Directed by: Steve Boyum
Also Ranked
#18 on The Best Disney Channel Original Movies of All Time
Agree or disagree?
see more on Motocrossed
Dickie Roberts: Former Child Star is a 2003 American comedy film directed by Sam Weisman and starring David Spade and Mary McCormack. Spade portrays a child actor who fell into obscurity as an adult, and who attempts to revive his career. The film was a marginal financial success, but critical reviews were mostly negative. ...more on Wikipedia
Actors: Alyssa Milano, Dustin Diamond, Brendan Fraser, Corey Feldman, David Spade, + more
Initial Release: 2003
Directed by: Sam Weisman
Also Ranked
#42 on The Best and Worst of Adam Sandler
Agree or disagree?
see more on Dickie Roberts: Former Child Star
Eight Legged Freaks is a 2002 American horror-comedy film directed by Ellory Elkayem and stars David Arquette, Kari Wührer, Scott Terra, and Scarlett Johansson. The plot concerns a collection of spiders that are exposed to toxic waste, causing them to grow to gigantic proportions and begin killing and harvesting. The film was dedicated to the memory of several people: one was Pilar Seurat, the mother of producer Dean Devlin, who died of lung cancer the previous year, another was Lewis Arquette, father of the star of the film David Arquette, who had died in 2001 from heart failure. ...more on Wikipedia
Actors: Scarlett Johansson, David Arquette, Kari Wührer, Matt Czuchry, Tom Noonan, + more
Initial Release: 2002
Directed by: Ellory Elkayem
Also Ranked
#19 on The Scariest Animal Movies Ever Made
#35 on The Scariest Giant Monster Movies
#2 on Movies That Have Spiders In Them
Agree or disagree?
see more on Eight Legged Freaks