Culture
The Best of William Shakespeare's Sonnets

691 votes
266 voters
14.8k views
20 items
List Rules Vote up the best of William Shakespeare's sonnets
Which are the best of Shakespeare's sonnets? This list includes the best of The Bard's 154 sonnets. These are all poems that deal with love, beauty, the passage of time, and mortality. It is likely these touchy subjects that continue to drive our fascination with Shakespeare's sonnets, as they are still popular today.

Shakespeare's sonnets almost all follow the same structure. The consist of three quatrains of four line stanza, and a final couplet written in iambic pentameter. The rhyme scheme Shakespeare used for his sonnets was: abab cdcd efef gg. Though a few sonnets are exceptions to this rule (99, 126, 145) most of the sonnets are strictly "Shakespearean."

The sonnets were first published in 1609 by Thomas thorpe, though it remains unknown as to whether the manuscript Thorpe used was authorized or not.

Vote up the best of William Shakespeare's sonnets below or add your favorite Shakespearean sonnet, if it isn't already on the list.
Ranker may collect a commission from links on this page.
back to page 1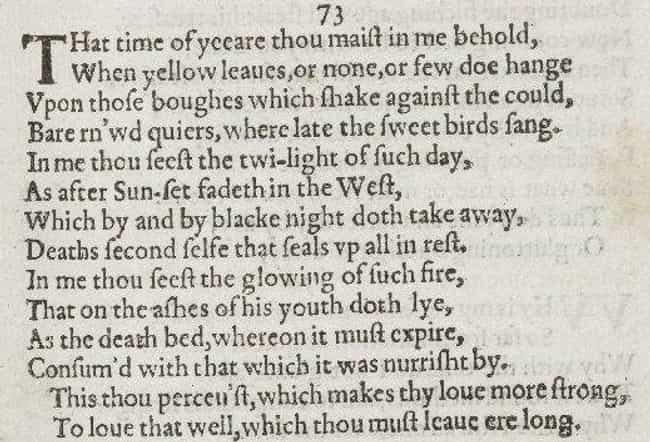 When yellow leaves, or none, or few, do hang
Upon those boughs which shake against the cold,
Bare ruined choirs, where late the sweet birds sang.
In me thou see'st the twilight of such day
As after sunset fadeth in the west;
Which by and by black night doth take away,
Death's second self, that seals up all in rest.
In me thou see'st the glowing of such fire,
That on the ashes of his youth doth lie,
As the death-bed, whereon it must expire,
Consumed with that which it was nourish'd by.
This thou perceiv'st, which makes thy love more strong,
To love that well, which thou must leave ere long.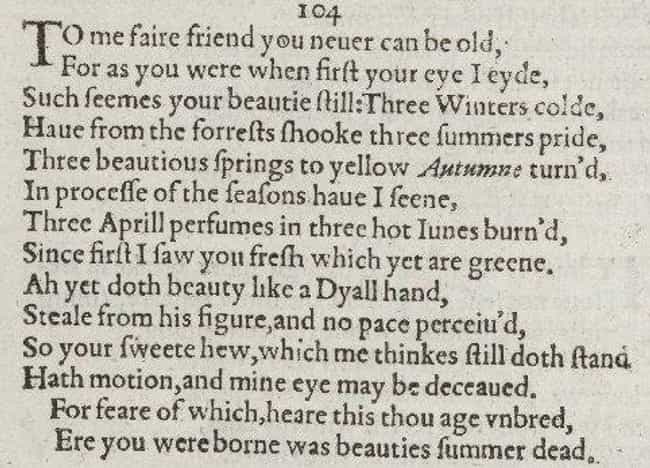 For as you were when first your eye I ey'd,
Such seems your beauty still. Three winters cold,
Have from the forests shook three summers' pride,
Three beauteous springs to yellow autumn turned,
In process of the seasons have I seen,
Three April perfumes in three hot Junes burned,
Since first I saw you fresh, which yet are green.
Ah! yet doth beauty like a dial-hand,
Steal from his figure, and no pace perceived;
So your sweet hue, which methinks still doth stand,
Hath motion, and mine eye may be deceived:
For fear of which, hear this thou age unbred:
Ere you were born was beauty's summer dead.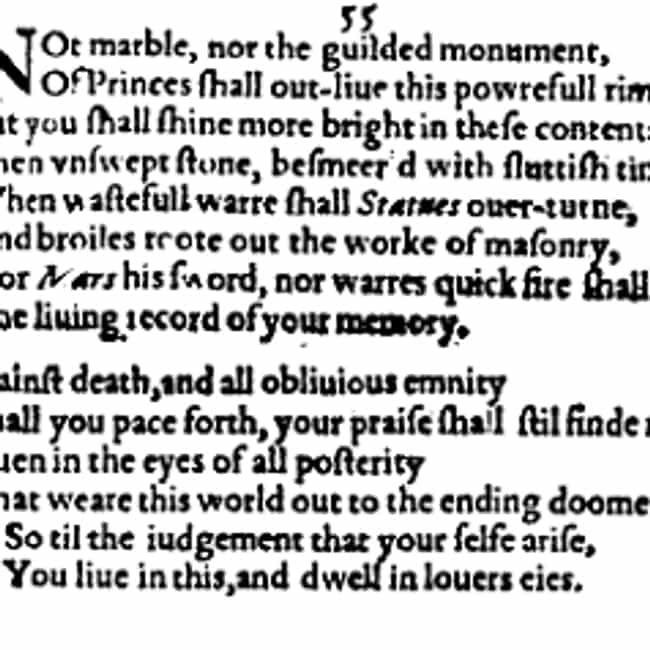 Of princes, shall outlive this powerful rhyme;
But you shall shine more bright in these contents
Than unswept stone, besmear'd with sluttish time.
When wasteful war shall statues overturn,
And broils root out the work of masonry,
Nor Mars his sword, nor war's quick fire shall burn
The living record of your memory.
'Gainst death, and all oblivious enmity
Shall you pace forth; your praise shall still find room
Even in the eyes of all posterity
That wear this world out to the ending doom.
So, till the judgment that yourself arise,
You live in this, and dwell in lovers' eyes.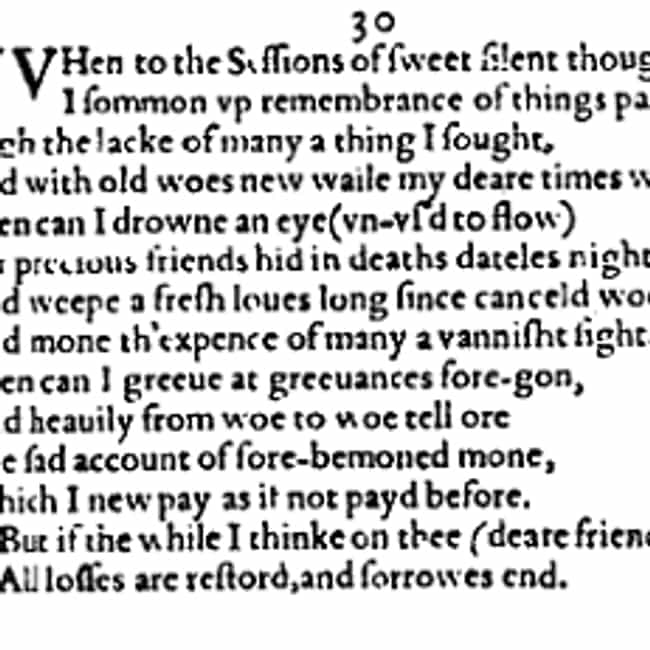 I summon up remembrance of things past,
I sigh the lack of many a thing I sought,
And with old woes new wail my dear time's waste:
Then can I drown an eye, unused to flow,
For precious friends hid in death's dateless night,
And weep afresh love's long since cancelled woe,
And moan the expense of many a vanished sight:
Then can I grieve at grievances foregone,
And heavily from woe to woe tell o'er
The sad account of fore-bemoaned moan,
Which I new pay as if not paid before.
But if the while I think on thee, dear friend,
All losses are restor'd and sorrows end.