Total Nerd
The Best Star Wars Board Games Out Right Now

94 votes
20 voters
11 items
List Rules Vote up the Star Wars board games that have you feeling the Force while playing.
The best Star Wars board games out right now give you a chance to relive the magic of the movies and experience conflicts that could have been. Star Wars Rebellion gives 2 to 4 players the chance to play out every permutation of the original trilogies. Each Star Wars board game lets you explore the dark or light side of the Force as you can choose to either play as the Rebels or the Empire. Choose wisely as you embark on your adventure in Star Wars Destiny, Star Wars X-Wing Miniatures Game, or Star Wars Armada. Want a more in depth Star Wars board game? Look for the Star Wars Legion table top game where you build and paint your own miniatures allowing you to create a Star Wars army however you see fit!
If you are looking for a less intensive game be sure to try out the Han Solo Card Game or Star Wars: Empire vs Rebellion. Both are fast paced card games that allow you to capture the spirit of Star Wars when time is tight. Star Wars: Destiny is also a great fast paced Star Wars card and dice game that lets you create "what if" conflicts between your favorite heroes, villains and smugglers from the Star Wars galaxy.
Vote up the Star Wars board game you like to play the most and look for the one you want to try next!
Players: 2-4
Ages: 14+
Over 150 classic miniatures from the

Star Wars

saga.
Replay the conflicts from the original trilogy.
Play as either the Rebels or the Empire.
Expansions: Rise of the Empire
Price: $89.95
Players: 2
Ages: 14+
1-2 hours to complete a game.
Experience infantry conflicts from the

Star Wars

universe.
Command Rebel or Imperial forces.
Enter battle with memorable heroes from

Star Wars

like Luke Skywalker and Darth Vader.
Core set comes with 33 plastic miniatures.
Expansions: 74-Z Speeder Bikes Unit, Stormtroopers Unit, AT-ST Unit, General Veers Commander, Snowtroopers Unit, E-Web Heavy Blaster Team, Boba Fett, Scout Troopers Unit, Emperor Palpatine, Imperial Royal Guards Unit, Imperial Specialists Personnel, AT-RT Unit, Rebel Troopers Unit, T-47 Airspeeder, Leia Organa Commander, Fleet Troopers Unit, 1.4 FD Laser Cannon Team Unit, Han Solo Commander, Rebel Commandos Unit, Rebel Specialists Personnel, Chewbacca Operative, Wookie Warriors Unit, Rebel Pathfinders Unit, Priority Supplies Battlefield, Barricades Pack
Price: $70.97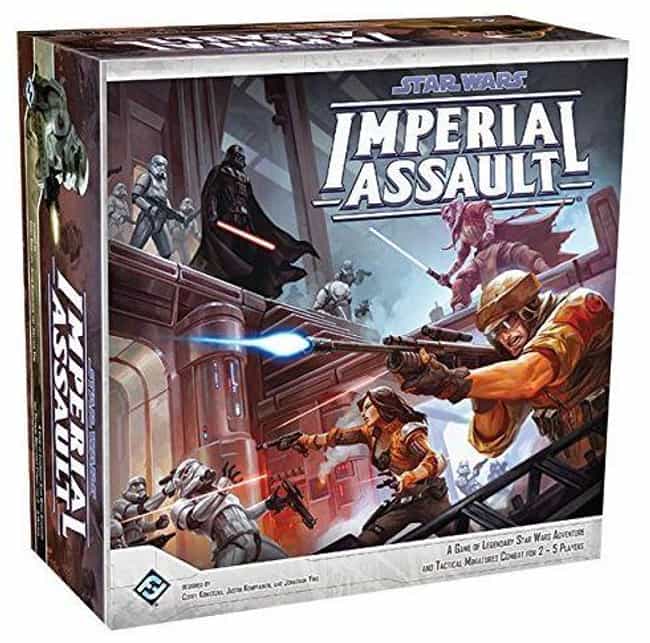 Players: 1-5
Ages: 14+
1-2 hours to complete a game.
Features campaign and skirmish mode.
Play as either a hero of the Rebellion or command the vast armies of the Empire.
Includes 34 plastic miniatures.
Expansions: Twin Shadows, Return to Hoth, The Bespin Gambit, Jabba's Realm, Heart of the Empire, Tyrants of Lothal.
Price: $89.95
Players: 3-5
Ages: 14+
The beginner game comes with everything you need to jump into a

Star Wars

style role playing game.
Pre-generated character folios.
Custom dice.
Complete stand alone game.
Great for role players of all skill levels.
Expansions: Beyond the Rim, The Jewel of Yavin, Mask of the Pirate Queen
Core set price: $16.99