Entertainment
The Best Steampunk Anime

Updated October 8, 2019
1.5k votes
607 voters
58.9k views
17 items
List Rules Vote up the best steampunk anime.
Grab your goggles and gloves! This is a list of the best steampunk anime, voted on by Ranker's anime community. This may not be the most popular genre of Japanese animation, but all of these shows are worth checking out if you're looking for something new to watch. Although the Full Metal Alchemist series isn't exactly a "steampunk" anime, it does have certain steampunk elements that allowed it to make this list. This poll includes video clips of each show, so if you haven't seen one you can watch it right here on this page. The shows that are listed may have different sub-genres, but they're all considered steampunk in one way or another.
This list has a variety of anime, including Steamboy and Steam Detectives. What is the greatest steampunk anime of all time? Scroll down and find out for yourself! Then check out our list of the best steampunk movies.
Fullmetal Alchemist: Brotherhood is an anime adaptation of the Fullmetal Alchemist manga by Hiromu Arakawa. Developed by Bones, the series is directed by Yasuhiro Irie and written by Hiroshi Ōnogi. Fullmetal Alchemist: Brotherhood is the second anime television series based on Fullmetal Alchemist, the first being 2003's Fullmetal Alchemist, and unlike its predecessor it directly follows the events of the manga. It was first announced in the manga series' 20th tankōbon volume. In Japan, it is differentiated from the 2003 series by the inclusion of the English language title, and is sometimes abbreviated as Hagane no Renkinjutsushi FA. The series premiered on April 5, 2009 on MBS-TBS' Sunday ...more on Wikipedia
Is this one of the best?
Fullmetal Alchemist is a Japanese manga series written and illustrated by Hiromu Arakawa. It was serialized in Square Enix's Monthly Shōnen Gangan magazine between August 2001 and June 2010; the publisher later collected the individual chapters into twenty-seven tankōbon volumes. The world of Fullmetal Alchemist is styled after the European Industrial Revolution. Set in a fictional universe in which alchemy is one of the most advanced scientific techniques, the story follows the Elric brothers Edward and Alphonse, who are searching for a philosopher's stone to restore their bodies after a failed attempt to bring their mother back to life using alchemy. The manga was published in English by ...more on Wikipedia
Is this one of the best?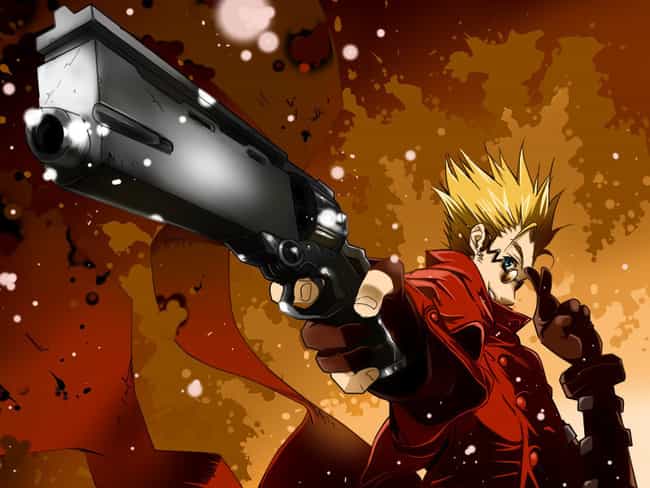 Trigun is a Japanese manga series written and illustrated by Yasuhiro Nightow. Both manga were adapted into an anime television series in 1998. Trigun revolves around a man known as "Vash the Stampede" and two Bernardelli Insurance Society employees, Meryl Stryfe and Milly Thompson, who follow him around in order to minimize the damages inevitably caused by his appearance. Most of the damage attributed to Vash is actually caused by bounty hunters in pursuit of the sixty billion double dollar bounty on Vash's head for the destruction of the city of July. ...more on Wikipedia

Is this one of the best?
Steamboy is a 2004 Japanese steampunk animated action film produced by Sunrise, directed and co-written by Katsuhiro Otomo, his second major anime release, following Akira. The film was released in Japan on July 17, 2004. Steamboy is one of the most expensive Japanese animated movies made to date. Additionally, the film was in production for ten years and utilized more than 180,000 drawings and 440 CG cuts. ...more on Wikipedia
Is this one of the best?