Total Nerd The Best Superhero Toy Lines

2k votes
397 voters
28.6k views
15 items
List Rules Vote up your favorite line of toys.
Action figures: whether they broke and were left for dead in the sandbox, or were kept in mint condition a dusty shelf, you definitely had your favorites. Here, Ranker Comics has listed the top action figure toy lines based on comic book characters for you to rank your favorites! We grew up with these icons in our toy boxes and they lined our shelves - they were even going to make us rich someday (they didn't). Heck, they even impressed us when they made that perfect version of our favorite characters!
This list goes back as far as the 1970s and is reflective of the change in cultural perception of action figures, the burgeoning collectors market as well as cost-saving reductions made during finical crisis. Yes, comic books are a mirror of the times we live in and so are their action figures! We got tall ones, short ones, cheap ones, expensive ones - even Cycle Thruster Batman!
So pull up a long box and dig through that $5 Rubbermaid bin - It's time Ranker Comics took you on ball-jointed journey through the great moments in superhero action figure collecting!
Ranker may collect a commission from links on this page. Prices & inventory are accurate as of publish date.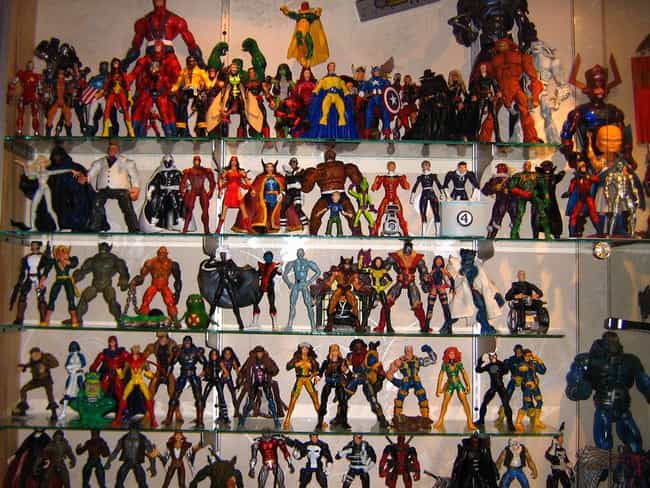 Marvel Legends started in 2002 as a spinoff of the popular Spider-Man Classics figure line. The first wave included Marvel staples like Captain America, Hulk, Iron Man, and Toad (how the heck did he get in there?!). The figures came packaged in the same durable clamshell packages that McFarlane toys had come in and also featured a heavily detailed base for the figure to stand on and a comic book. In short, they were the full package for both kids and collectors.
The line would continue and branch out into two packs and six packs. The line also featured rare "chase" figures that might have included an alternate paint deco or head sculpt which only increased their popularity with collectors. The most notable feature of the early
Marvel Legends
figures is the insane amount of articulation. It was as if Xzibit put articulation on top of the articulation. These figures'
toes
even
moved! In some cases, however, this was actually a detriment to the figures, as it would cause them to look mangled and they'd have hard time holding a pose (remember how Elektra always looked like she was looking up?).

Is this one of the best?
Marvel had Marvel Legends, but DC Comics had DC Universe Classics. DC awarded the license to Mattel in 2007 and the sculpting studio Four Horsemen Studios sculpted the entire line, which drew inspiration from the Super Powers line from all those years ago.
The line pretty much covered every major and minor DC Comics character in existence at the time and also several rare convention-exclusive figures.
DC Universe Classics
also replicated every single figure featured in the Super Powers toy line down to the last detail and then some! Instead of the larger characters, like Bane or Gorilla Grood, being shrunk to fit the six inch scale, a collect-and-connect piece was included with the figures in each wave so that, once completed, would build a much larger figure that was in a more realistic scale to the other figures. The action figures also featured a restrained amount of articulation that encouraged posing and playing but did not take away from the sculpt or the ability for the figure to stand on its own.

Is this one of the best?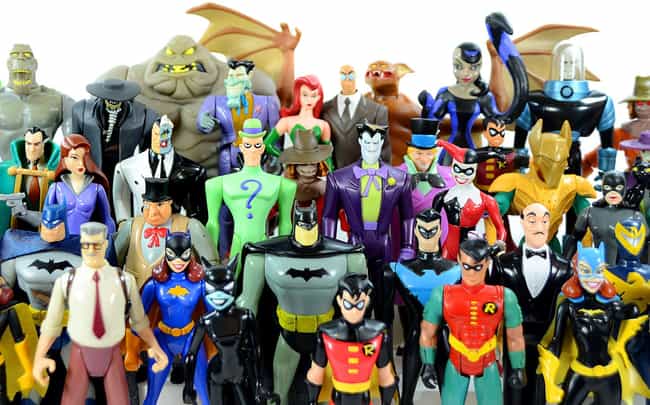 When the 1992 Batman: The Animated Series debuted, a toy line that quickly followed. This Kenner toy line was leaps and bounds ahead of the poor quality Toy Biz figures that were produced following the 1989 Batman line. The figures were also a great physical representation of Bruce Timm's character designs for the series which is notable, given the relatively poor interpretations of the comic art in Marvel's toy lines.
However, points are docked for the constant slew of Batman variants that were offered. A simple change in the paint deco and a rocket pack and you got yourself a brand new Batman figure! These variants clogged the line and eventually led to its demise after 1994.
Anyone who's anyone knows Batman doesn't need a rocket launcher strapped to his head to fight crime.

Is this one of the best?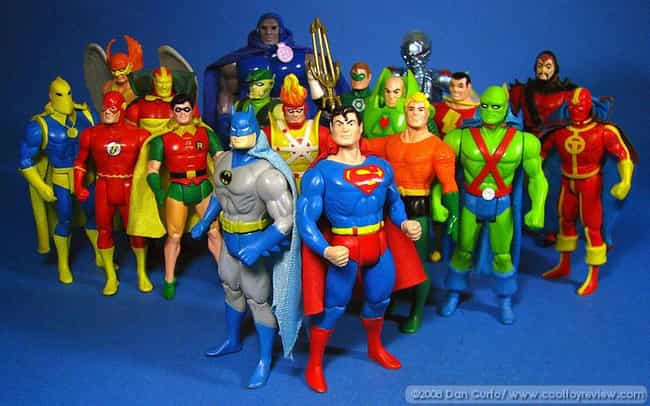 In 1984, DC awarded the toy license for their characters to Kenner (makers of the insanely popular Star Wars toys) in order to compete with Mattel's He-Man toy line. The line featured the all-stars of DC Comics and even included many of Jack Kirby's New Gods characters as enemies.
Each figure had its own "super power" that moved the figure's legs or arms when the joints were squeezed. The line is most important for its impact on other DC licensed products that would also carry the name Super Powers (cups, shirts, watches, etc) as well as the now landmar, artwork of
José Luis García-López. Unfortunately, this line ended in 1986, after three product lines.

Is this one of the best?