Anime Underground
The 13 Best Supernatural Romance Anime

7.7k votes
1.9k voters
37k views
13 items
Sometimes, it's not enough for anime characters to fall in love in an everyday setting. Sometimes, you want a little more excitement than what can be found in the real world - but without sacrificing the romance. One way to get that is through supernatural romance anime, a subgenre that combines all kinds of monsters, demons, and magic with love.
This list will give you a handful of great shows to try out if you haven't already. It includes classics like Inuyasha and Fushigi Yugi, two anime about a girl who is transported into a magical version of the past and finds true love there, as well as more modern shows like The Ancient Magus' Bride and Rascal Does Not Dream Of Bunny Girl Senpai. If you love romance anime with demons, werewolves, mages, and more, you're sure to find something on this list that suits your taste.
back to page 1
Your Name is one of the most famous anime movies in recent history, so if you're a supernatural romance fan who has somehow missed it, you should definitely add it to your to-watch list. The movie follows Taki and Mitsuha, two teenagers who find themselves swapping bodies despite having never met before. As they live each other's lives, they get to know each other and start communicating through messages that they leave for one another. Just as they're starting to truly care for each other, Taki realizes that the two of them aren't in the same timeline - and that in his timeline, Mitsuha's entire town was wiped out by a meteor. To save her, he'll have to transcend time and space - but how?

Does this sound interesting?
see more on Your Name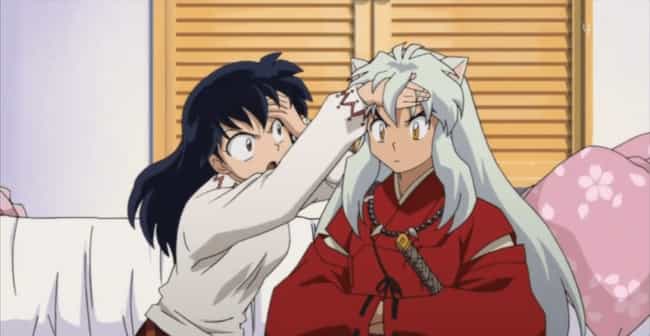 For many anime fans, Inuyasha is one of the first anime of any kind they've ever come across, as well as their first introduction to supernatural romance. The story follows Kagome, a teenage girl whose life changes dramatically when she falls down a well near her family's shrine and is thrust backward in time into the Sengoku period of Japan. During her travels, the wish-granting Shikon jewel is reborn inside of her, but it shatters during a fight. With the help of a half-demon named Inuyasha - who she will ultimately fall in love with - Kagome sets out to find and reassemble the jewel shards.

Does this sound interesting?
see more on InuYasha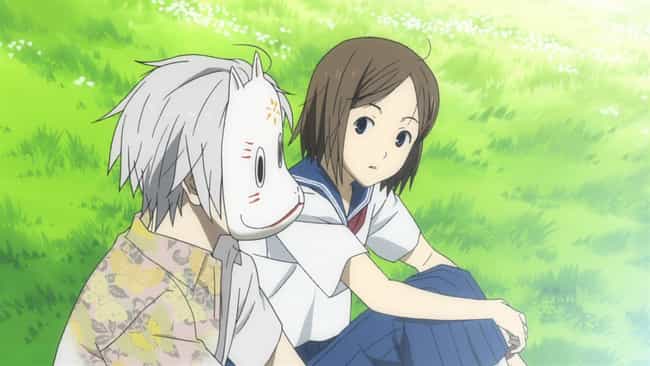 Hotarubi no Mori e features one of the most touching and tragic romances in anime history - and what makes it so sad are the supernatural elements. While lost in the forest near her uncle's house, six-year-old Hotaru happens across Gin, a spirit who seems human, but who always wears a peculiar mask. Over the years, Hotaru revisits her strange forest friend - and as she gets older, the two of them begin to fall in love. The problem is that Gin can't actually touch a human being, or he'll disappear, rendering it nearly impossible for them to truly express their feelings.

Does this sound interesting?
see more on Hotarubi no Mori e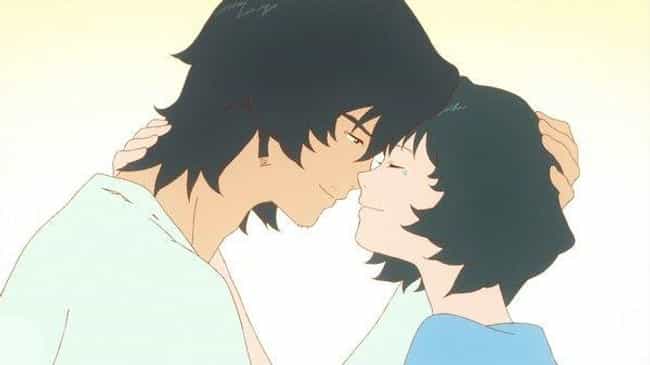 Hana is an ordinary college student whose life changes forever when she meets a werewolf. The two quickly fall in love despite their differences and resolve to spend their lives together. They have two children together and lead a life that's happy, if a little out of the ordinary. But their peaceful existence is disrupted by an accident that leaves Hana a widow. While the primary focus of the story is Hana's struggle to raise her human/wolf children on her own, the beginning of the film is deeply romantic.

Does this sound interesting?
see more on Wolf Children