Film

The Best Taylor Kitsch Movies

227 votes
74 voters
6.5k views
9 items
List Rules Vote for your favorite movies, regardless of critic reviews or how big the role was.
List of the best Taylor Kitsch movies, ranked best to worst with movie trailers when available. Taylor Kitsch's highest grossing movies have received a lot of accolades over the years, earning millions upon millions around the world. The order of these top Taylor Kitsch movies is decided by how many votes they receive, so only highly rated Taylor Kitsch movies will be at the top of the list. Taylor Kitsch has been in a lot of films, so people often debate each other over what the greatest Taylor Kitsch movie of all time is. If you and a friend are arguing about this then use this list of the most entertaining Taylor Kitsch films to end the squabble once and for all.
If you think the best Taylor Kitsch role isn't at the top, then upvote it so it has the chance to become number one. The greatest Taylor Kitsch performances didn't necessarily come from the best movies, but in most cases they go hand in hand.
This list includes John Tucker Must Die, Snakes on a Plane and more.
"This list answers the questions, "What are the best Taylor Kitsch movies?" and "What are the greatest Taylor Kitsch roles of all time?"
John Carter is a 2012 American science fiction fantasy film directed by Andrew Stanton and produced by Walt Disney Pictures. It is based on A Princess of Mars, the first book in the Barsoom series of novels by Edgar Rice Burroughs. The film chronicles the first interplanetary adventure of John Carter, portrayed by actor Taylor Kitsch. The film marks the centennial of the character's first appearance. The film is the live-action debut for writer and director Stanton; his previous directorial work includes the Pixar animated films Finding Nemo and WALL-E. Co-written by Stanton, Mark Andrews and Michael Chabon, it was produced by Jim Morris, Colin Wilson, and Lindsey Collins. The score was ...more on Wikipedia
Actors: Willem Dafoe, Bryan Cranston, Mark Strong, David Schwimmer, Taylor Kitsch, + more
Initial Release: 2012
Directed by: Andrew Stanton
Also Ranked
#64 on The Best Disney Live-Action Movies
#89 on The Best Alien Movies Ever Made
Agree or disagree?
see more on John Carter
Savages is a 2012 American crime thriller film directed by Oliver Stone. It is based on the novel of the same name by Don Winslow. The screenplay was written by Shane Salerno, Winslow and Stone. The film was released on July 6, 2012, and stars Taylor Kitsch, Blake Lively, Aaron Taylor-Johnson, Demian Bichir, Benicio del Toro, Salma Hayek, John Travolta, and Emile Hirsch. ...more on Wikipedia
Actors: Salma Hayek, Blake Lively, John Travolta, Uma Thurman, Benicio del Toro, + more
Initial Release: 2012
Directed by: Oliver Stone
Also Ranked
#44 on Best Kidnapping Movies & Hostage Movies of All Time, Ranked
#56 on The Best Movies Released July 4th Weekend
#17 on The Best Movies with a Psychotic Main Character
Agree or disagree?
see more on Savages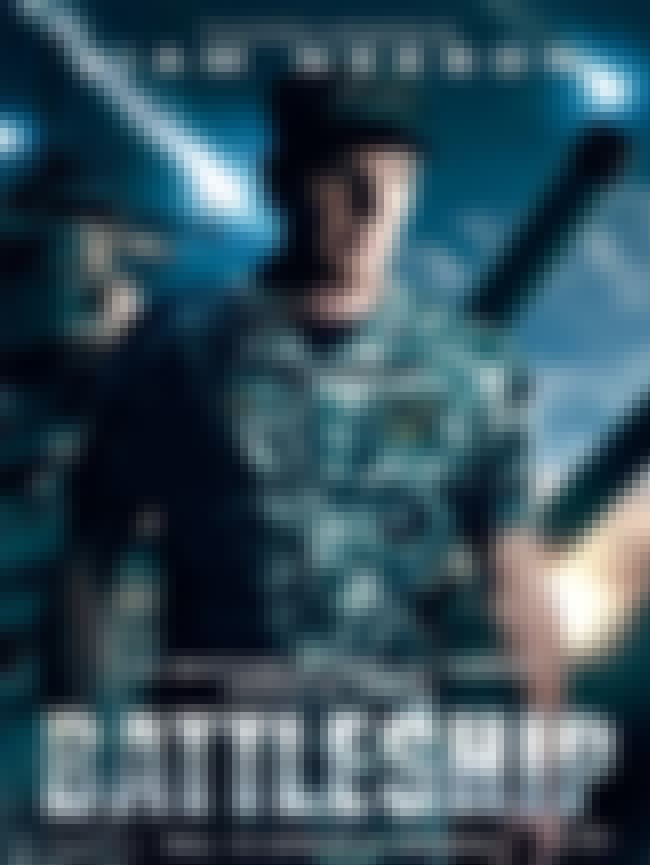 Battleship is a 2012 American military science fiction action-war film loosely inspired by the classic board game. The film was directed by Peter Berg and released by Universal Pictures. It was also the only Hasbro property to be produced in association with Dentsu Inc., which left NBCUniversal Entertainment Japan before being spun off as a separate company in February 17, 2014. The film stars Taylor Kitsch, Liam Neeson, Alexander Skarsgård, Rihanna, John Tui, Brooklyn Decker and Tadanobu Asano. The film was originally planned to be released in 2011, but was rescheduled to April 11, 2012, in the United Kingdom and May 18, 2012, in the United States. The film's world premiere was in Tokyo, ...more on Wikipedia
Actors: Rihanna, Brooklyn Decker, Liam Neeson, Alexander Skarsgård, Taylor Kitsch, + more
Initial Release: 2012
Directed by: Peter Berg
Also Ranked
#18 on The Scariest Ship Horror Movies Set on the Sea
#10 on What's the Greatest Hawaii Movie of All Time?

Agree or disagree?
see more on Battleship
X-Men Origins: Wolverine is a 2009 superhero film based on the Marvel Comics' fictional character Wolverine, distributed by 20th Century Fox. It is the fourth installment in the X-Men film series. The film was directed by Gavin Hood, written by David Benioff and Skip Woods, and produced by and starring Hugh Jackman. It co-stars Liev Schreiber, Danny Huston, Dominic Monaghan, Will.i.am and Ryan Reynolds. The film is a prequel/spin-off focusing on the violent past of the mutant Wolverine and his relationship with his half-brother Victor Creed. The plot details Wolverine's childhood as James Howlett, his early encounters with Major William Stryker, his time with Team X, and the bonding of ...more on Wikipedia
Actors: Hugh Jackman, Ryan Reynolds, Patrick Stewart, Liev Schreiber, Will i Am, + more
Initial Release: 2009
Directed by: Gavin Hood
Also Ranked
#51 on The Best Superhero Movies Ever Made
#55 on The Best Movies for Families
#37 on The Best Wolverine Versions Of All Time
#28 on The Best Superhero Movie Sequels
Agree or disagree?
see more on X-Men Origins: Wolverine