Kids Entertainment
All the Toy Story Movies (and Shorts), Ranked

Updated June 24, 2019
154 votes
36 voters
9 items
List Rules Vote up your favorite movies and shorts in the Toy Story franchise.
The Toy Story franchise has delighted audiences for over two decades. Toy Story first came out in 1995 and introduced audiences to state of the art animation as well as Woody and Buzz Lightyear. All of these movies are classics or at least memorable but one of them has to be the best of the Toy Story movies. Will it be the first Toy Story film or maybe one of the follow-ups in the series such as Toy Story 3 that will make it to the top of the list? Don't forget the Toy Story Toons like Small Fry, Hawaiian Vacation, or Partysaurus Rex.
If you've ever asked yourself, how many Toy Story movies are there? Look below to see all the films featuring your favorite toys, dolls, and stuffed animals listed with the year they were released so you can watch them chronologically or in order of best to worst.
Your votes will help determine the best movies in the Toy Story series. Vote up the movies you loved and vote down the Toy Story films you didn't like to ensure the right movie makes it to the top of the list.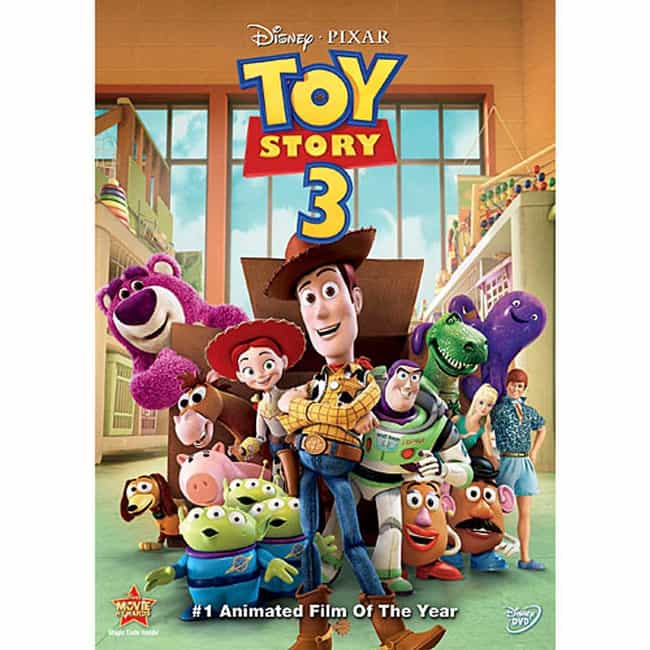 Toy Story 3 is a 2010 American 3D computer-animated comedy film, and the third film in the Toy Story series. It was produced by Pixar Animation Studios and released by Walt Disney Pictures. Directed by Lee Unkrich, the screenplay was written by Michael Arndt, while Unkrich wrote the story along with John Lasseter and Andrew Stanton, respectively director and co-writer of the first two films. The film was released worldwide from June through October in the Disney Digital 3-D, RealD, and IMAX 3D formats. Toy Story 3 was the first film to be released theatrically with Dolby Surround 7.1 sound. The plot focuses on the toys Woody, Buzz Lightyear, and their friends dealing with an uncertain future ...more on Wikipedia
Actors: Tom Hanks, Whoopi Goldberg, Michael Keaton, Tim Allen, Joan Cusack, + more
Released: 2010
Directed by: Lee Unkrich
Toy Story is a 1995 American computer-animated buddy-comedy adventure film produced by Pixar Animation Studios and released by Walt Disney Pictures. Directed by John Lasseter, Toy Story was the first feature-length computer-animated film and the first theatrical film produced by Pixar. Toy Story follows a group of anthropomorphic toys who pretend to be lifeless whenever humans are present, and focuses on the relationship between Woody, a pullstring cowboy doll, and Buzz Lightyear, an astronaut action figure. The film was written by John Lasseter, Andrew Stanton, Joel Cohen, Alec Sokolow, and Joss Whedon, and featured music by Randy Newman. Its executive producers were Steve Jobs and Edwin ...more on Wikipedia
Actors: Tom Hanks, Tim Allen, Don Rickles, Penn Jillette, Annie Potts, + more
Released: 1995
Directed by: John Lasseter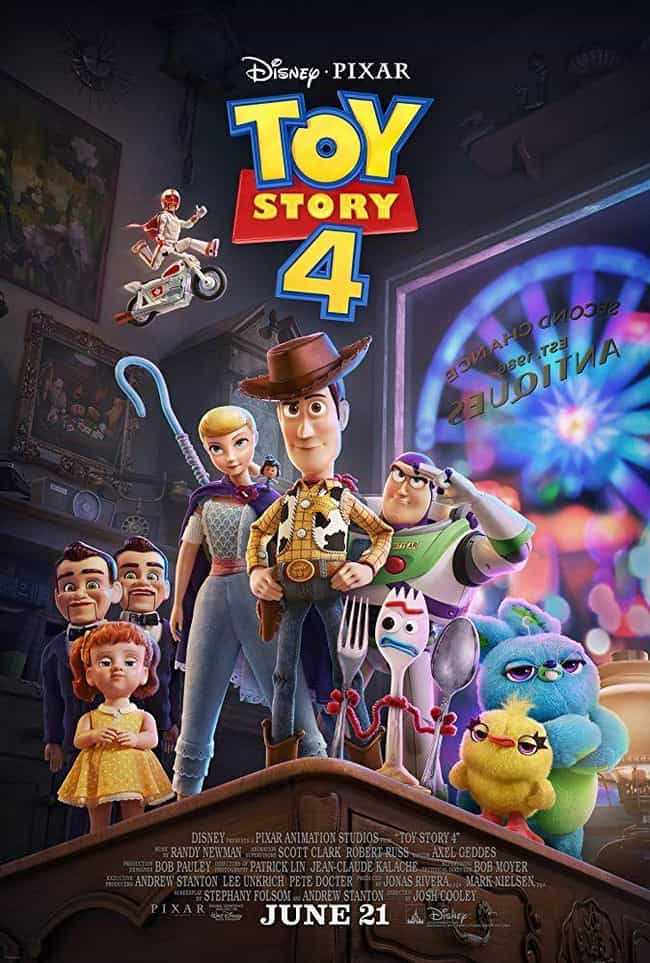 Toy Story 4 is a 2019 American 3D computer-animated comedy-drama film directed by Josh Cooley. Woody (Tom Hanks) and the gang go on a search when Bo Peep (Annie Potts) goes missing. ...more on Wikipedia
Actors: Tom Hanks, Tim Allen, Kristen Schaal, Patricia Arquette, Laurie Metcalf, + more
Released: 2019
Directed by: Josh Cooley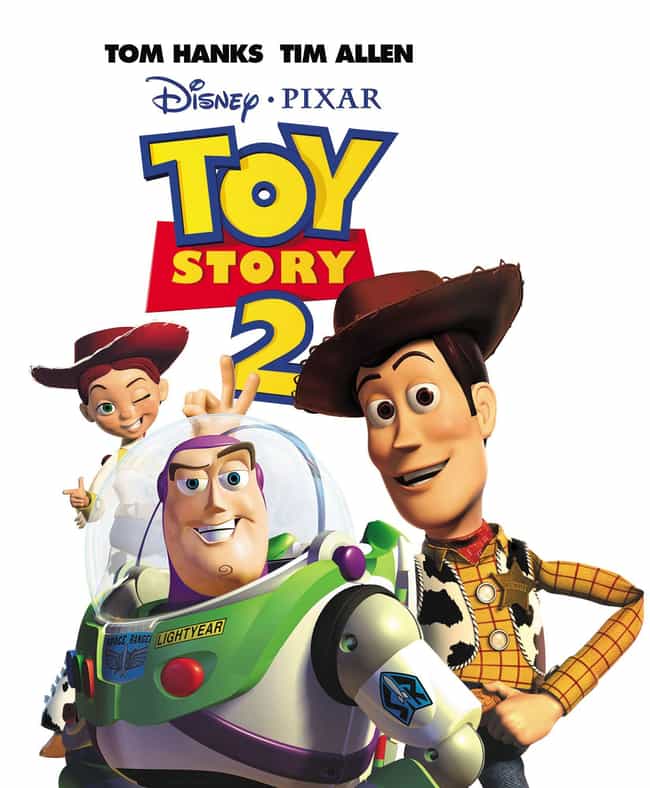 Toy Story 2 is a 1999 American computer-animated comedy adventure film produced by Pixar Animation Studios and released by Walt Disney Pictures. Directed by John Lasseter and co-directed by Lee Unkrich and Ash Brannon, it is the sequel to the 1995 film Toy Story. In the film, Woody is taken by a toy collector, prompting Buzz Lightyear and his friends to vow to rescue him, but Woody is then tempted by the idea of immortality in a museum. Many of the original characters and voices from Toy Story return for this sequel, and several new characters—including Jessie, Barbie, and Mrs. Potato Head —are introduced. Disney initially envisioned the film as a direct-to-video sequel. ...more on Wikipedia
Actors: Tom Hanks, Kelsey Grammer, Tim Allen, Joan Cusack, Don Rickles, + more
Released: 1999
Directed by: John Lasseter, Lee Unkrich, Ash Brannon