Watchworthy
The Best TV Road Trip Episodes Of All Time

Updated May 31, 2017
209 votes
84 voters
1.4k views
20 items
List Rules Vote up the most epic fictional road trips.
What do the best TV road trips all have in common? They give viewers the chance to see the characters they know and love in a new light. A change in scenery can breathe new life into a long-running series. When characters leave their comfort zones and embark on new adventures, a true fan travels alongside them - whether they're visiting that college they've always dreamed of attending, confessing their feelings to a coworker, or picking up a friend from rehab.
Just like in the best road trip comedies, these episodes aren't just about getting from point A to point B. The best television episodes about taking a road trip give viewers a new perspective on a fictional world, or advance the plot in an interesting new direction. In some cases, they also merit a few well-deserved laughs along the way. It's all about the journey.
So, what are the greatest fictional road trips on TV? Vote up your favorites!
Data-driven recommendations based on voting from over 40 million monthly visits to Ranker.
Try the free app
Who Goes On The Trip? Rory and Lorelai. They take an impromptu trip after Lorelai realizes she isn't ready to marry Max.
Where Do They Go? They leave without any clue about their destination, but end up visiting Harvard, where Rory was dreaming of attending college.
What Happens Along The Way? All sorts of classic Gilmore adventures. They almost starve to death. They argue over maps. They stay at a creepy motel and have to make small talk with other travelers. The horror!
Why Is The Episode Great? What really makes the episode shine is the fact that it puts both characters at a juncture. When they eventually arrive at Harvard, Rory is scared and hopeful for the future. Meanwhile, Lorelai contemplates the life she would have had if she had gone to college herself. It's a touching installment that pushes both characters forward instead of allowing Lorelai to wallow after running away from her fiancé.
Actors: Lauren Graham, Alexis Bledel, Scott Patterson
Premiered: 2000
Where to watch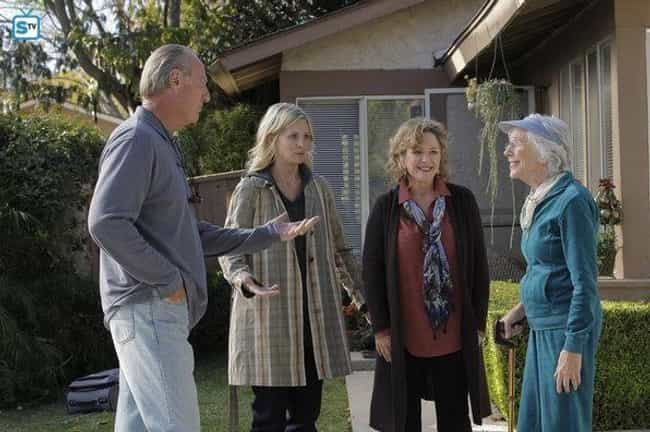 Who Goes On The Trip? Almost the entire Braverman clan.
Where Do They Go? They go to visit Grandma Blanche, Zeke's mother, for her birthday.
What Happens Along The Way? A chair gets stolen. Everyone bickers, family style. Zeke has a special moment with his mom. Adam and Haddie struggle to make conversation. Sarah and Drew have an extremely awkward talk.
Why Is The Episode Great? While "Road Trip" is almost a standalone episode in Season 3, it's great at reminding fans of how much they like to hang out with the Bravermans, especially when they're all together in a big group. There's no shortage of emotional scenes in the episode, but there are amusing moments as well. Balance achieved.
Actors: Peter Krause, Lauren Graham, Dax Shepard, Monica Potter, Erika Christensen, + more
Premiered: 2010
Where to watch
Who Goes On The Trip? The Save Greendale Committee. In other words Abed, Britta, Dean Pelton, Elroy, Annie, Frankie, and Jeff.
Where Do They Go? The gang travels to deliver a giant hand that Dean Pelton bought to its new owner.
What Happens Along The Way?​​​​​​​ Elroy's RV breaks down. Abed provides meta commentary and flashbacks. They drain the secondary battery by charging their phones. The giant hand falls off the top of the RV, causing havoc.
Why Is The Episode Great? In typical Community fashion, the episode pokes fun at its own story structure, especially by having Abed trying to telepathically take everyone back to three weeks earlier for an establishing flashback. But ultimately, it's wonderfully absurd, packed with great dialogue, and reveals more about the study group and their relationships.
Actors: Joel McHale, Gillian Jacobs, Danny Pudi, Yvette Nicole Brown, Alison Brie, + more
Premiered: 2009
Where to watch
Who Goes On The Trip? Adam, Shoshanna, and Hannah.
Where Do They Go?​​​​​​​ Adam drives the girls to pick up Jessa from rehab.
What Happens Along The Way?​​​​​​​ Shoshanna drives Adam crazy. Hannah is bored. They hike. Adam smashes the car stereo with his fist. They eventually manage to pick up Jessa in a rather touching moment.
Why Is The Episode Great?​​​​​​​ In short, it's one of the funniest Girls episodes ever. Zosia Mamet was always great as Shoshanna, and this episode really allows her to shine. Her banter with Adam is hilarious.
Actors: Lena Dunham, Allison Williams, Jemima Kirke, Zosia Mamet, Adam Driver
Premiered: 2012
Where to watch