Entertainment
The Best Vanity Movies

80 votes
24 voters
3k views
10 items
List Rules Vote for your favorite movies, regardless of critic reviews or how big the role was.
List of the best Vanity movies, ranked best to worst with movie trailers when available. Vanity's highest grossing movies have received a lot of accolades over the years, earning millions upon millions around the world. The order of these top Vanity movies is decided by how many votes they receive, so only highly rated Vanity movies will be at the top of the list. Vanity has been in a lot of films, so people often debate each other over what the greatest Vanity movie of all time is. If you and a friend are arguing about this then use this list of the most entertaining Vanity films to end the squabble once and for all.
If you think the best Vanity role isn't at the top, then upvote it so it has the chance to become number one. The greatest Vanity performances didn't necessarily come from the best movies, but in most cases they go hand in hand.
List is made up of a variety of films, including Night Caller and Terror Train.
"This list answers the questions, "What are the best Vanity movies?" and "What are the greatest Vanity roles of all time?"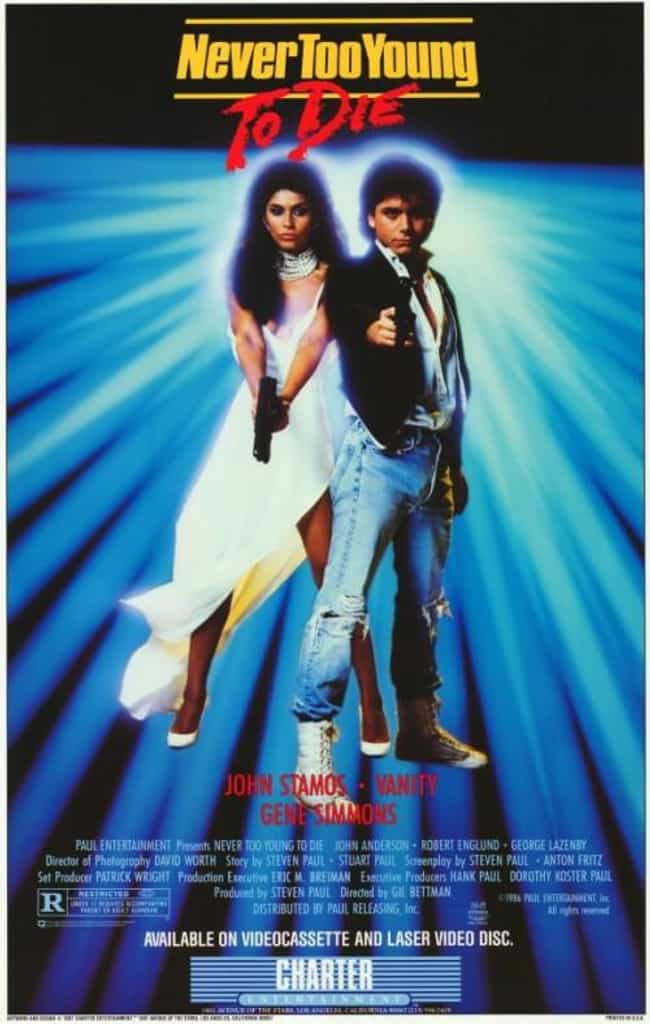 Never Too Young To Die is a 1986 B movie, starring John Stamos as Lance Stargrove, a young man who, with the help of secret-agent Danja Deering must avenge the death of his secret-agent father at the hands of the evil hermaphrodite Velvet Von Ragner. ...more on Wikipedia
Actors: Gene Simmons, John Stamos, Vanity, Robert Englund, George Lazenby
Released: 1986
Directed by: Gil Bettman

Agree or disagree?
see more on Never Too Young to Die
Action Jackson is a 1988 American action film directed by Craig R. Baxley in his feature film directorial debut, and starring Carl Weathers, Vanity, Craig T. Nelson and Sharon Stone. The film was released in the United States on February 12, 1988. Paula Abdul was the film choreographer. The film was released by Lorimar Film Entertainment. Vanity was nominated for a Golden Raspberry Award as Worst Actress. Both Vanity and Sharon Stone briefly appear topless in this movie. ...more on Wikipedia
Actors: Sharon Stone, Vanity, Craig T. Nelson, Carl Weathers, Bill Duke, + more
Released: 1988
Directed by: Craig R. Baxley
Agree or disagree?
see more on Action Jackson
The Last Dragon is a 1985 martial arts musical film produced by Rupert Hitzig for Berry Gordy and directed by Michael Schultz. The film was a critical disappointment but a financial success, and is now considered a cult classic. The film stars Taimak, Vanity, Julius J. Carry III, Chris Murney, Keshia Knight Pulliam and Faith Prince. Choreography was done by Lester Wilson and Lawrence Leritz. It was released in theatres by TriStar Pictures on March 22, 1985. ...more on Wikipedia
Actors: William H. Macy, Vanity, Keshia Knight Pulliam, Chazz Palminteri, Ernie Reyes, + more
Released: 1985
Directed by: Michael Schultz
Agree or disagree?
see more on The Last Dragon
Terror Train is a 1980 slasher film, directed by Roger Spottiswoode and starring Jamie Lee Curtis, Ben Johnson and David Copperfield. It follows the members of a college fraternity who played a cruel prank on a shy kid named Kenny Hampson three years ago. ...more on Wikipedia
Actors: Jamie Lee Curtis, Vanity, David Copperfield, Ben Johnson, Hart Bochner, + more
Released: 1980
Directed by: Roger Spottiswoode
Agree or disagree?
see more on Terror Train