watchworthy
presents
Wild West Movies That Are Probably More Fun Than Going Out On A Friday Night

Updated August 21, 2019
749 votes
107 voters
2.5k views
20 items
List Rules Vote up the Westerns you'd bail on your friends to watch on a Friday night.
There's an undeniable attraction to the lawlessness of the Wild West, where disputes were solved with fists and revolvers, the open frontier was vast and wild, good guys wore white and bad guys wore black, and booze flowed like water. In reality, of course, the romanticized depictions of the Wild West were nothing like the arid, dysentery-filled, boredom-packed reality - but that's why we have movies! We can enjoy the fantasy without all those pesky "facts" that always prove to be total bummers.
In an effort to keep the myth and mystique of frontier life alive, here's a look at some great Wild West movies that have all the gunslinging, whiskey-sipping, bandit punching, train-robbing, poker-playing fun you could possibly want. Some of these are often cited among the greatest Westerns ever made. Others on this list eschew realism or brutality in exchange for endless fun. Each of these, for different reasons, are well worth your time and just might scratch that itch for a retreat to a time of lawlessness and boundless exploration.
Data-driven recommendations based on voting from over 40 million monthly visits to Ranker.
Try the free app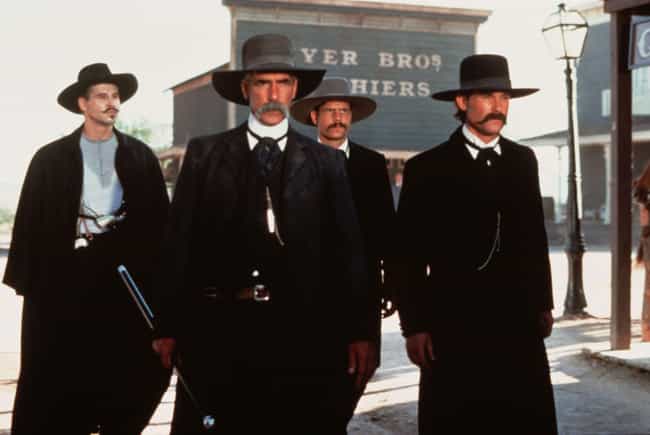 Legendary lawdog Wyatt Earp (Kurt Russell) decides to retire from the life of crimefighting to open a saloon in the quickly developing town of Tombstone, AZ, with his brothers Virgil (Sam Elliot) and Morgan (Bill Paxton) - both retired lawmen as well - and their families. They're later joined by their friend, gunslinger Doc Holiday (Val Kilmer), who is suffering from tuberculosis. Despite Wyatt's best efforts to keep to himself and live a quiet life, the persistent, chaotic presence of a group of outlaws known as the Cowboys, who rule over the town with chaos and fear, eventually forces the Earps and Doc to don their badges and stand up to the merciless bandits.
The Cowboys - commanded by the psychopathic Curly Bill (Powers Boothe) and his quiet, menacing right-hand man Johnny Ringo (Michael Biehn) - terrorize Tombstone and its citizens until the brothers face off against them at the infamous showdown at the OK Corral, which leads to the demise of several members. When Morgan is shot in retribution, Wyatt makes it his life's mission to hunt down and shoot every man wearing the signature red sash of the Cowboys. This fun, sometimes over-the-top Western features memorable dialogue and arguably the best performance of Kilmer's career.
Actors: Val Kilmer, Kurt Russell, Charlton Heston, Billy Bob Thornton, Dana Delany, + more
Released: 1993
Directed by: Kevin Jarre, George P. Cosmatos

Is this your huckleberry?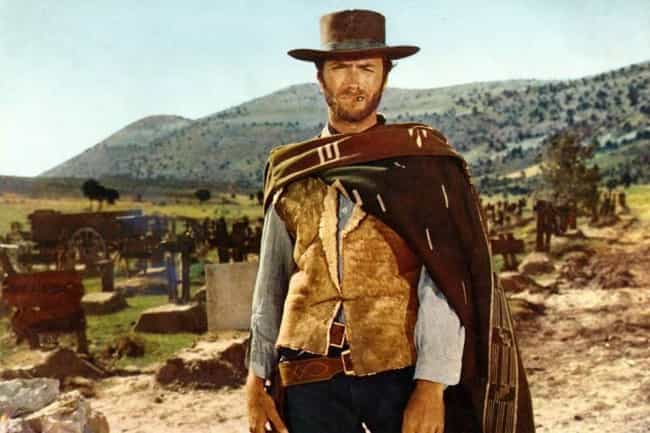 In director Sergio Leone's most famous film, three opposing forces collide in this tale of greed, bloody vengeance, and bounty hunting. Clint Eastwood reprises his role as The Man with No Name - playing "The Good" referenced in the film's title - who goes by the nickname Blondie. Meanwhile, Tuco (Eli Wallach), AKA "The Ugly," is a Mexican bandit who ran cons with Blondie until the pair had a falling out, and Tuco seeks revenge. Meanwhile, the ruthless bounty hunter who goes by the moniker Angel Eyes (Lee Van Cleef) joins in the fray as all three soon find themselves in a race to find a legendary cache of hidden gold.
While it's the final installment in Leone's "Dollars" trilogy - with A Fistful of Dollars and For a Few Dollars More coming before it - few Westerns have the kind of reputation as The Good, The Bad and The Ugly. With its iconic three-way showdown climax and Eastwood's glare becoming an ingrained part of pop culture and frequently mimicked and parodied in other films, almost everyone knows the references even if they haven't seen the film - and they're even more effective once you have.
Actors: Clint Eastwood, Eli Wallach, Lee Van Cleef
Released: 1966
Directed by: Sergio Leone

Is this your huckleberry?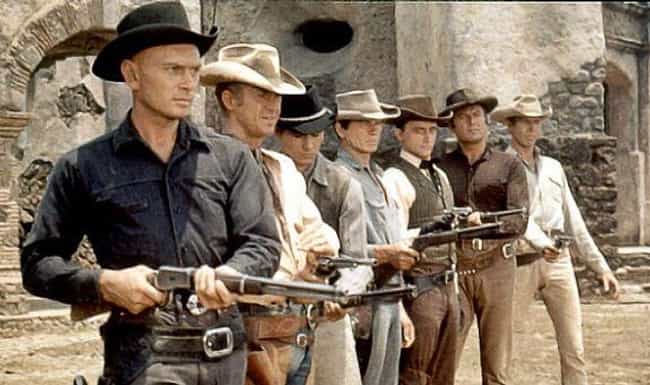 A small Mexican town is routinely raided and pillaged by a group of bandits led by the evil Calvera (Eli Wallach). In an effort to defend their town and livelihoods, three villagers travel to the Southern border looking to buy arms but are convinced instead to hire Cajun gunslinger Chris Adams (Yul Brenner) who, in turn, rounds up six other trained gunfighters - each with their own motivations for taking on such a dangerous job for such little pay. Upon arriving in the village, the gunfighters help the villagers build defenses and learn how to shoot so they can take on Calvera themselves, and soon begin to form friendships with those who live there.
After a confrontation with Calvera's men, the seven gunslingers are given a chance to leave the town and avoid facing off against a large bandit force, but they feel bound by honor and their bond with the town to return and fight against Calvera's villainous crew. The Magnificent Seven, released in 1960, is a Western reimagining of Akira Kurosawa's 1954 film The Seven Samurai.
Actors: Steve McQueen, Charles Bronson, James Coburn, Eli Wallach, Yul Brynner, + more
Released: 1960
Directed by: John Sturges
Is this your huckleberry?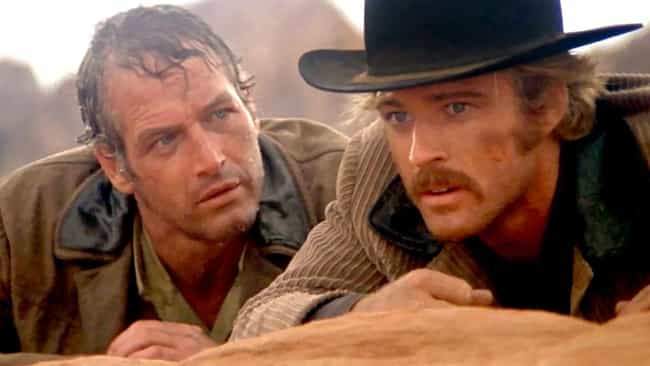 Outlaw gunslingers Butch (Paul Newman) and Sundance (Robert Redford) lead a crew of bandits known as the Hole in the Wall Gang on an armed train robbery that goes awry. Fleeing a posse led by some of the best trackers and lawmen in the West - who have been hired by the Union Pacific Railroad to hunt them - Butch and Sundance try everything they can to escape capture. Eventually, the pair, joined by Sundance's girlfriend, Etta Place (Katharine Ross), decide to flee to Bolivia and go straight, but the call of the rogue life is a hard one to ignore.
With stellar from Newman and Redford and four Oscars under its belt - not to mention three additional nominations, including one for Best Picture - Butch Cassidy and the Sundance Kid is among the most celebrated Westerns ever made. The brilliance comes from balancing the drama inherent in the story with the charisma of the superstar leads.
Actors: Paul Newman, Robert Redford, Cloris Leachman, Sam Elliott, Katharine Ross, + more
Released: 1969
Directed by: George Roy Hill

Is this your huckleberry?