Female Professionals
The Best Movies About Female Lawyers

Updated January 8, 2020
66 votes
25 voters
3.6k views
19 items
List Rules Vote up your favorite films that feature women who know and practice the law.
These female lawyer movies prove that men aren't the only ones who can be sharks in the courtroom. Whether it's a complicated procedural case like the one at the center of Erin Brokovich, or an empowerment story like Legally Blonde, these ladies are providing more examples of how women can thrive as attorneys. The greatest female lawyer movies range from small-town courtroom dramas all the way to the Supreme Court.
Of course, we know that there are no shortage of high-powered women in law, many of whom make their way to politics. Women like Hilary Clinton, Ruth Bader Ginsburg and Sandra Day O'Connor are just a few of the real-world examples of women taking control in the courtroom.
So vote for your favorite female lawyer movies and check back to see which one makes it to the top of the list. Feel free to add any that aren't on the list!
Rotten Tomatoes score: 69%
Legally Blonde is a 2001 American comedy film directed by Robert Luketic, based on the novel by Amanda Brown. Sorority girl Elle Woods (Reese Witherspoon) decides to enroll in Harvard Law School to win back her ex-boyfriend (Matthew Davis). ...more on Wikipedia
Did you enjoy this movie?
Rotten Tomatoes score: 58%
Saint Judy is a 2019 American biographical drama film directed by Sean Hanish, based on Judy Wood. The true story of immigration attorney Judy Wood (Michelle Monaghan), and how she single-handedly changed the U.S. law of asylum to save women's lives. ...more on Wikipedia
Did you enjoy this movie?
Rotten Tomatoes score: 100%
Adam's Rib is a 1949 American romantic comedy film directed by George Cukor. Domestic and professional tensions mount when a husband (Spencer Tracy) and wife (Katharine Hepburn) work as opposing lawyers in a case involving a woman (Judy Holliday) who shot her husband (Tom Ewell). ...more on Wikipedia
Did you enjoy this movie?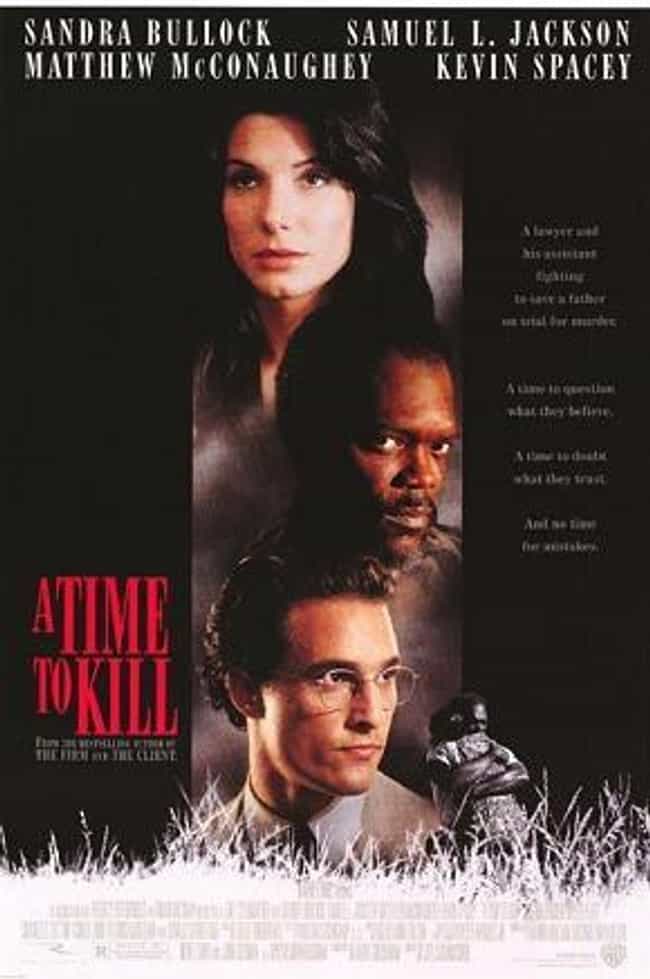 Rotten Tomatoes score: 66%
This film is a 1996 drama film adaptation of John Grisham's 1989 novel of the same name, directed by Joel Schumacher. Matthew McConaughey, Sandra Bullock, Samuel L. Jackson, and Kevin Spacey star, with Oliver Platt, Ashley Judd, Kiefer and Donald Sutherland, and Patrick McGoohan appearing in supporting roles. Set in Canton, Mississippi, the film involves a young girl and an involving plot. The film was a critical and commercial success, making nearly $150 million at the U.S. box office. ...more on Wikipedia
Did you enjoy this movie?