Board/Card Games
The Best Editions of Yahtzee

80 votes
17 voters
1.5k views
29 items
List Rules Only versions of the classic dice rolling game, Yahtzee.
Yahtzee is the classic game of rolling dice and shouting "Yahtzee" every time you get five-of-kind. It's a great family friendly game that is simple to learn and easy to play. Yahtzee now has a few new looks with these collector's editions. Fans of the Fallout games should definitely look for the Vault Boy edition. Disney fans can choose from several The Nightmare Before Christmas collector's and anniversary editions. Or if you are constantly on the go, check out the Handheld Digital and National Parks versions of Yahtzee. The National Parks edition comes with fun facts about the featured parks.
These special editions of Yahtzee come with custom dice, playing pieces, and rules about how to play Battle Yahtzee. Battle Yahtzee and Yahtzee Duels give players a game with a bit more of a competitive edge. Pirates of the Caribbean, Alien vs. Predator, Deadpool, and The Walking Dead editions all come with a custom game board to play Battle Yahtzee. Challenge your friends and see who can roll to win! Vote up the best editions of Yahtzee you love to play.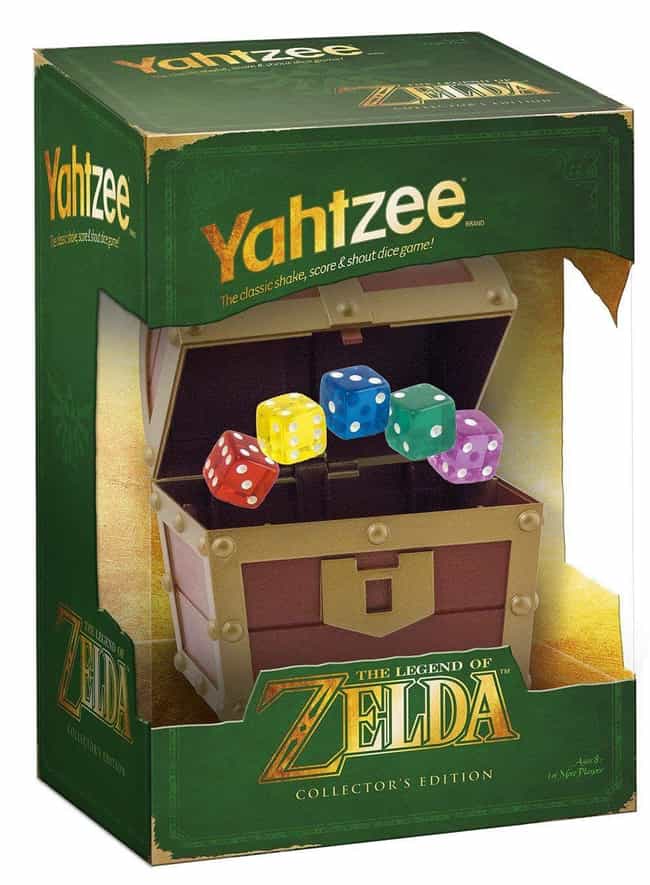 Game features:
Use the Treasure Chest from A Link Between Worlds as the dice cup.
Custom translucent dice.
The dice represent colorful Rupees from the

Zelda

game.
Includes scoring pad and game instructions.
Price: $47.98
The Legend of Zelda, subtitled The Hyrule Fantasy in its original Japanese release, is a 1986 action-adventure video game developed and published by Nintendo, released in North America in 1987 and designed by Shigeru Miyamoto and Takashi Tezuka. Set in the fantasy land of Hyrule, the plot centers on a boy named Link, the playable protagonist, who aims to collect the eight fragments of the Triforce of Wisdom in order to rescue Princess Zelda from the antagonist, Ganon. During the course of the game, the player sees Link from a top-down perspective and must navigate him through the overworld and several dungeons, defeating enemies and finding secrets along the way. The inaugural game of the ...more on Wikipedia
see more on The Legend of Zelda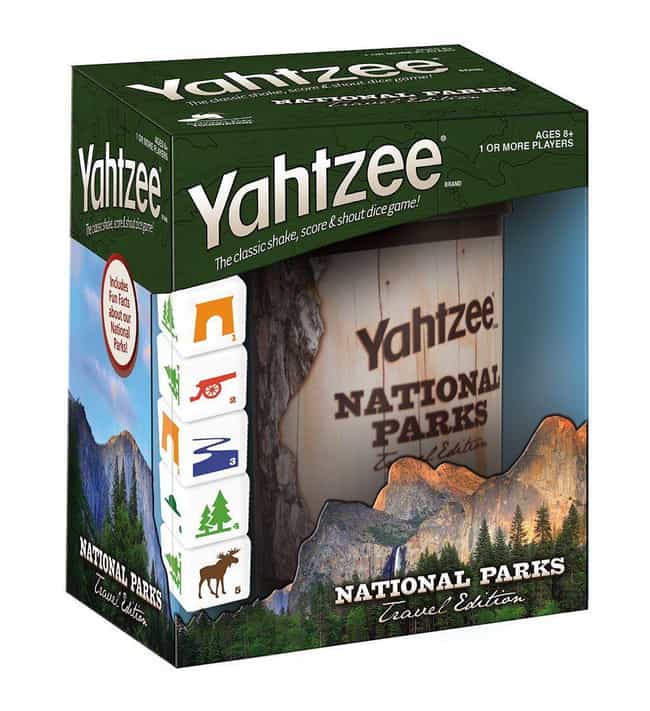 Game features:
Travel edition Yahtzee.
Includes fun facts about Nation Parks!
The tree trunk dice cup.
Great for fans of Yahtzee and the outdoors.
Scoring pad and game instructions included.
Price: $16.99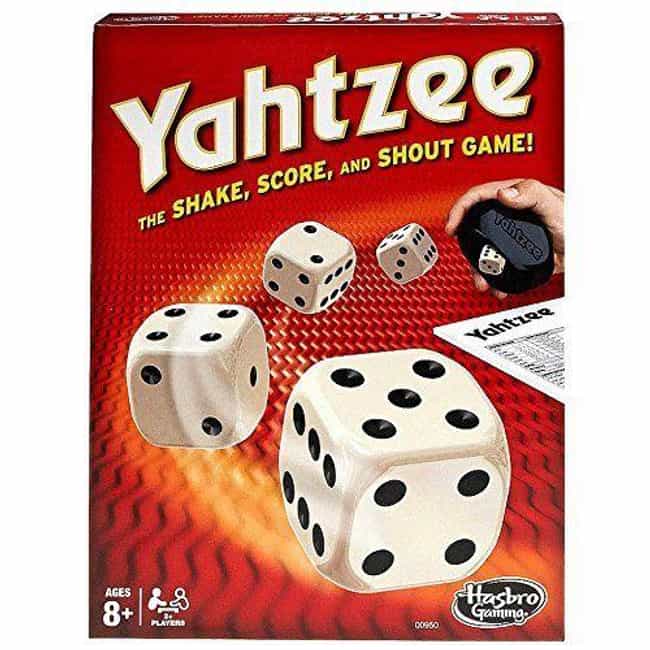 Game features:
The classic game of Yahtzee.
Score points by rolling dice combinations.
Accommodates 2 or more players.
Score pad and game instructions included.
Price: $7.88
Yahtzee is a dice game made by Milton Bradley, which was first marketed as "Yatzie" by National Association Service of Toledo, Ohio, in the early 1940s. Yatzie was included in a game set called "LUCK - 15 Grand Dice Games". It was marketed under the name of Yahtzee by game entrepreneur Edwin S. Lowe in 1956. The game is a development of earlier dice games such as Poker Dice, Yacht and Generala. It is also similar to Yatzy which is popular in Scandinavia. The object of the game is to score points by rolling five dice to make certain combinations. The dice can be rolled up to three times in a turn to try to make various scoring combinations. A game consists of thirteen rounds. After each round ...more on Wikipedia
see more on Yahtzee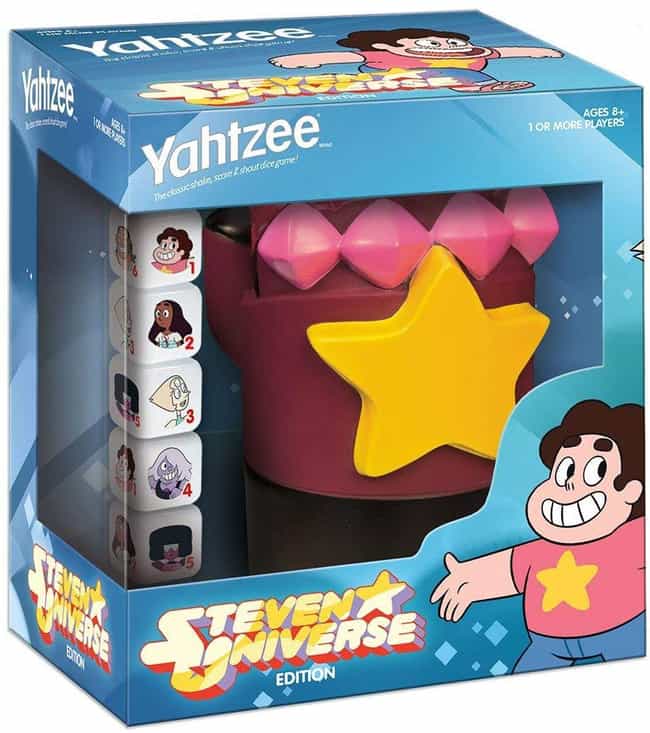 Game features:
Collectible Garnet's Gauntlet dice cup.
5 custom dice with

Steven Universe

characters on each side.
Great for playing on the go.
Scoring pad and game instructions included.
Price: $44.89
Steven Universe is an American animated television series created by Rebecca Sugar, former storyboard artist, writer, and composer for Adventure Time. It is produced by Cartoon Network Studios, and is the first show by the studio to be created by a woman. The series, rated TV-PG, premiered on Cartoon Network in North America on November 4, 2013. ...more on Wikipedia
see more on Steven Universe