Board/Card Games
The Best Editions of Yahtzee

100 votes
22 voters
2k views
29 items
List Rules Only versions of the classic dice rolling game, Yahtzee.
Yahtzee is the classic game of rolling dice and shouting "Yahtzee" every time you get five-of-kind. It's a great family friendly game that is simple to learn and easy to play. Yahtzee now has a few new looks with these collector's editions. Fans of the Fallout games should definitely look for the Vault Boy edition. Disney fans can choose from several The Nightmare Before Christmas collector's and anniversary editions. Or if you are constantly on the go, check out the Handheld Digital and National Parks versions of Yahtzee. The National Parks edition comes with fun facts about the featured parks.
These special editions of Yahtzee come with custom dice, playing pieces, and rules about how to play Battle Yahtzee. Battle Yahtzee and Yahtzee Duels give players a game with a bit more of a competitive edge. Pirates of the Caribbean, Alien vs. Predator, Deadpool, and The Walking Dead editions all come with a custom game board to play Battle Yahtzee. Challenge your friends and see who can roll to win! Vote up the best editions of Yahtzee you love to play.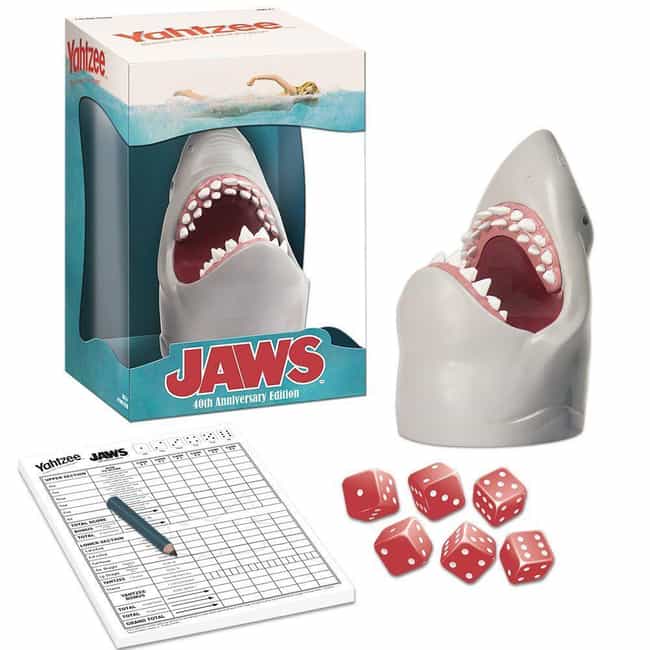 Game features:
Packaging is a replica of the movie poster from 1975.
Collectible custom Jaws dice cup.
Great for playing or displaying.
Score pad and game instructions are included.
Price: $79.99
Jaws is a 1975 American thriller film directed by Steven Spielberg and based on Peter Benchley's novel of the same name. The prototypical summer blockbuster, its release is regarded as a watershed moment in motion picture history. In the story, a giant man-eating great white shark attacks beachgoers on Amity Island, a fictional summer resort town, prompting the local police chief to hunt it with the help of a marine biologist and a professional shark hunter. The film stars Roy Scheider as police chief Martin Brody, Richard Dreyfuss as oceanographer Matt Hooper, Robert Shaw as shark hunter Quint, Murray Hamilton as the mayor of Amity Island, and Lorraine Gary as Brody's wife, Ellen. The ...more on Wikipedia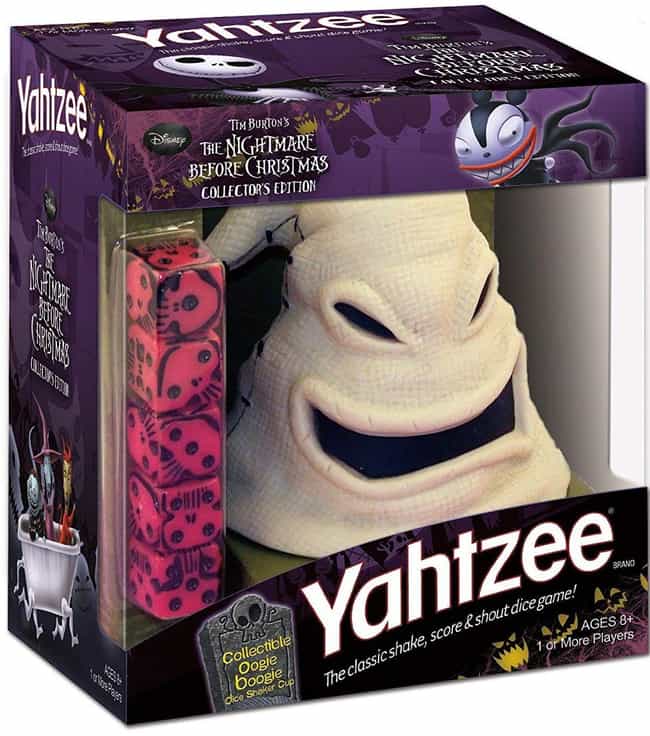 Game features:
Includes Oogie Boogie custom dice cup.
5 movie replica custom dice.
Great for Yahtzee and The Nightmare Before Christmas collectors.
Oogie Boogie dice cup is great for playing and displaying.
Scoring pad and game instructions included.
Price: $75.00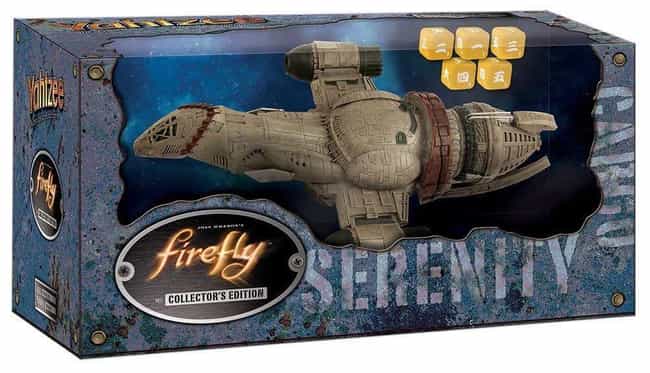 Game features:
Detailed and durable model of Serenity.
Use Serenity as the dice cup.
Easy to clean.
Great for gameplay or decoration.
Play the classic game of Yahtzee with the ship from

Firefly.
Price: $40.59
Firefly is an American space western science fiction drama television series created by writer and director Joss Whedon, under his Mutant Enemy Productions label. Whedon served as an executive producer, along with Tim Minear. The series is set in the year 2517, after the arrival of humans in a new star system and follows the adventures of the renegade crew of Serenity, a "Firefly-class" spaceship. The ensemble cast portrays the nine characters who live on Serenity. Whedon pitched the show as "nine people looking into the blackness of space and seeing nine different things". The show explores the lives of a group of people who fought on the losing side of a civil ...more on Wikipedia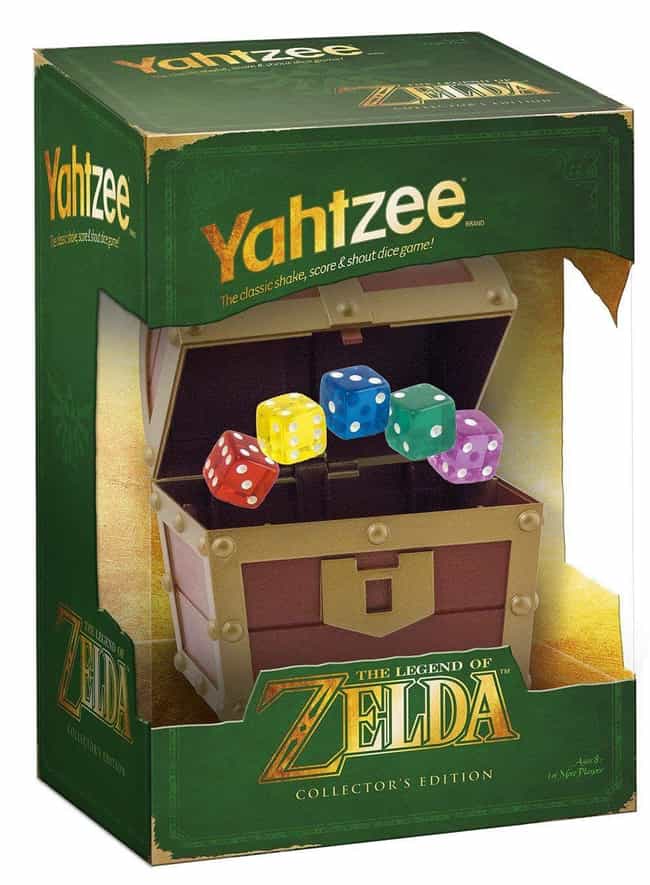 Game features:
Use the Treasure Chest from A Link Between Worlds as the dice cup.
Custom translucent dice.
The dice represent colorful Rupees from the

Zelda

game.
Includes scoring pad and game instructions.
Price: $47.98
The Legend of Zelda, subtitled The Hyrule Fantasy in its original Japanese release, is a 1986 action-adventure video game developed and published by Nintendo, released in North America in 1987 and designed by Shigeru Miyamoto and Takashi Tezuka. Set in the fantasy land of Hyrule, the plot centers on a boy named Link, the playable protagonist, who aims to collect the eight fragments of the Triforce of Wisdom in order to rescue Princess Zelda from the antagonist, Ganon. During the course of the game, the player sees Link from a top-down perspective and must navigate him through the overworld and several dungeons, defeating enemies and finding secrets along the way. The inaugural game of the ...more on Wikipedia