Anime Underground The 12 Best Yuri Anime Couples of All Time

959 votes
299 voters
4.9k views
12 items
List Rules Vote up your favorite yuri couples.
Yuri is anime that's focused on relationships between two female characters. This can include anything from cute and romantic stories known as shojo ai to steamy and explicit hentai series. Yuri is one of the only places where LGBTQ+ relationships take center stage. While it can occasionally include tropes that aren't reflective of gay people in the real world, it's still great to see same-sex love flourish in the anime world. Let's take a moment to celebrate a few of these wonderful yuri couples.
Who are the best yuri anime couples? That depends on what you like in your romance. If you like wholesome, loving couples, you'll probably be delighted by Tomoka and Yui of Asagao to Kase-san, If you prefer your relationships a little more messed up, you might prefer Mei and Yuzu from Citrus. While these couples are all quite different, all of them are interesting in their own way - and most of them are couples that you want to see succeed.
Yuu Koito & Touko Nanami - Bloom Into You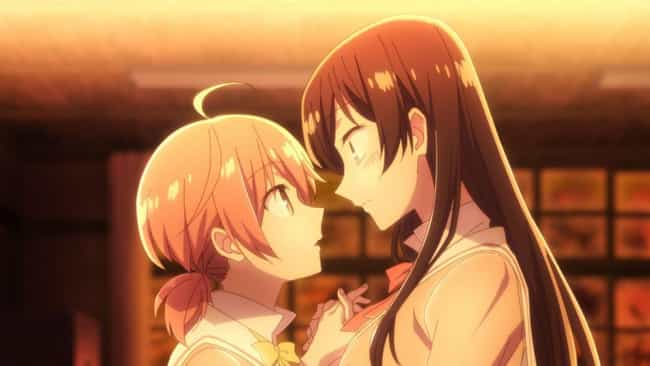 Bloom Into You is one of the newest additions to the shojo ai and yuri genre, and it's also one of the best. That's because the couple at the center of the story is emotionally complex, and therefore fascinating. The series begins with Yuu worrying about the fact that she's never felt the bubbly hearts and flowers feeling that she thinks you're supposed to feel when someone asks you out. When she finds out that Nanami, her upperclassman, feels similarly, she's elated to not be alone. But soon after they meet, Nanami does start feeling a romantic attraction to someone - Yuu. At first, Yuu feels betrayed that they're not on the same page, and confused by Nanami's feelings, but over the course of the series, their relationship changes and grows into something spectacular.

Is this a great couple?
Yuzu Aihara & Mei Aihara - Citrus
Citrus was a controversial anime, and the reason is the couple at the center of it. Yuzu and Mei begin their relationship as enemies - Mei is the daughter of the principal of their elite high school, and despises Yuzu for failing to follow the rules. When they find out that their parents have actually married each other and that they'll be living together as stepsisters, their relationship is complicated by feelings of attraction. Nothing about the way they interact is healthy - Mei doesn't seem to care about Yuzu's boundaries for one thing - but not everyone is interested in a wholesome loving couple being wholesome and loving. If you like your romance a little more screwed up, Mei and Yuzu will satisfy.

Is this a great couple?
Tomoka Kase & Yui Yamada - Asagao to Kase-san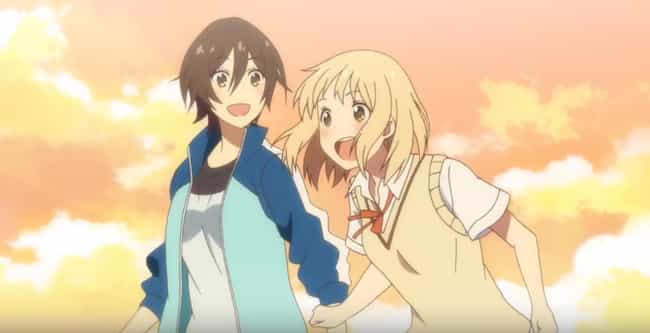 Asagao to Kase-san is an hour-long OVA that features a truly adorable couple. It follows two girls with very different personalities as they develop a romantic relationship. Tomoka Kase is an athletic girl who is full of energy, while Yui Yamada is a quiet girl who loves gardening. Despite or perhaps because of their differences, they manage to build a strong and loving relationship and help each other overcome the challenges life throws at them.

Is this a great couple?
Anthy Himemiya & Utena Tenjou - Revolutionary Girl Utena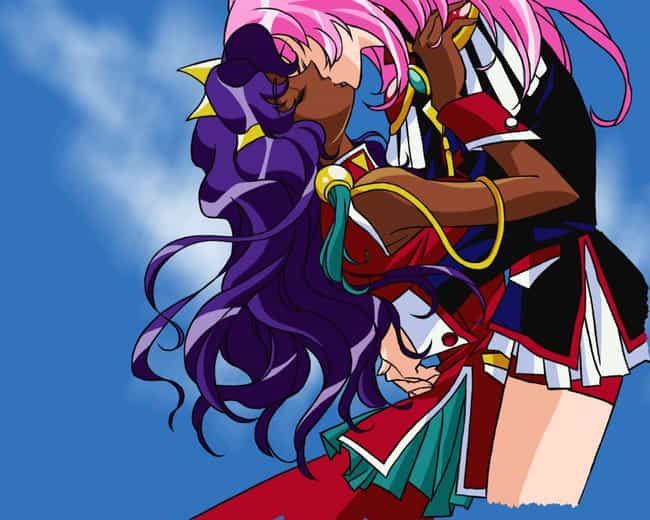 Revolutionary Girl Utena is a classic anime that should be on everyone's to-watch list - but it's an especially important show for yuri fans. Utena Tenjou is a teenage girl with one burning ambition - she wants to be a prince. In keeping with her goals, when she gets to Ohtori Academy she ends up dueling for possession of the Rose Bride, Anthy Himemiya. Rather than possessing her or using her for magical purposes, she intends to free her and discover the secrets behind her captivity.
Their relationship is more explicitly romantic and even sexual in the movie spin-off, The Adolescence of Utena, but their feelings for each other are clear enough in the series proper.
Is this a great couple?