Entertainment
Big Miracle Movie Quotes

22 votes
15 voters
8.6k views
8 items
'Big Miracle' movie quotes include some of the best lines of dialogue from this 2012 film starring Drew Barrymore and John Krasinski. The movie, based on a true story, follows the harrowing attempted rescue of several gray whales who wander into the Arctic Circle in Alaska, and become trapped underneath the ice. If you spot your favorite 'Big Miracle' quote on this list, vote it up -- and if you don't see your fave listed, definitely add it!
The 'Big Miracle' true story really is amazing: In 1988, three California gray whales became trapped under miles of solid ice off the Alaskan coast near the remote town of Barrow. Over several weeks, incredible efforts were made to save the whales, and the effort, dubbed "Operation Breakthrough," was an international one. 'Big Miracle' also stars Kristen Bell as reporter Jill Jerard, Stephen Root as (fictional) Alaskan Governor Haskell, Dermot Mulroney as Colonel Scott Boyer.
If you're looking for more great quotes from blockbuster movies, check out these lists for the best quotes from
'The Muppets,'
'Dolphin Tale,'
'Hugo,'
'Arthur Christmas,'
'Moneyball,'
'The Iron Lady,
'War Horse,'
'Jack and Jill,'
'The Woman in Black,'
'Happy Feet Two,'
'Tower Heist,'
and
'The Rum Diary.'

Adam Carlson: "I think Barrow might have one great story left in her."
Reporting from Barrow, Alaska, isn't the most exciting gig in the world - but for reporter Adam Carlson, it's about to be.
Should this be higher or lower?

Rachel Kramer: "Even though they're big and powerful, they're so much like us. We're vulnerable and we get scared. We need help sometimes too."
Rachel Kramer is a Greenpeace member who actively works to save the gray whales. Her heartfelt pleas help to increase public support for the ongoing efforts to try and free the trio of whales (Fred, Wilma and Bam Bam) from the ice and get them back to safe waters.
Should this be higher or lower?

Jill Jerard: "The town of Barrow has shut down as school as school children and shop keepers alike furiously work to cut a path to the ocean."
As the situation in Barrow becomes more dire for the whales, everyone in the town gets involved.
Should this be higher or lower?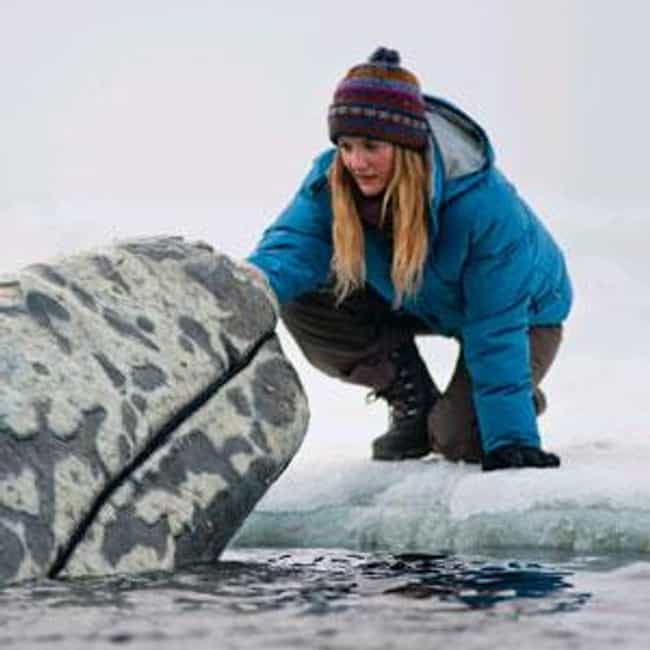 Rachel Kramer: "All we need is the cooperation from the governor, but the governor has basically turned his back on the whales."
Rachel certainly knows how to work the media in her favor. Her comments basically force Alaska's governor to act. If he doesn't he looks like he doesn't care (political suicide).

Should this be higher or lower?