Food
The Biggest Foods in the World

Fans of the super-sized anything, behold this list of the biggest foods in the world! Yes, you read that right. These are just a few of the record-breaking foods created to get in the Guinness World Records, create publicity, and make you drool. From ginormous burgers to massive pumpkin pies, these delicious creations are all giant-sized and laden with calories.
What are the biggest foods in the world? Take a look here and you'll see for yourself. If you are a fan of big foods, definitely check out the Best of Epic Meal Time list.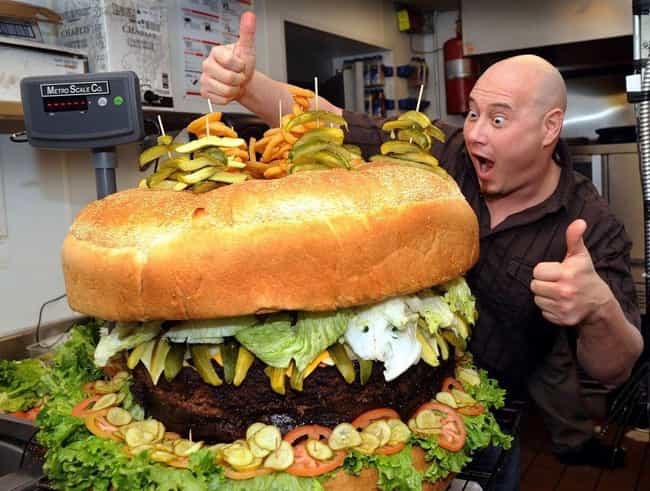 Love big burgers? Take a bite out of this: In July 2011, Juicy's LLC set the record for one of the largest hamburgers ever - at 777 pounds. Yep, lucky 7's all the way around. This Juicy's Outlaw Burger was served up at the Alameda County Fair in California.
It featured, get this: more than 600 pounds of beef and a 110-pound bun. Yes, 110 pounds for just the bun! And the fixings included 12 pounds of pickles, 30 pounds of lettuce, and 20 pounds of onions.
Juicy's lost the beefy title of world's largest when a team of Germans from Pilsting took the lead in July 2017 with a massive burger weighing roughly 2,566 pounds. Now that's what we call a real whopper.
The next time you get one of those fancy Venti coffee drinks at Starbucks and wonder, 'Am I drinking too much caffeine?' - don't. Your Venti pales in comparison to the cup of coffee served up in Las Vegas, Nevada in October 2010. An 8x8 coffee mug was constructed to hold what is now considered the world's biggest-ever cup of coffee: 2,010 gallons.
That's more than you'll probably drink in a lifetime, even if you have a serious caffeine addiction. For number nuts: 2,010 gallons of java amounts to nearly 32,160 regular cups of coffee.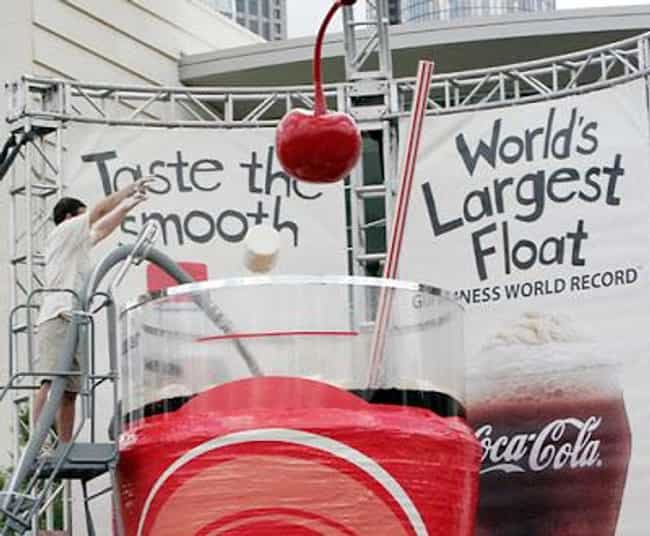 Hats off to Coca-Cola for making the world's largest soda float. This 3,000-gallon ice cream float was whipped up at the World of Coca-Cola Museum in May 2007 using 7,200 scoops of ice cream and 2,850 gallons of Vanilla Coke.
The delicious monster float clocked in at 15 feet high.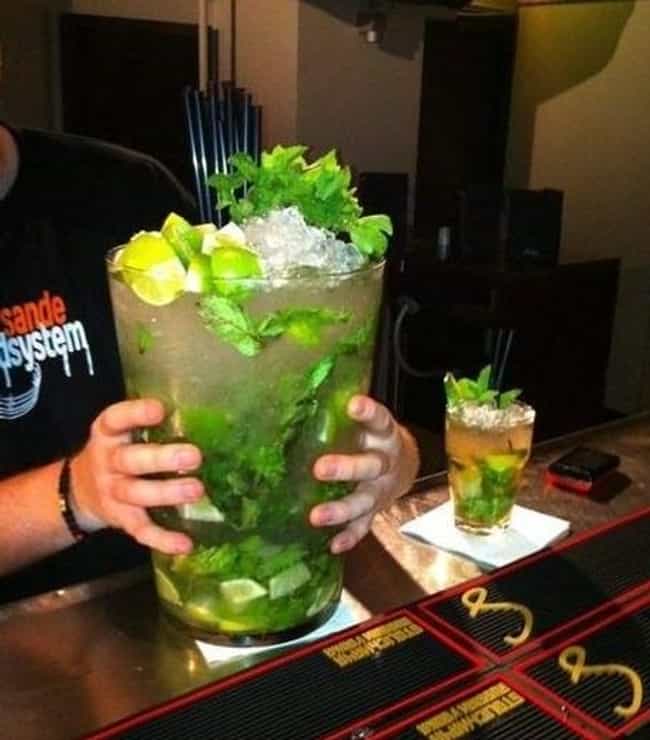 Love mojitos? So do people in Italy. So much so that on July 14, 2011, a group of fans created the largest-ever mojito. The 1,300-liter concoction took more than an hour to make (with several people dumping rum, mint, and sugar cane juice into a massive glass).
In April 2016, 4-Jack's Bar and Bistro in the Dominican Republic rose to the challenge and made cocktail hour even bigger, creating a monster 3,519-liter mojito (made in an hour and 35 minutes) and, of course, a recipe for one huge hangover.