Gangs
How Biker Gangs Give Back To The Community

Updated October 22, 2018
9.8k views
13 items
They may give outsiders the impression of being tough-as-nails renegades, but many biker gangs are actually a lot more goodhearted and compassionate than people might initially assume.
Biker gang charities and socially-conscious causes are a central focus of many motorcycle clubs. It just goes to show reputations are not always accurate. There are famous biker gangs across the nation that focus their collective efforts on giving back to a number of good causes and organizations.
In reality, the vast majority of bikers are just really cool people who genuinely want to give back. For some MCs, this might mean fundraising. Others donate their time, talents, or gifts.
Sometimes bikers' loved ones have been affected by an illness charity seeks to eliminate, but in other cases their local communities are simply in need. Regardless of their reasons, there have been countless times biker gangs were good, and there likely will be many more in the future.
While the Hells Angels' commitment to their club is unquestionable, so too is their commitment to charitable giving.
Case in point: They hold an annual toy drive. They also buy items and donate them directly to charity. In 2014, some Hells Angels members camped out at a Walmart in advance of Black Friday. When the doors opened, they swept into the store and purchased every single bicycle in the place. They then took the bikes straight to a local charity that works with the homeless and other in-need, vulnerable citizens.

Bikers Against Child Abuse is a major international organization that seeks to empower abuse victims to get justice. BACA was founded in 1995 by John Paul "Chief" Lilly, a biker, social worker, and certified play therapist.
The organization has four levels of intervention, and an abuse victim is given the contact information for two members of the group; the victim can contact those members for help at any time. "We're a strand of barbed wire around the child," said the secretary of the Utah chapter. "We're there to protect them - and if you get too close, you get hurt."

They Fight Animal Cruelty
Founded by two bikers in 2011, Justice Rescue is focused on eradicating animal cruelty and abuse, particularly against Pit Bulls. One of their main focuses is helping animals in high-risk areas.
"We work in the underbellies," one of the founders of the group explained. "We go anywhere at any time. People have tried to run us over and pulled guns on us."
Not only does Justice Rescue save high-risk animals, they also aim to educate communities on proper animal care and treatment so these types of abuse situations don't happen again.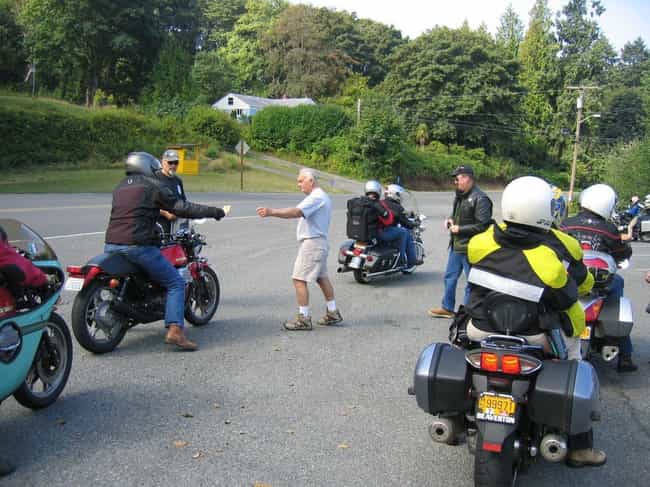 One of the most popular biker fundraising efforts is the poker run, which combines the namesake card game with a motorcycle ride.
To begin the game, players establish five different checkpoints along a predetermined route. From there, everyone rides from checkpoint to checkpoint, drawing a single playing card and placing bets at each stop.
At the final location, participants get together to draw their last card, and the one who has the best hand wins. The proceeds collected throughout the run are then donated to a charity, cause, or civic organization.