Total Nerd
Behind-The-Scenes Stories From The Making Of 'Bill & Ted's Excellent Adventure'

Updated September 13, 2019
6.6k views
13 items
The making of Bill & Ted's Excellent Adventure (1989) was an adventure in and of itself. The movie started as a comedy skit between its two writers, Chris Matheson and Ed Solomon, and slowly became a tale of time-traveling teenagers just trying to pass history class.
Bill and Ted face several obstacles throughout the film, including authoritative fathers and overloaded time machines, but the movie encountered numerous hurdles, as well. Dealing with everything from bankrupt production companies to skepticism that such ill-informed yet likable characters would find their audience, Bill & Ted almost never made it to the big screen.
Behind the scenes of Bill & Ted, the cast and crew enjoyed themselves - laughing as they made what would become a cult classic, not to mention the first of what will soon be a trilogy. Bill & Ted movie facts reveal that being on set was a learning experience for all - a fun one full of history and music alike.
The Phone Booth Was A Rickety Mix Of Body Odor And Heat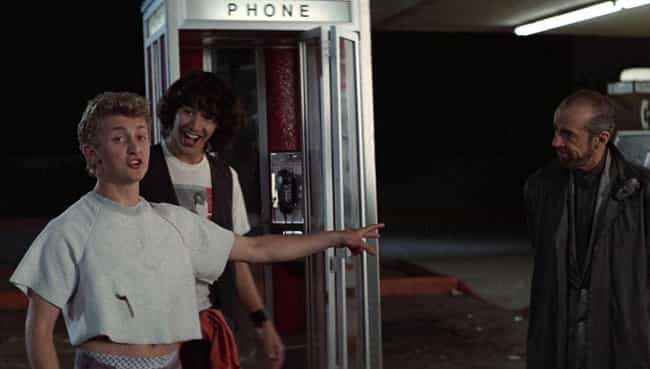 The phone booth in Bill & Ted is almost a character in and of itself, crammed full of historical figures racing through time with the title characters. The phone booth was reportedly Stephen Herek's idea - a middle ground between a car like the one found in Back to the Future and Doctor Who's TARDIS, although Herek said he'd never had any exposure to the latter.
Keanu Reeves had fond recollections of how the small space helped the cast figure out how to "literally fit together," resulting in a "real cooperation with everyone." Actor Alex Winter, who plays Bill had a slightly different take, saying:
We're all in a regular phone booth with our boiling-hot costumes and varying degrees of body odors intermingling, you know?... Anything that involved the Circuits of Time did not go as planned, because it was a rickety piece of crap; there were nine or ten of us teetering on this thing, duct-taped to a hydraulic unit against a green screen in a studio in outer Tempe, Arizona.
Getting George Carlin Was A 'Happy Accident'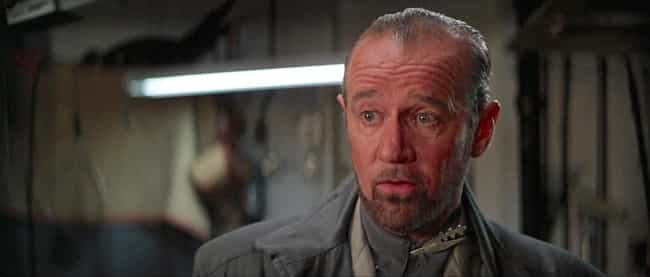 Similar to how producers sought out big music talent for the movie, Bill & Ted set its sights on noteworthy actors, too. In a Reddit AMA, Alex Winter said getting George Carlin to do the movie was an idea that took shape after filming had already begun.
Winter called Carlin's casting "a very happy accident. They were going after serious people first. Like Sean Connery. And someone had the idea, way after we started shooting, of George. That whole movie was a happy accident. No one thought it would ever see the light of day."
George Carlin was brought in by producers Scott Kroopf and Bob Cort. They "had worked with George in Outrageous Fortune," recalled director Stephen Herek. Once he took the role, Carlin took it "very seriously... was totally prepared... [and] didn't really even like to improvise that much." Herek claimed, "I thought he would be a little more off-the-cuff, but he actually stayed pretty tight on the script. Occasionally he would have some sort of witticism, and of course he wouldn't do it until he had permission to do it. Which, again, amazed me."
The Director Challenged Reeves And Winter To Access Their 'Puppy Factor'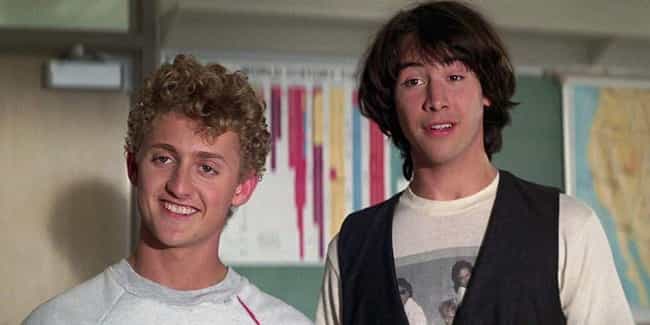 Making both Bill and Ted likable and real as characters was key for stars Keanu Reeves and Alex Winter - and for director Stephen Herek. As Herek worked with the co-stars, he came up with a term for the tone he wanted to strike - "the puppy factor." According to Herek, "I ended up distilling it to one phrase that I used to tell both Alex and Keanu: 'I need more Labrador retriever.' Because I felt that these guys were sort of like lovable Labs. And weirdly enough, they understood what I was talking about."
Since Herek encouraged Reeves and Winter to have fun on set, they felt like they could improvise and be spontaneous. This led to some of Bill & Ted's classic scenes, including the, "whole Star Wars lightsaber fight" between Reeves and Winter.
Improvising wasn't just for the title characters. Terry Camilleri (Napoleon) reportedly added in his own French lines to his role. Other stars, namely Rod Loomis (Sigmund Freud) and Clifford David (Beethoven), learned about some of the historical figures' actual quirks so they could act them out on screen and make their characters more authentic.
They Couldn't Afford To Close The Water Park For Napoleon's Scenes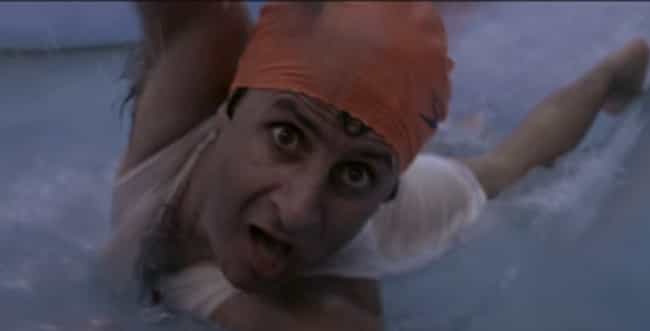 According to Bill & Ted's director, Stephen Herek, the movie had an $8.5 million budget. After filming on location in Italy and Arizona, funds were so low that they had to send Napoleon to Waterloo without closing the park to film. Herek recalled, "Anything in that scene in closeup was extras we paid for, but anyone in the distance was a paying water park customer."
Waterloo was actually the Golfland Sunsplash water park in Mesa, Arizona. Production assistant Connie Hoy remembered that day in February 1987:
It was cold as sh*t and I felt bad for the extras... But let me tell you, Terry [actor Terry Camilleri, AKA Napoleon] took to it like a fish to water and had to go down those slides so many times, even with the camera, like helping support it. He dug it - he had a blast.