Graveyard Shift
Behind-The-Scenes Stories From The Making Of 'Bird Box'

Updated June 14, 2019
2k votes
657 voters
51k views
13 items
List Rules Vote up the most interesting stories from the movie's production.
The Netflix movie Bird Box has captured the imagination of audiences and given everyone more reasons to love Sandra Bullock. A book adaptation, this dystopian film depicts a global population in chaos. People are being driven to take their own lives after mysterious creatures show them a visualization of their worst fears. It's an incredibly dark film that has led to plenty of interesting theories. Judging from behind-the-scenes stories about Bird Box, capturing the concept on screen was almost as difficult as scavenging for supplies while wearing a blindfold.
Both Bullock and Bird Box director Susanne Bier have spoken at length about the film's production, and how hard it was to emote while simultaneously wearing a blindfold and rafting down a river with two 5-year-olds. Screenwriter Eric Heisserer also contributed to the conversation with his opinion of the creatures and conveying potential physical characterizations of them from the book's author, Josh Malerman.
John Malkovich Helped Sandra Bullock Cry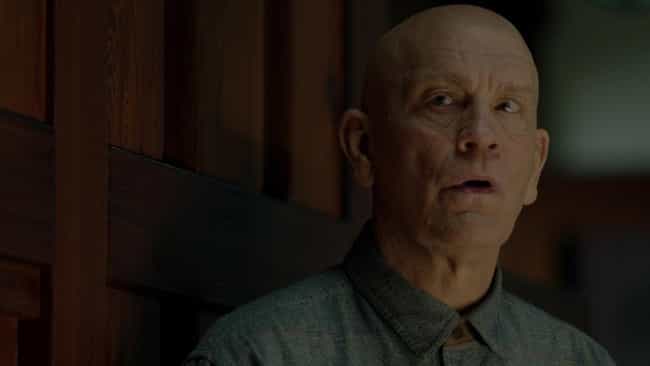 While filming an emotional scene with Rhodes, Bullock couldn't get her tear ducts going. So, co-star John Malkovich stepped in to help her get in the moment. Bullock explained to MSN how she ultimately got through the scene:
We were in this house, and it had a tin roof... I have to remember what I experienced watching my sister [perish]. I would be in the middle of it telling this to Tre, and he would be listening intently, and then an acorn would drop on the ceiling.

It was like raining acorns, and I just couldn't do the scene. Then, out of the blue, John Malkovich comes around the corner and puts his arms around me really tight and just holds me for, like, a few seconds and walks off. He just took the shut down away and then the waterworks came.
The Cast Received Acting Lessons From A Blind Instructor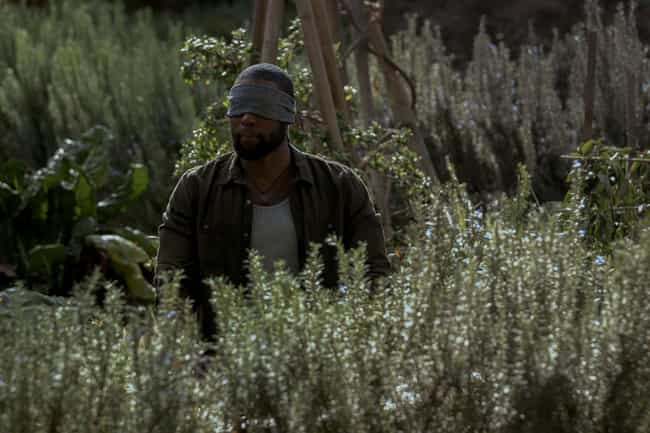 To convey a sense of competency in navigating the world around them blindfolded, the actors did prep work with a blind instructor. "We had a blind man come in and provide some insight [on] how to maneuver around," actor Trevante Rhodes told Syfy. "Once you get comfortable, it was functional. I don't want to say easy, but it was functional."
Rhodes (who plays Tom, Malorie's romantic interest in the film) said he needed almost three weeks to get to the point where he could maneuver around without bumping into everything.
Bullock told People she asked the instructor what he wanted to be represented on the screen about people in the blind community:
He said, "I'd like for us to finally see our abilities rather than our [disabilities]." It's mind-blowing what abilities they have even though they don't have their sight.

[We] were able to take away a few lessons like if we were blindfolded, we could walk in this room, we could tell you where the people were, where the walls were if there was an object there. Your body senses things that we just don't use because we have our sight.
The Actors Struggled To Show Emotion While Blindfolded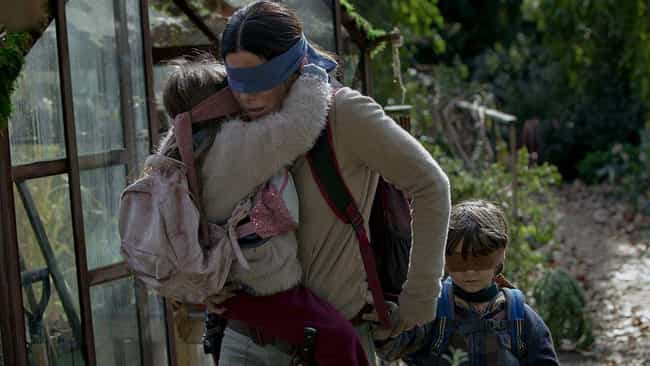 The Bird Box actors were blindfolded for much of the film, so you would think they had guides, disguised eye holes or transparent fabric to help with navigation. No such luck for these pros.
According to Reuters, Bullock didn't want help moving around: "It helped give a really jagged feeling to those scenes rather than if I had holes cut in my blindfold and I could see, and I was pretending to stumble and be blind."
Bullock told Deadline she dealt with a few falls and had an unfortunate encounter with a camera. But she said the hardest part of being blindfolded was not bumping into things, but rather showing emotion: "What's the easiest way as an actor to show how you're feeling on camera? It's your eyes. And you realize when that's taken away you don't know how to act."
Sandra Bullock Worked Closely With The Film's Child Actors To Make Traumatic Scenes More Comfortable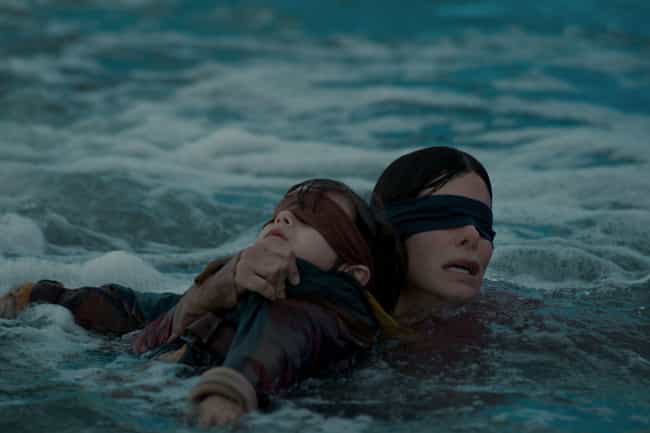 The children in the film, Boy (Julian Edwards) and Girl (Vivien Lyra Blair), endure several traumatic experiences. Malorie routinely yells at them, they wind up in a raging river, and they have to escape through a scary forest while an unknown entity is chasing them.
To ease the tension, Bullock said she worked with the 5-year-old actors before each take, so they knew exactly what to anticipate: "If I had to grab them roughly and drag them around, we always practiced, and they let me know what was comfortable, what wasn't."
Bullock said Julian and Vivien are very talented. She pointed out that Vivien, in particular, got very anxious while filming because she "feels things so deeply. Just the anticipation of something would make her very afraid, and that's what makes her such a great actor."