Food
The Craziest Burgers You Can Actually Order (If You Dare)

Updated November 6, 2017
6.3k votes
813 voters
175.9k views
27 items
List Rules Vote for the most insane burgers you can't believe are actually on a real menu somewhere.
Go ahead. Read through this list of ridiculous, delicious, sometimes terrifying burger creations and try to tell us your mouth isn't watering by the third picture. We've brought you a list of the weirdest burgers, the meatiest burgers, the tallest burgers, and the most creative burgers that will forever haunt your freaky burger dreams (and your arteries, if you dare devour any of them).

What you don't know is that you're about to embark upon a carnivorous journey through the best burgers of all time… and all you have to do is be a little open-minded. Think fried celery sticks tossed in bleu cheese sitting delicately atop a fried chicken patty that's been doused in buffalo sauce. Envision a bun made of ramen noodles that cradles a fried egg, a sirloin beef patty, and bok choy between its thick and sticky noodle grip. Picture venison and blueberries in a codependent relationship or even a Whopper with 1,000 slices of classic American cheese.

Have we gone too far? How about three beef patties, 10 slices of bacon, and 14 slices of cheddar cheese that live happily between the confines of two grilled cheese sandwiches? Have our meaty poetics enticed you? Keep reading and you'll learn about all the craziest burgers of all time. Vote up the ones you can't believe made their way onto a menu.
The Triple Coronary Bypass (aka The Super Stack)
The Vortex
, located in Atlanta, GA, is the establishment that trademarked "Coronary Bypass Burgers" back in the '90s. And the Triple Coronary Bypass is the one they call the "most preposterous." Let's start with the cheese. There are 14 slices of cheese amidst three beef patties, three fried eggs, and 10 slices of bacon, all stacked between grilled cheese sandwiches (used for buns, of course). Served with a side of tater tots and french fries just in case you're somehow still hungry.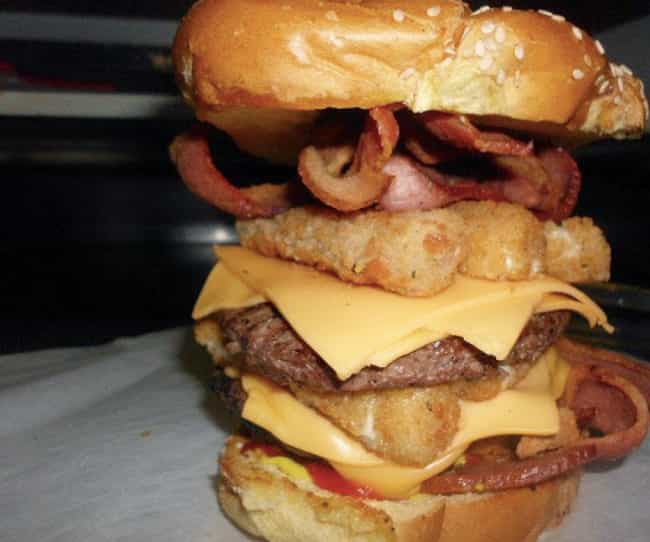 Feeling sinful?
The 666 Burger is a unique creation brought to you by
Wiener and Still Champion
in Evanston, IL. This devilish combo gains its name not by any affiliation with the underworld, but because there are 6 mozzarella sticks, 6 slices of cheese, and 6 slices of bacon stacked between a sesame bun and beef patty.
The 100 Patty In-N-out Burger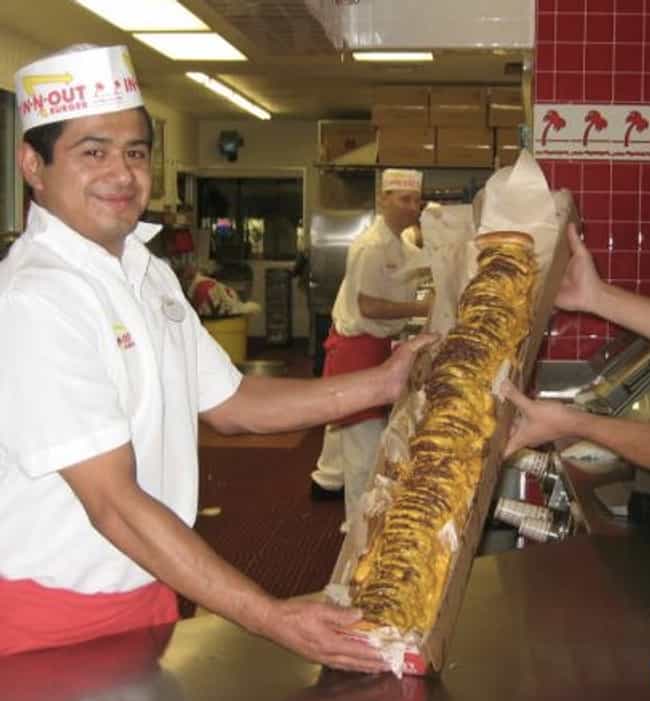 Y'all have heard of In-N-Out, right? Animal style fries and mouth-watering special sauce? But have you heard of the 100 patty cheeseburger that some crazy beef mongrel ordered? Well, it happened. And it really doesn't make any sense.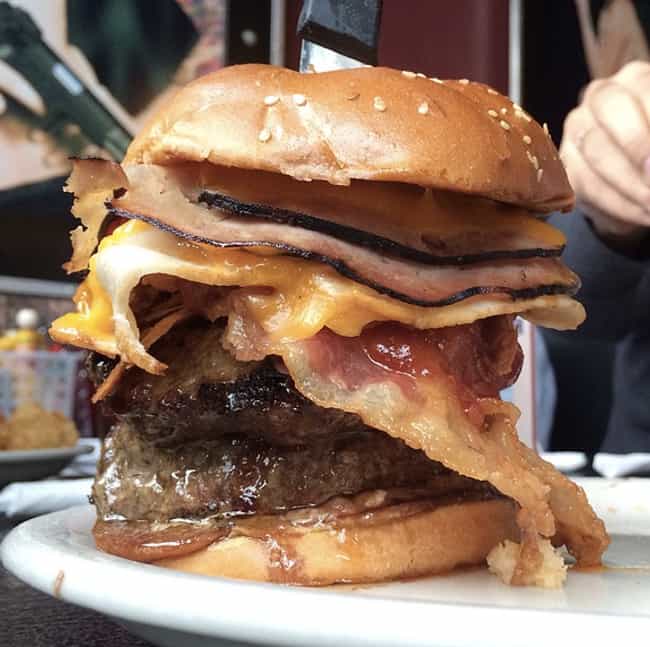 From the lovely inventors of the "Coronary Bypass Burgers" at The Vortex (Atlanta, GA), comes another ridiculously sinful spin on the burger...
the Carnivorgasm!
Like the name implies, this is a ruthless mean stack that'll probably put you to sleep before you can get out of the booth. Sitting pretty between a normal sesame bun, the Vortex original bbq sauce covers two grilled sirloin patties, turkey, ham, smoked pork, bacon, cheddar, AND whiskey pimento cheese.