Chain Restaurants

The Best Black Angus Steakhouse Recipes

69 votes
56 voters
15.6k views
9 items
List Rules Upvote the best Black Angus Steakhouse recipes
Black Angus Steakhouse recipes, a helpful guide to preparing your favorite dishes from the Black Angus Steakhouse menu at home. These copycat recipes are typically not based on exactly the method used at Black Angus Steakhouse, but are modeled closely on the flavor and texture of Black Angus Steakhouse's food, making it easier than ever to bring these great tastes to your house for cheap, using all your favorite cuts of steak.
From the cheesy biscuits at Red Lobster to the amazing sauces at Buffalo Wild Wings, it's always tempting to go out for a delicious treat at one of the numerous chain and franchise restaurants dotting the landscape. But eating out at restaurants all the time can be a costly proposition. Not to mention the fact that, at restaurants, you have no portion control, and can't alter the recipes, ingredients or style of cooking to suit your own taste.
Making Black Angus Steakhouse recipes in your home gives you all of these options, while saving you money, and providing the same great diversity and taste that you'd find at your favorite casual dining spot. This list collections the best copycat [restaurant name] recipes from around the Web.
Steamed Broccoli with Shaved Parmesan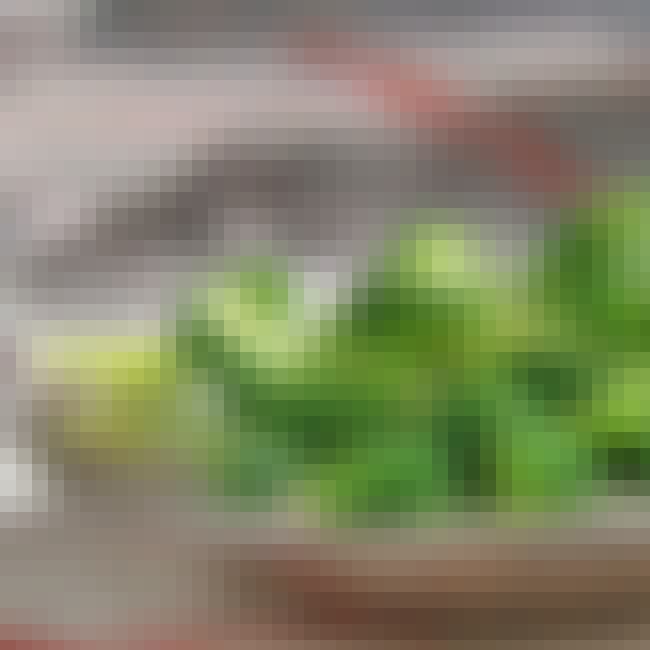 3 -4 cups fresh broccoli florets
1 teaspoon sugar
1/4 cup butter
water
- Place the sugar the bottom of your pan, insert steamer basket.
- Add the enough water to come just below the bottom of the steamer basket.
- Bring to a boil.
-Reduce heat to medium.
- Add broccoli to basket and cover with a lid.
- Steam for 7-8 minutes, depending on your tenderness preference.
- Melt butter in the serving bowl in the microwave.
- Add broccoli and stir to coat.

Would you try this?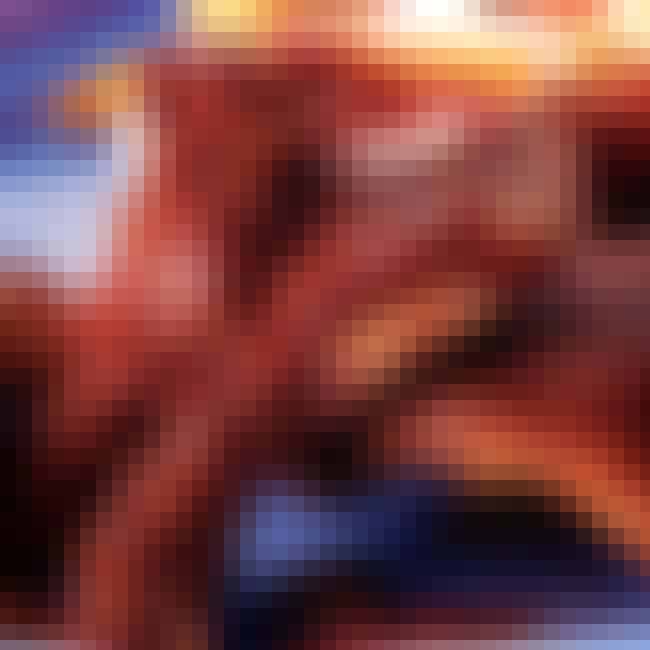 2 tbsp. kosher salt
2 tbsp. paprika
4 tbsp. granulated garlic
1 tbsp. onion powder
1 tsp. cumin seed
1 tsp. Durkee Ancho pepper
2 tsp. dry mustard
2 tsp. black pepper
- Combine ingredients well and rub on ribs.
- Remove membrane from ribs by sliding knife underneath and peeling back the membrane on the back.
- Season ribs all over with rub, concentrating on the meatier portions and rubbing seasonings well into the ribs.
- Cook ribs over indirect heat (250°F-300°F) for 3-4 hours.
- Hickory, mesquite, apple or other fruit wood may soaked in water and tossed in small quantities.
- Add more charcoal to the fire as the cooking progresses in order to maintain temperature.
- After 3 or 4 hours of slow barbequing, arrange the ribs on a shallow-sided disposable aluminum pan.
- Mop them on both sides with the mixture below.
- Cook for another hour, mop again, turn.
- Baste the ribs and check the coals at least once every hour for the next 3-4 hours.
- Baste on both sides well with your preferred BBQ sauce .
- Sprinkle lightly with garlic and onion powder, and wrap each rack of ribs well in heavy duty aluminum foil.
- Allow to rest in the foil for 30 minutes.
- When ribs are done, they will be fall-off-the-bone tender.
- Total cooking time is approximately 4-8 hours but this will vary according to your grill and the size of the rib rack (s) being cooked.
-The ribs are done when falling-off-the-bone tender.
MOP:
1 cup red wine vinegar
1 tablespoon garlic
1 cup water
3 tablespoons soy sauce

Would you try this?
Sesame-Teriyaki Chicken Breast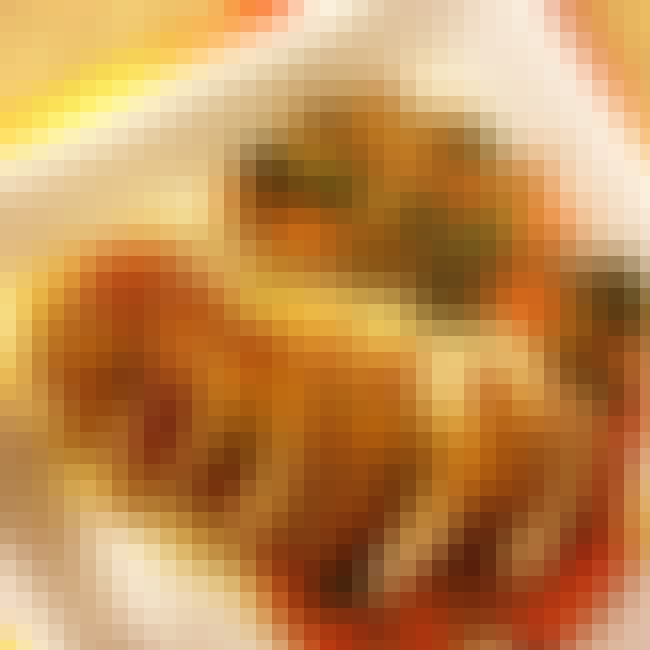 1/2 cup reduced-sodium soy sauce
2 tablespoons honey
1 tablespoon blackstrap molasses
1 teaspoon finely grated fresh ginger
2 cloves garlic, minced
1 teaspoon liquid smoke seasoning
1/4 teaspoon freshly ground black pepper
6 boneless, skinless chicken breast halves, cut into thin strips
1/4 cup sesame seeds, lightly toasted
8 ounces cellophane noodles, soaked in hot water until tender
1/4 cup chopped fresh cilantro leaves
2 teaspoons sesame oil
4 cups snap peas, steamed
- Coat a stove-top grill pan or griddle with cooking spray .
- Set over medium-high heat to preheat.
- In a shallow dish, whisk together soy sauce, honey, molasses, ginger, garlic, liquid smoke seasoning, and black pepper. - Add chicken strips and turn to coat.
- Place chicken on hot grill and cook 5 to 7 minutes, until cooked through.
- Remove chicken from grill pan and roll in toasted sesame seeds.
Would you try this?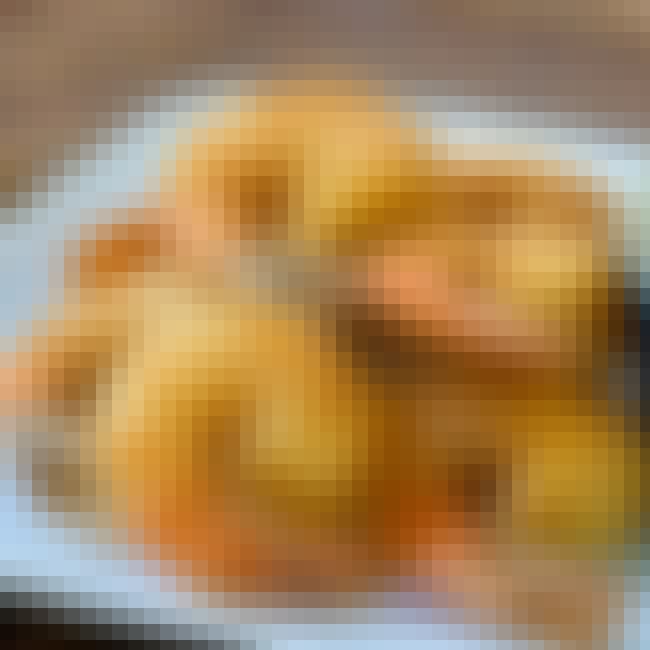 1 1/2 pounds boiled shrimp
2 cups milk
1 egg
flour
cornmeal or bread crumbs
1/8 teaspoon salt
dash pepper
- Mix milk with egg.
- Add shrimp and let stand for 3 minutes.
- Mix equal parts of flour and cornmeal or bread crumbs with salt and pepper.
- Coat shrimp well with mixture.
- Cook shrimp in hot deep fast at 375° until golden brown.
- Drain on paper towels.

Would you try this?