Living
Here's Why The Makeup In 'Black Panther' Is So Revolutionary

Updated February 27, 2018
20.7k views
10 items
You've probably heard a lot of praise for the movie Black Panther and its brilliant cast of stars including Angela Bassett, Lupita Nyong'o, and more — and hopefully you've seen the film yourself. But you may not have heard much about the other stars of Black Panther: the African beauty looks that frame the entire story.
The importance of makeup in the Black Panther movie can't be underestimated. The film's hair and makeup artists meticulously researched traditional beauty practices of ancestral African tribes in order to create beautiful, authentic styles for the movie and its characters. This celebration of black beauty couldn't have come at a more perfect time. It coincides with a call for more diversity in the fashion and beauty industries, and if the overwhelmingly positive response to Black Panther is any indication, more brands will start championing diversity soon.
Scroll through to learn more about the inspiration behind the Black Panther makeup, and even learn how to recreate one of the looks at home (without culturally appropriating). Let's be honest: these Black Panther beauty looks pretty much stole the show, right?
The Hair And Makeup In Black Panther Pay Homage To The Diversity Of African Beauty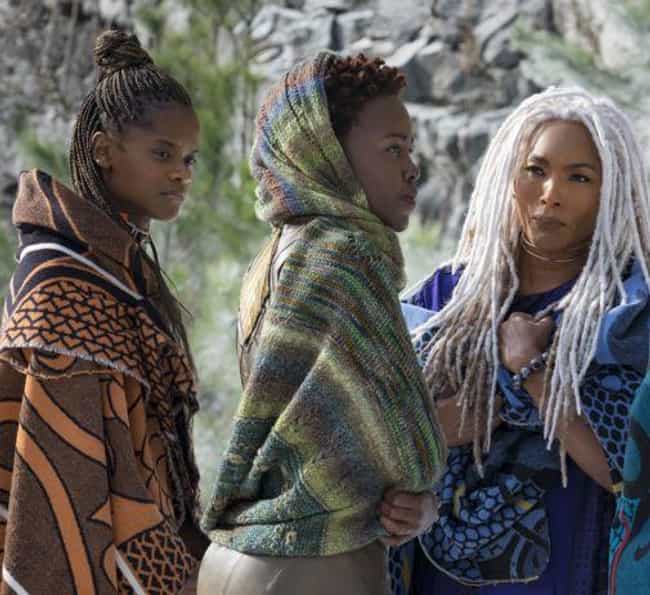 Everything about the hair and makeup in Black Panther has a special meaning, whether that's an extra swipe of highlighter to play up the high, sharp cheekbones unique to Nigerian women, or a traditional hairstyle worn in a nod to its ancestors. In a magical way that doesn't seem hodge-podge or appropriating in any way, the design and HMU team incorporated elements across a wide, diverse swatch of the African continent, which only enriches the Afro-futuristic world of Wakanda.
Tym Buacharern, a makeup artist for the film, reveals,
"Every fictional tribe in the movie was paired up with real tribe in Africa. For the River tribe, we based their looks on the Tsami and Suri tribes of southwest Ethiopia and Wagenia fishermen in the Democratic Republic of the Congo."
The Female Stars Of Black Panther Defy Traditional Beauty Standards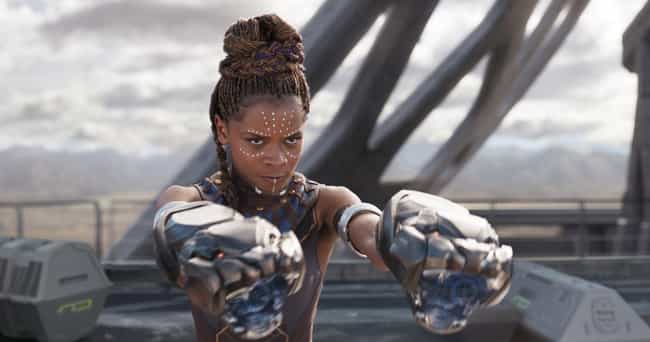 Black Panther stars incredible, strong, beautiful and intelligent women of color including Angela Bassett, Letitia Wright, Lupita Nyong'o, Florence Kasumba and Danai Gurirad, playing all types of roles from queens to body guards to warriors. As one black writer wryly observed, "It's almost as if director Coogler understands our influence and our value and realizes how much we, too, deserve some shine."
The characters certainly don't conform to Western beauty ideals, either — but they're still drop-dead gorgeous! The hair stylists and makeup artists who worked on Black Panther said that they wanted to pay homage to their African ancestors through the film's hair and makeup. "We were inspired by the women warriors of Senegal, the Himba from Namibia, the Ashanti tribe from Ghana, and the Zulu people," says Camille Friend, who was the head of the hair department for the movie. "We used many authentic African hair styling techniques and products like mud, ties, grasses, and beads to create the world of Wakanda."
The Ideal Beauty Standard, Until Recently, Has Been White Women
If you have any doubt that white, Anglican features (blonde hair, blue eyes, small nose, pouty lips, straight hair) have been the gold standard when it comes to what's considered beautiful, just look at the ratio of white women to women of color in beauty advertisements. One survey concluded that 78% of fashion and beauty ads feature white women!
It's only in recent years that beauty brands in particular have embraced inclusivity and given women of color starring roles in beauty campaigns. Fortunately for all of us, in 2018, Kerry Washington represents Neutrogena and Lupita Nyong'o is a Lancome ambassador.
Women Of Color Have Felt The Need To Conform To White Beauty Ideals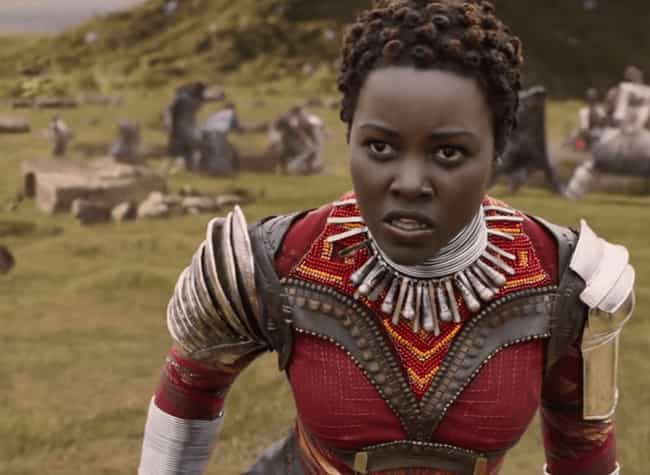 For women of color, the consequences of living in a world where white beauty ideals are worshipped are real. Without having any role models of beauty that look like them, young girls of color grow up believing that their features aren't beautiful, and succumb to different "whitewashing" techniques in their everyday beauty routines. These include things like hair relaxing and hair straightening to tame naturally textured hair, buying skin brightening creams to lighten dark complexions, and extreme contouring to create the appearance of smaller, Westernized features.