Movie Quotes

Black Sea Movie Quotes

14 votes
14 voters
1.2k views
8 items
"Black Sea" movie quotes bring the thrills as a submarine crew hunts for a U-boat full of gold in the Black Sea. The adventure thriller was written by Dennis Kelly and directed by Kevin Macdonald. "Black Sea" opened in the United States on January 23, 2015.
In "Black Sea," Captain Robinson (Jude Law) learns that he and his entire submarine crew are being let go from their job doing marine salvage. When he breaks the news to the crew, one of them, Kurston, has an idea on how they can make money. He explains that on a previous mission in the Black Sea, he identified an abandoned U-boat from World War II that was allegedly full of Hitler's gold. Together, Kurston and Robinson approach their old employer, Lewis (Tobias Menzies), and ask for the funding to retrieve that gold, a request that is granted.
So Robinson assembles a crew, including Fraser (Ben Mendelsohn), Peters (Scoot McNairy), Blackie (Konstantin Khabensky) and Tobin (Bobby Schofield), gets an old submarine and heads out on the task. But the confined space of the submarine, combined with the greed from the gold, gets the best of the men and they soon begin killing each other off. Fewer heads to share the sunken treasure means each gets a larger share and they all know this. So while retrieving the gold is one goal, surviving the trip is entirely another battle in itself.
"Black Sea" joins the early 2015 movie lineup alongside "Mortdecai,"
"The Boy Next Door,"
"Still Alice,"
"The Wedding Ringer,"
"Blackhat,"
"Taken 3,"
"Predestination,"
"A Most Violent Year,"
"The Interview,"
"Unbroken,"
"American Sniper,"
"Into the Woods,"
"Big Eyes,"
"The Gambler,"
"The Hobbit: The Battle of the Five Armies,"
and
"Annie."
We Don't Need a Submarine Pilot Anymore
Boss: "The business has changed. Marine salvage has changed. We don't need a submarine pilot anymore."
Captain Robinson: "I've been working on submarines for nearly 30 years. I lost my family to this job."
Boss: "I'd like you to clear your desk. We've gotta let you go, all of you."
Robinson learns that he is being let go by his current employer. Not only that, his whole crew are out of jobs now as well. Times are changing and there just isn't a need for his kind of work anymore.
Should this be higher or lower?
I Know a Way to Get Money
Kurston: "We don't have to take this. I know a way to get money. I need you to listen. I need a man like you. Last year, I went out to the Black Sea and found something. One of Hitler's U-boats is just sitting on the seabed full of gold."
Upon hearing that they've all been let go from their company, Kurston has an idea on how they can make money, and a lot of it. They need to venture to the Black Sea to find a U-boat, which is filled with millions of dollars of gold.
Should this be higher or lower?
Lewis: "What is it you want from me?"
Captain Robinson: "I need men, half British, half Russian. Reynolds, Peters, Tobin…"
Kurston: "He's just a boy."
Captain Robinson: "Fraser"
Kurston: "He's a liability."
Captain Robinson: "But he's an incredible diver."
Robinson and Kurston approach Lewis about their plan to find the lost U-boat in the Black Sea. They lay out their plan, or at least Robinson does while Kurston objects to some of the personnel choices.
Should this be higher or lower?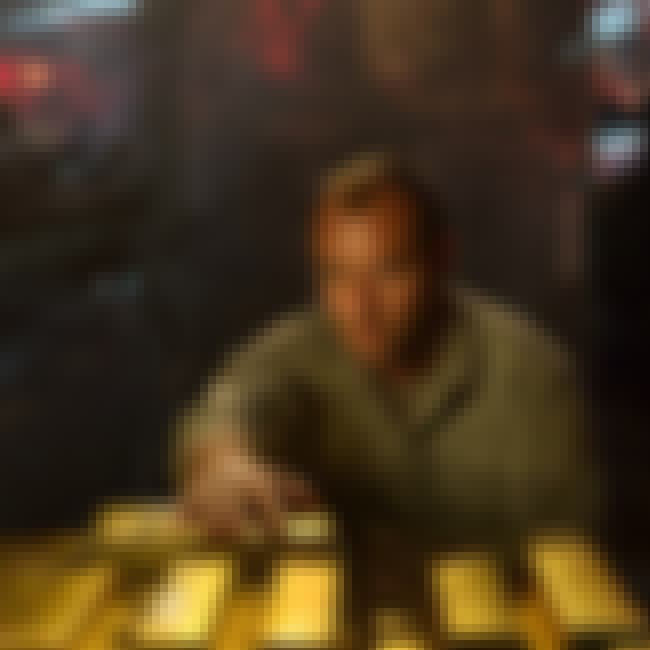 Captain Robinson: "Your girlfriend's pregnant. Don't you worry. You'll be going home a rich man."
When he finds Tobin looking at photos, Robinson remarks that Tobin's girlfriend is expecting. Despite this being a dangerous job, Robinson assures Tobin that all will end quite well.

Should this be higher or lower?