Bob Ross was a prolific painter who created and starred in the popular PBS television show The Joy of Painting, where he taught viewers how to create landscapes using the wet-on-wet technique. While he was well-known as an optimistic, soft-spoken artist - the Mr. Rogers of painting, really - there is quite a bit of amazing Bob Ross information out there that the public may not know. For example, what did he do before he started painting? How many "happy trees" did he actually paint? And exactly how did he feel about his infamous perm? 
Although Ross passed away at age 52 due to lymphoma in 1995, his fame has not diminished. His videos have millions of views on YouTube and he has over 600,000 followers on Twitch, where PBS regularly marathons episodes of The Joy of Painting. His soothing voice continues to calm people and his endless cache of inspirational quotes, like, "There are no mistakes, only happy accidents," is more relevant than ever.
In the words of the immortal painter, "Let's get crazy." Check out these awesome Bob Ross facts and get ready to appreciate the legend that is Bob Ross.
Photo: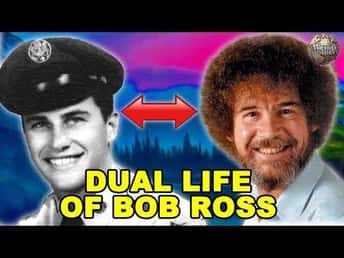 He Made 3 Copies Of Each Painting

Bob Ross tirelessly churned out three copies of every painting that appeared on The Joy of Painting. He kept the first painting off-screen and used it as a reference as he worked on the copy that appeared on the show. The final painting was completed after the episode was shot. A photographer would take pictures of Ross painting this final copy, and these images would appear in Ross's how-to books.

Three copies of each landscape equal three times as many happy trees. Imagine.