Sitcoms
The Original Premise For Bob's Burgers Was Much Darker And Incredibly Disturbing

Bob's Burgers has evolved from a cartoon that wasn't discussed much beyond its cult following to a bona fide crossover hit. GIFs from the show are endlessly reblogged and fans love to share the numerous Bob's Burgers puns. The cast has even performed live table readings at sold-out fan events. But would the show have garnered such an adoring fanbase if it had stuck with its original premise? You may not know this, but Bob's Burgers was almost a very different show.
The original Bob's Burgers concept had the Belcher family running the burger joint, but with one twist - they were cannibals. Not many people would draw comparisons between the Belchers and Hannibal, but if the original plot had gone forward, people would, no doubt, be compiling listicles about the cutest cannibals on TV. To learn more about the insane Bob's Burgers cannibalism that almost was, read on!
back to page 1
The Pilot Episode Is Called "Human Flesh"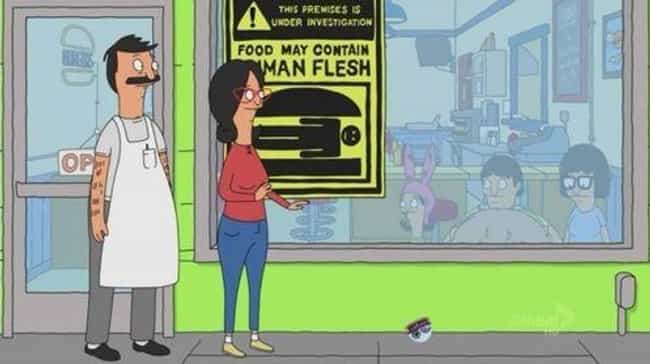 Even though Fox put the kibosh on a cannibalism plot running through the series, some indicators of the Belchers' predilection for human meat made it into the pilot. Just think about the fact that the first episode is called "Human Flesh." That could easily have been the name of a show about a burger joint that supplies its customers with patties made from, well, human flesh.
Bob Is Being Investigated For Cannibalism In The First Episode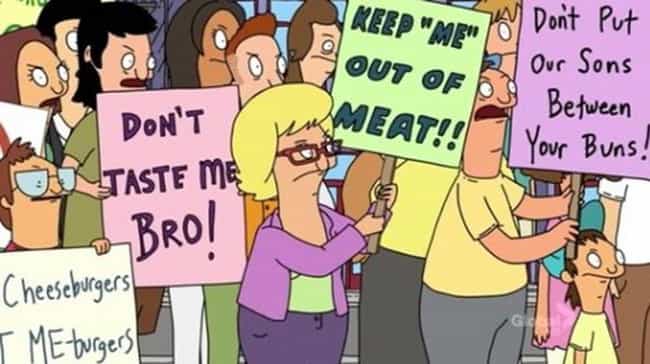 The health inspector in the pilot declares that he's not there for a routine inspection. No, no - he proudly states that he is there to investigate a troubling rumor that involves Bob and his family making burgers out of dead bodies from the morgue next door. Now this proves to unfounded, mainly because the rumor was started by Louise during one of her class's show and tell sessions. Still, could this plot have been a holdover from the show's original premise? Very, very likely.
Bob Forbids Gene From Offering Free Samples To Mourners Coming Out Of The Crematorium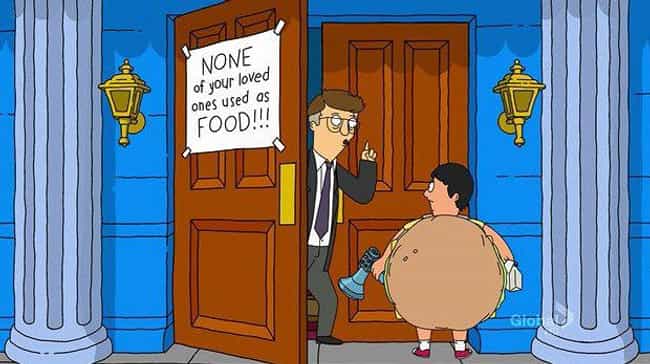 When Bob enlists Gene to offer free samples outside of the store in the pilot episode, he explicitly forbids Gene from offering them to anyone coming outside of the funeral home, especially if they look like they're in mourning. Is this because that line is from an earlier draft of the pilot where the Belchers are still cannibals and Bob doesn't want funeral attendees eating their former relatives?
Could This Be A Future Finale Twist?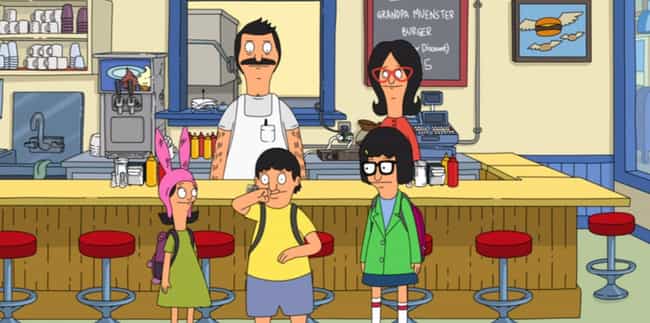 Maybe the fact that all these little hints made it into the pilot episode means that Bouchard's foreshadowing a future finale twist? Maybe the Belchers were cannibals all along and the big reveal will happen in the series finale with a perfect loop back to the very first episode. You never know! Strangers things could happen and this theory has a narrative callback going for it.