Remembering The Bone Wars: The Feud That Created And Almost Destroyed Paleontology
Stephan Roget
Updated April 17, 2019
2.5k views
16 items
Editor's Note: Voting and Reranking have been closed.
The Bone Wars may sound like a trashy made-for-TV movie, but in reality, it's an essential stepping stone in the development of paleontology. Rather than actual warfare, the Bone Wars were an intense rivalry between paleontologists Edward Drinker Cope and Othniel Charles Marsh. In a race to discover more dinosaurs than the other, Cope and Marsh turned what the world knew about dinosaurs upside down, somehow pushing paleontology forward and destroying their own reputations at the same time.
Their rivalry lasted from 1864 until Cope's death in 1897. While their paleontological rivalry did produce a number of new dinosaur species, the way they conducted themselves during the conflict left a dark stain on fossil hunting for decades thereafter. Generations later, all we're left with is the bones, the history, and one of science's biggest feuds.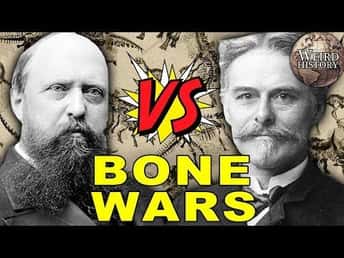 Cope And Marsh Destroyed Dig Sites To Prevent The Other From Making New Discoveries

Photo: Greg Willis / Wikimedia Commons / CC BY-SA 2.0

The Bone Wars started in the name of discovery, but that noble purpose was eventually lost in the pursuit of competition. Edward Drinker Cope and Othniel Charles Marsh engaged in some destructive shenanigans as the contest heated up. Both Cope and Marsh were perfectly happy to dynamite dig-sites when they were finished with them rather than risk the other coming in and finding something valuable. In other words, there could be entire dinosaur species that are never discovered because these two thought their rivalry was more important than the preservation of prehistoric specimens.