Film

Brad Pitt Black Comedy Roles

8.3k views
5 items
Follow
List of Black comedy movies/films with performances by Brad Pitt, listed alphabetically with movie trailers when available. These Brad Pitt Black comedy roles include starring, supporting and cameo appearances. You can sort these Brad Pitt Black comedy movies for additional information as well, such as who directed the films and when they were released. Over the years Brad Pitt has become known for playing characters in Black comedy movies, so this list is the perfect resource for finding some you haven't already seen.
Examples of movies on this list include Fight Club and Inglourious Basterds.
This list answers the questions, "What Black comedy movies has Brad Pitt been in?" and "What are the best Brad Pitt Black comedy roles?"
You can't vote on this list, but if you want to re-order it you can re-rank the list to put your favorites at the top. (5 items)
Burn After Reading is a 2008 black comedy film written, produced, edited and directed by Joel and Ethan Coen. The film stars George Clooney, John Malkovich, Frances McDormand, Tilda Swinton, and Brad Pitt. The film had its premiere on August 27, 2008, when it opened the 2008 Venice Film Festival. It was released in the United States on September 12, 2008, and in the United Kingdom on October 17, 2008. ...more on Wikipedia
Actors: Brad Pitt, George Clooney, John Malkovich, Tilda Swinton, J.K. Simmons, + more
Initial Release: 2008
Directed by: Ethan Coen, Joel Coen
Also Ranked
#23 on The Funniest Comedy Movies About Politics
#50 on The Greatest Movies About CIA Agents & Operatives
#10 on The Best Coen Brothers Films
#23 on The Best Movies About Agents and Operatives
see more on Burn After Reading
Fight Club is a 1999 film based on the 1996 novel of the same name by Chuck Palahniuk. The film was directed by David Fincher, and stars Brad Pitt, Edward Norton and Helena Bonham Carter. Norton plays the unnamed protagonist, an "everyman" who is discontented with his white-collar job. He forms a "fight club" with soap maker Tyler Durden, played by Pitt, and they are joined by men who also want to fight recreationally. The narrator becomes embroiled in a relationship with Durden and a dissolute woman, Marla Singer, played by Bonham Carter. Palahniuk's novel was optioned by 20th Century Fox producer Laura Ziskin, who hired Jim Uhls to write the film adaptation. Fincher was one of four ...more on Wikipedia
Actors: Brad Pitt, Jared Leto, Helena Bonham Carter, Edward Norton, Meat Loaf, + more
Initial Release: 1999
Directed by: David Fincher
Also Ranked
#7 on The Best Psychological Thrillers of All Time
#35 on The Most Rewatchable Movies
#17 on Movies That Should Never Be Remade
#6 on Which Ensemble Films Should Be Remade With All-Female Casts?
see more on Fight Club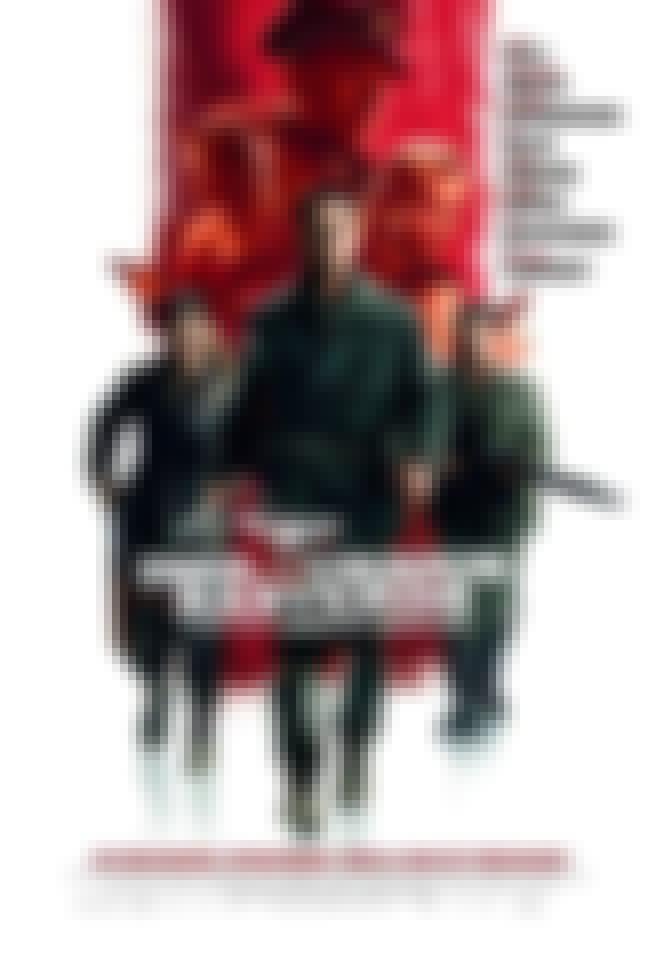 Inglourious Basterds is a 2009 German-American war black comedy film written and directed by Quentin Tarantino and starring Brad Pitt, Christoph Waltz, Mélanie Laurent, Michael Fassbender, Eli Roth, and Diane Kruger. The film tells the fictional alternate history story of two plots to assassinate Nazi Germany's political leadership, one planned by a young French Jewish cinema proprietor, and the other by a team of Jewish-American soldiers led by First Lieutenant Aldo Raine. The film's title was inspired by director Enzo G. Castellari's macaroni combat film, The Inglorious Bastards. Tarantino wrote the script in 1998 but struggled with the ending and chose to hold off filming and direct the ...more on Wikipedia
Actors: Brad Pitt, Michael Fassbender, Diane Kruger, Samuel L. Jackson, Mike Myers, + more
Initial Release: 2009
Directed by: Eli Roth, Quentin Tarantino
Also Ranked
#20 on The Best War Movies Ever
#29 on The Greatest World War II Movies of All Time
#87 on The Greatest Movies for Guys
#88 on The Best Movies Roger Ebert Gave Four Stars
see more on Inglourious Basterds
Mr. & Mrs. Smith is a 2005 American action comedy film directed by Doug Liman. Bored upper-middle class married coupleJohn (Brad Pitt) and Jane Smith (Angelina Jolie) learn that they are assassins belonging to competing agencies, and that they have been assigned to kill each other. ...more on Wikipedia
Actors: Angelina Jolie, Brad Pitt, Jennifer Morrison, Kerry Washington, Vince Vaughn, + more
Initial Release: 2005
Directed by: Doug Liman
Also Ranked
#80 on The Best Movies for Young Girls
#33 on The Greatest Date Movies of All Time
#32 on The Greatest Movies About CIA Agents & Operatives
#5 on The Best Vince Vaughn Movies
see more on Mr. & Mrs. Smith