Graveyard Shift Brainscan Is The Most '90s '90s Horror Movie Ever Made, And It Still Rocks In Its Own Way

There are '90s horror movies, and then there are very '90s horror movies, and Brainscan certainly fits into the latter category. Featuring landline phone conversations, CD-ROM games, early computer graphics, countless flannel shirts, a ridiculously '90s soundtrack, and Edward Furlong at the height of his popularity, Brainscan may not be one of the greatest horror movies ever made, but it is a blast from the past for horror fans that still rocks in its own weird way.
Furlong plays a lonely latchkey horror fan who lost his mother in a tragic accident. He spends most of his time hanging out in his high-tech attic bedroom, peeping on the girl next door, and reading issues of Fangoria - that is, until he makes a classic horror movie mistake and gets pulled into the world of the film's eponymous video game. While playing this game, he meets its mascot, the Trickster, who embroils him in some too-real-for-comfort mayhem. The rest is bizarre '90s movie history.
Teen Heartthrob Edward Furlong Stars, Fresh Off 'Pet Sematary Two'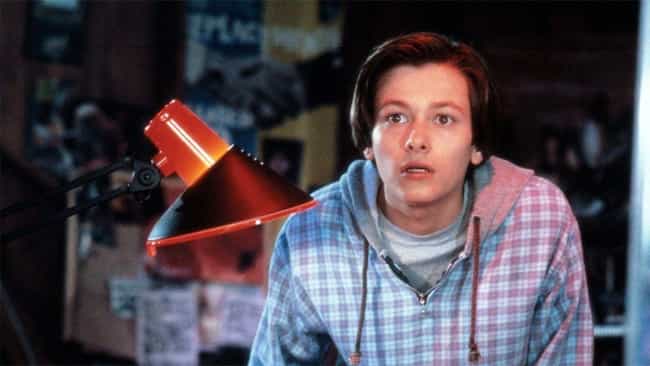 Perhaps the most '90s of all child actors, Edward Furlong was a hot commodity when he took the lead role in Brainscan. The teen hearthrob was coming fresh off starring roles in high profile genre sequels Terminator 2: Judgment Day and Pet Sematary Two. In Brainscan, he plays Michael, a lonely horror fan with a high-tech attic bedroom and a limp from a crash that claimed his mother's life.
Michael wears baggy shirts, hosts a banned horror club at school, and secretly tapes his attractive neighbor (Amy Hargreaves) through her bedroom window - the ultimate trifecta of questionable '90s tropes.
The Film Relates The Tale Of A Haunted CD-ROM Game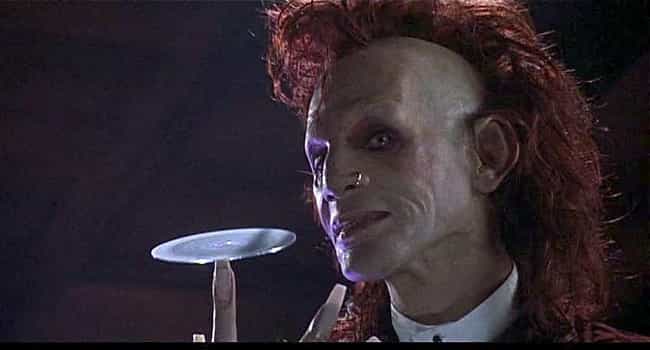 When horror nerds Michael (Furlong) and his best friend Kyle (Jamie Marsh) read about a CD-ROM game in the back of a Fangoria issue offering "the ultimate experience in interactive terror," they have to try it out, even though Michael dismisses the ad as "just hype."
Naturally, when the disc comes in the mail and Michael tries the game for the first time, he finds himself involved in a string of slayings that may be more real than he bargained for. Coming hot on the heels of such '90s gems as Lawnmower Man and Arcade, Brainscan is an early take on virtual-reality horror, albeit with more atmosphere and less reliance on low-rent, early '90s CGI.
The Trickster Is A Weird, Punk Rock Fop
Because Brainscan was a horror movie in the early '90s, it needed a gimmicky villain in the Freddy Krueger/Pinhead mold. In this case, the role was filled by a character called "the Trickster." The mullet-sporting computer game mascot materializes out of Michael's haunted CD-ROM in order to taunt, tempt, and goad the teen. The Trickster is intended to be both "comic and scary," and is dressed up like a bizarre punk rock fop, complete with a nose ring, crushed red velvet coat, and leather pants.
According to T. Ryder Smith, who portrays the Trickster in the film, the designers initially envisioned a "military/bondage theme" for the character before director John Flynn told them to "think rock and roll, not S/M."
In trying to convey the Trickster's outlandish appearance, critics described him as "Adam Ant in a Halloween mask" and "a cadaverous character who looks something like Alice Cooper on the third day of the wake."
Classic Horror Actor Frank Langella Broke The 'Tough Cop' Trope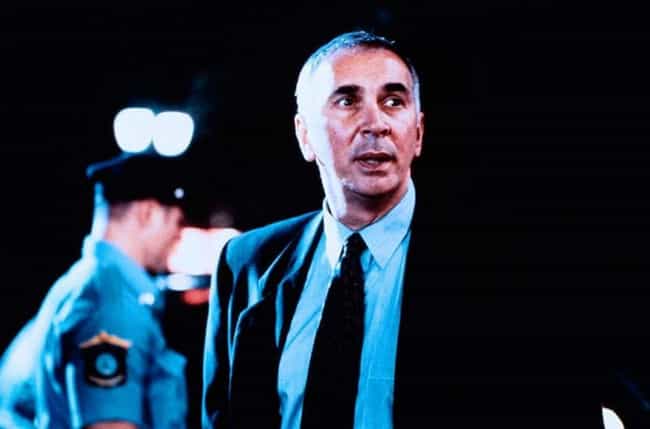 Detective Hayden, the police officer trying to end the Trickster's reign of terror, should look familiar to horror buffs. After all, he's played by legendary actor Frank Langella, who terrified audiences as the eponymous vampire in 1979's Dracula. He also appeared in heavy makeup as Skeletor in Masters of the Universe just a few years prior to Brainscan.
In an interview with Shock Cinema, director John Flynn praised Langella's work in the film, saying, "Frank took what was a routine cop part and lent real depth to it. He played against the tough cop stereotype, played it very gently and softly, but there was a subtext of steel."