Total Nerd
Behind The Scenes Of How 'Bridesmaids' Became A Comedy Classic

Bridesmaids is one of those movies that came out of nowhere but managed to grab everyone's attention. Its success can be attributed to the central cast of accomplished women comedians, Judd Apatow's direction, and especially Kristin Wiig's clever and hilarious script. Bridesmaids stands out as one the most memorable and most quotable comedies to come out of the last couple of decades.
Since the movie was so successful, fans have wondered how the cast and crew pulled it off. Though there are some stand-out names, there was also no shortage of hands involved in making this movie a box-office smash and a hit with the critics.
So, what went on behind the scenes of Bridesmaids that made it such a great film?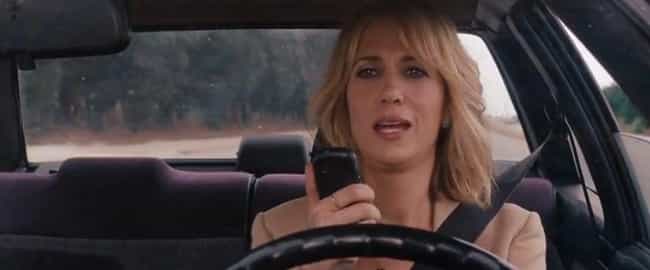 Wiig Contemplated Urinating Out Of The Car Window To Get O'Dowd To Laugh
There's a lot of out-of-the-box humor in Bridesmaids, which is one of the reasons the film resonated with a diverse audience, but there are a few moments of comedy gold that were left out of the final cut. For example, Kristen Wiig contemplated sticking her rear out of a car window and urinating in order to make her costar Chris O'Dowd laugh. O'Dowd recalled for Access:
I'm pretty sure that at some stage Kristen suggested just peeing out the window. They looked into the practicality of it, and she just realized that she didn't have the right machinery downstairs, you know, the thought was there, which was sweet.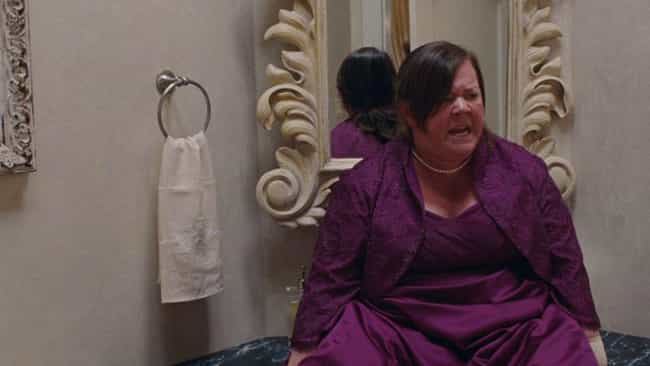 Wiig Said She Was Urged To Include The Food Poisoning Scene So Her Characters Could Act More Like Men
One of the most memorable moments in the film is the food poisoning scene. The women show up to a dress fitting only to find themselves victims of a bad lunch, causing all of them to run to the restroom at the same time.
The scene wasn't in the original draft of the script, and according to Wiig, she was highly encouraged to add it because people wanted to see women acting more like men. As a result, Wiig wasn't impressed with the scene and she told The Hollywood Reporter's Awards Chatter podcast:
[That] scene in Bridesmaids was not our idea and it was not in the original script, and we didn't love it. It was strongly suggested for us to put that in there. I didn't want to see people sh*tting and puking.
The concept ran afoul of the whole point of the film, which was to feature a women-centered comedy. While the result was effective in the sense that it stuck with audiences long after it was over, the film could have performed just as well without it.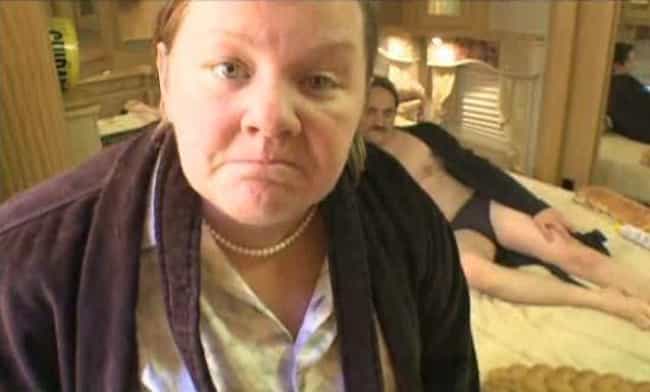 It Was Apatow's Idea For Falcone To Wear McCarthy's Underwear In The Credits
When the movie ends and the credits roll, there is an additional scene involving Melissa McCarthy and her offscreen husband, Ben Falcone, who plays Air Marshall Jon.
The scene depicts a home video of their first intimate encounter. It involves deli meat and other things a bit too salacious for a PG audience. One of those salacious details is the fact that Falcone is wearing his wife's undergarments, a costume choice suggested by director Judd Apatow meant to evoke the couple's raunchy sense of humor.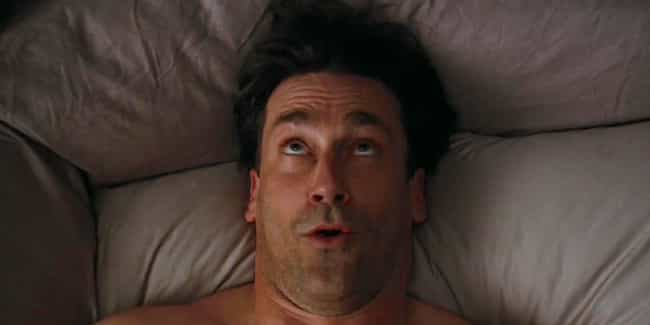 Hamm Tried To Enjoy The Intimate Scenes With Wiig
Jon Hamm, who is traditionally a dramatic actor, was not even included in the credits of Bridesmaids, though he certainly proved he has more range than some might assume. He actually asked not to be credited because didn't want his name to draw away from the comedic intentions of the film. Since Bridesmaids, he has done more comedy work, and he's spoken about his time making the movie fondly.
Hamm and Wiig engage in plenty of hilarious and awkward intimate encounters in the film. Typically, these scenes are just as awkward for the actors as they are for the characters, but everyone has their way of getting through them. In an interview with Playboy Magazine, Hamm described his tactics in filming the intimate scenes:
It's like running in the rain. There's a certain point where you go, F*ck it, I'm already wet. I'm not going to get any less wet, so I might as well just enjoy how this feels. I mean, sure, there's an awkwardness about being in a weird flesh-colored thong, bouncing on top of an actress...

I am not a small human being. I weigh at least 200 pounds, and I'm six-foot-two. And Wiig is a twig; she's a skinny little thing. I told her, Just punch me in the side if I'm hurting you.