Buildings
List of Famous Brooklyn Buildings & Structures

List of the famous landmarks that make up the Brooklyn skyline, listed alphabetically with photos when available. Brooklyn architectural landmarks as well as other major buildings, dwellings, and other structures in Brooklyn are included on this list. Information about these Brooklyn buildings is included on this list, such as when the building first opened and what architectural style it falls under. List includes both new buildings in Brooklyn and older historic landmarks.
List features buildings like Congregation Beth Elohim, East Midwood Jewish Center and more!
This list answers the question, "What are the most famous buildings in Brooklyn?"
This is a good reference for research into the historical architecture in Brooklyn. Famous architectural houses within the city of Brooklyn are included as well, sometimes by address, other times listed by the name of the original home owner.
The B'nai Yosef Synagogue, formerly Magen David Congregation of Ocean Parkway, is an Orthodox Sephardi synagogue at the 1616 Ocean Parkway and Avenue P in Brooklyn, New York. It is considered "America's busiest synagogue for Middle and Near Eastern Jews," with over 30 prayer services daily Built in the early 1970s, it became known as The Painted Shul, because its 13,000-square-foot interior is covered in brightly painted murals, making it the only completely muraled synagogue in the world. The synagogue is also unusual in that it was built and is funded by an anonymous individual; thus members are not required to pay any dues. ...more on Wikipedia
City/Town: New York City, New York, USA
Brooklyn Tobacco Factory, also known as the Hightower & Barksdale Tobacco Factory, is a historic tobacco factory located at Brooklyn, Halifax County, Virginia. It was built about 1855, and is a two-story, brick building with a gable roof. It features brick chimney flues projecting above the metal sheathed roof. Also on the property are two contributing pack houses and the ruins of a log house. The factory was designed and built by Dabney Cosby, Jr., son of the Jeffersonian workman, Dabney Cosby, Sr. The factory remained in operation until 1881. It was listed on the National Register of Historic Places in 1996. ...more on Wikipedia
City/Town: Brooklyn, Virginia, USA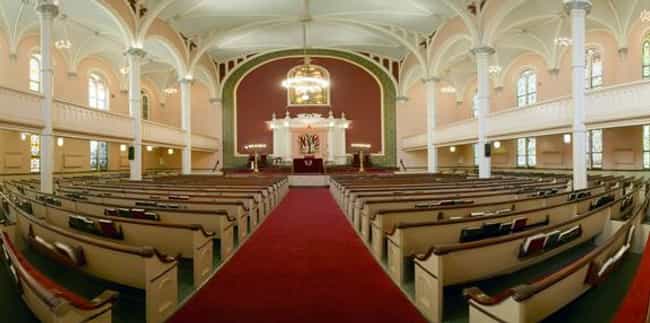 3
Congregation Baith Israel Anshei Emes
Congregation Baith Israel Anshei Emes, more commonly known as the Kane Street Synagogue, is an egalitarian Conservative synagogue located at 236 Kane Street in Cobble Hill, Brooklyn, New York City, United States. It is currently the oldest continuously operating synagogue in Brooklyn. Founded as Baith Israel in 1856, the congregation constructed the first synagogue on Long Island, and hired Aaron Wise for his first rabbinical position in the United States. Early tensions between traditionalists and reformers led to the latter forming Congregation Beth Elohim, a Reform synagogue, in 1861. The synagogue nearly failed in the early 20th century, but the 1905 hiring of Israel Goldfarb as rabbi, ...more on Wikipedia
City/Town: Brooklyn, New York, New York City, United States of America, North America
Opened: Jan 01 1855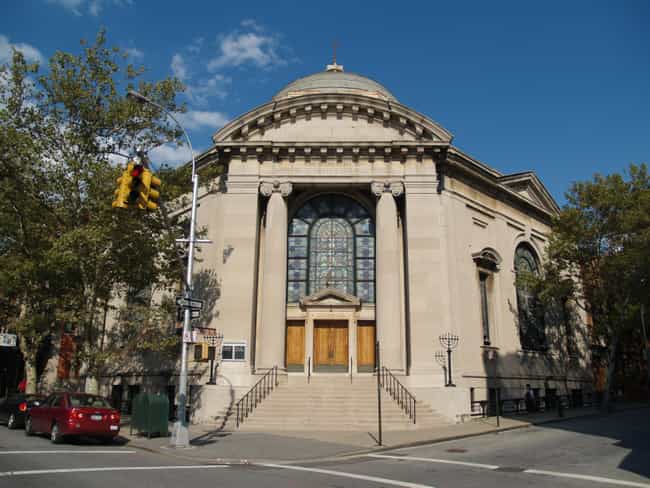 Congregation Beth Elohim, also known as the Garfield Temple and the Eighth Avenue Temple, is a Reform Jewish congregation located at 274 Garfield Place and Eighth Avenue, in the Park Slope neighborhood of Brooklyn, New York City, United States. Founded in 1861 as a more liberal breakaway from Congregation Baith Israel, for the first 65 years it attempted four mergers with other congregations, including three with Baith Israel, all of which failed. The congregation completed its current Classical Revival synagogue building in 1910 and its "Jewish Deco" Temple House in 1929. These two buildings were contributing properties to the Park Slope historic district, listed as a New York City Landmark ...more on Wikipedia
City/Town: Brooklyn, New York, New York City, United States of America, North America
Opened: Jan 01 1929
Style: Art Deco, Neoclassical architecture, Romanesque Revival architecture
see more on Congregation Beth Elohim