Graveyard Shift
The Most Disturbing Images and Drawings Created by Dennis Rader, the BTK Killer

Updated March 26, 2019
514k views
10 items
To the Wichita community, Dennis Rader was a church president and a Boy Scouts leader. However, he is better known as the "BTK Killer," the man responsible for taking 10 lives over the course of 17 years - from 1974 to 1991. The sadistic family man would stalk women, break into their homes, and attack them. His usual M.O. was binding his victims, torturing them, and eventually asphyxiating them.
For years, Rader went free, and his ability to evade police led to an increased arrogance. He sent the police and media letters taunting them. But BTK's cockiness eventually led to his downfall when, in 2005, he submitted a floppy disk to police after they assured him it couldn't be used to trace him. However, police were able to locate Rader based on the floppy disk and arrest him.
After BTK was captured, there were many revelations about his horrific actions. Graphic details were revealed through the letters and drawings he sent to police throughout the years, and creepy images of Rader dressed in his victims' clothing were made public. These are the most disturbing drawings and images created by BTK, who is currently serving 10 consecutive life sentences in Kansas's El Dorado Correctional Facility.
back to page 1
The Barbie And The Drainage Pipe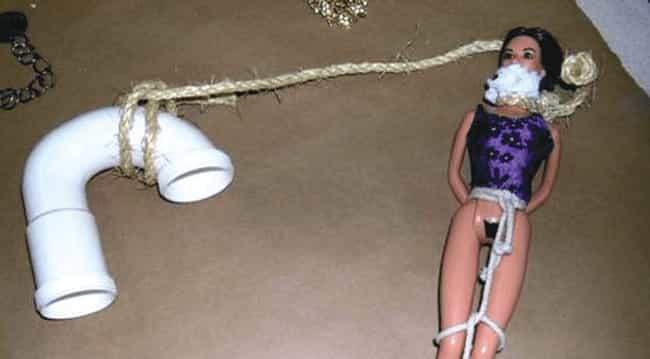 On January 15, 1974, Dennis Rader broke into the home of the Otero family. Chosen at random, the family would become BTK's first victims. He tied them up and placed bags over each of their heads. When Rader was unable to asphyxiate 11-year-old Josephine, he reportedly brought her down to the basement and hung her from a drainage pipe.
Later, BTK would send a Barbie doll along with a drainage pipe to the authorities to symbolize Josephine's passing.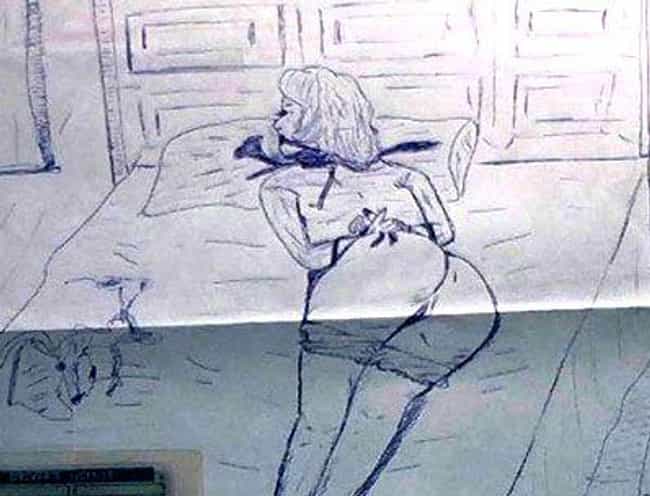 Rader was obsessed with bondage. He found sexual gratification in tying up his victims, making them powerless against his advances. When he was finally arrested, police uncovered journals full of his drawings of women bound on beds. While his drawings depicted mostly women, Rader reportedly tied up at least one man.
In 1974, BTK targeted 21-year-old Kathryn Bright. When he broke into her house, he was surprised to be met by her 19-year-old brother, Kevin. Rader tied him up to a bed and began strangling him. Kevin fought back and was able to remove himself from the bindings, but Rader eventually knocked him out cold. Thinking Kevin had passed, Rader moved on to Kathryn.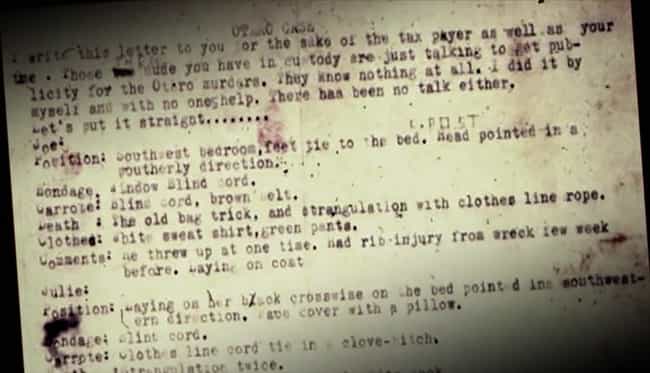 Beginning in 2004, Rader sent 11 letters to the media. The investigation into BTK was cold, and Rader was upset he wasn't receiving attention for his handiwork. It had been over a decade since he last sent authorities taunting communications. He decided to rile the media and the authorities up with detailed letters and mementos from his previous crimes. He also sent out a book proposal on his life.
Fortunately, BTK's desire for fame led to his downfall. Police were able to trace the letters, packages, and floppy disk back to Dennis Rader and arrest him on February 25, 2005. In 2014, Rader began corresponding with The Wichita Eagle about his serial spree for an upcoming book being written about him.
A Drawing Of One Of His 'PJs'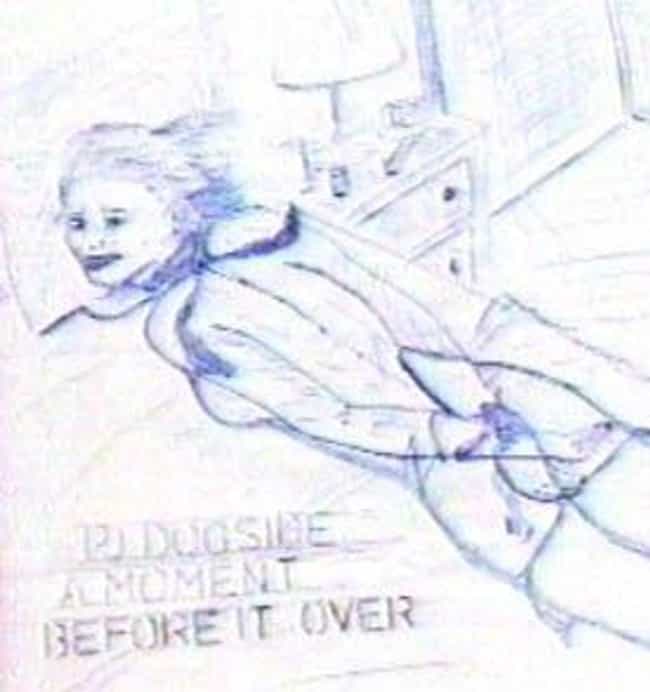 BTK stalked his victims and figured out their routines before he would enter their homes. He referred to his victims as projects, or "PJs." In January 1991, Rader broke into the home of 62-year-old Dolores Davis and strangled her. Then he kept the body inside the trunk of her car while he took care of obligations:
I really had a commitment I needed to go to, so I moved her to one spot, I took her out of her car... this gets complicated, then the stuff I had - clothes, guns, whatever - I took that to another spot in her car, dumped that off.
Later that day, he eventually "dropped off" the remains under a bridge near Sedgwick County.