foods

Buca di Beppo Recipes

89 votes
76 voters
30.3k views
10 items
Follow
Embed
Bucca di Beppo recipes, a helpful guide to preparing your favorite dishes from the Bucca Di Beppo menu at home. These copycat recipes are typically not based on exactly the method used at Bucca Di Beppo, but are modeled closely on the flavor and texture of Bucca Di Beppo's food, making it easier than ever to bring these great tastes to your house for cheap.
Bucca di Beppo is a casual dining chain of southern Italian cuisine restaurants. The name of the chain roughly translates to "Joe's Basement," as buca literally means "hole" (as in basement or cellar) and Beppo is a nickname for Giuseppe, the Italian form of "Joseph." Popular menu items include Penne Basilica, Shrimp Fra Diavolo, and Chianti-Braised Short Ribs. There are more than 90 Buca di Beppo restaurants in the US and UK.
What are Buca di Beppo recipes? This list will provide that answer.
From the cheesy biscuits at Red Lobster to the amazing sauces at Buffalo Wild Wings, it's always tempting to go out for a delicious treat at one of the numerous chain and franchise restaurants dotting the landscape. But eating out at restaurants all the time can be a costly proposition. Not to mention the fact that, at restaurants, you have no portion control, and can't alter the recipes, ingredients or style of cooking to suit your own taste.
Making Bucca Di Beppo recipes in your home gives you all of these options, while saving you money, and providing the same great diversity and taste that you'd find at your favorite casual dining spot. This list collections the best copycat Bucca Di Beppo recipes from around the Web.
back to page 1

1 lb lasagna noodle , cooked
2 (16 ounce) jars meatless sauce
1 lb ricotta cheese
1/2 cup grated parmesan cheese
1 lb mozzarella cheese , sliced thin
3/4 cup chopped onion
2 garlic cloves , chopped or minced
2 teaspoons salt
2 eggs , beaten
2 lbs ground beef
2 teaspoons italian seasoning
- Cook lasagna noodles according to package directions or until tender but still firm.
- Drain, keep warm.
- Saute the ground beef, garlic and onion is a large heavy skillet or saucepan until beef is done.
- Add sauce, salt, and Italian seasoning and mix well.
- Simmer on low heat 12-15 minutes .
- In a separate bowl, combine eggs and ricotta cheese.
- Grease a 9" x 12" or larger, baking pan.
- Arrange a first layer of noodles so the ends hang over the sides of the pan.
(The ends will be laid back-over the top for the final layer).
- Then add a layer of the cooked beef lasagna sauce, ricotta cheese and mozzarella cheese.
- Add a second alternating layer of pasta, the meat sauce and cheese mixture.
- Repeat until pan is almost full.
- Fold over the ends of the first layer of noodles and top with more lasagna sauce.
- Sprinkle with parmesan cheese and bake at 350 degrees for 40-45 minutes , or till cheese is bubbly.
- Allow to set for 5-10 minutes before cutting.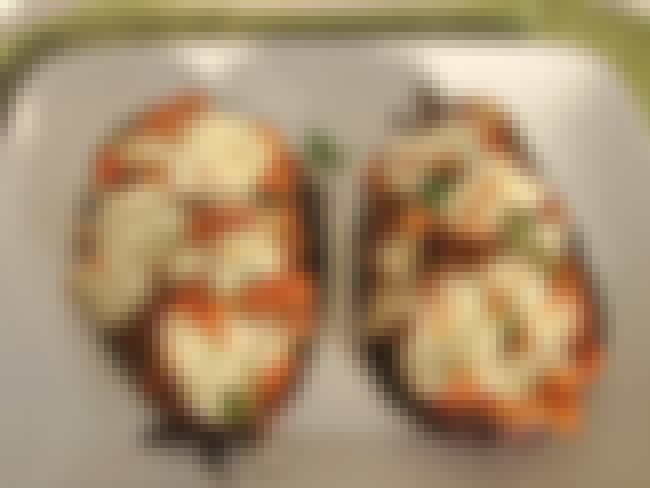 Extra-virgin olive oil
2 large eggplant, about 2 pounds
Salt and pepper
2 cups basic tomato sauce, recipe follows
1 bunch fresh basil leaves, chiffonade
1 pound fresh mozzarella, sliced 1/8-inch thick
1/2 cup freshly grated Parmigiano-Reggiano
1/4 cup fresh bread crumbs, lightly toasted under broiler
- Preheat the oven to 450 degrees F.
- Using some extra-virgin olive oil, oil a baking sheet.
- Slice each eggplant into 6 pieces about 1 to 1 1/2 inches thick.
- Lightly season each disk with salt and pepper and place on the oiled sheet.
- Bake the eggplant at 450 degrees F until the slices begin turning deep brown on top.
- Remove the eggplants from the oven.
- Remove the slices from the baking sheet and place them on a plate to cool.
- Lower oven temperature to 350 degrees F.
- In an 8 by 12-inch brownie pan, place the 4 largest eggplant slice evenly spaced apart.
- Over each slice, spread 1/4 cup of tomato sauce.
- Sprinkle with a teaspoon of basil.
- Place one slice of mozzarella over each.
- Sprinkle with 1 teaspoon grated Parmigiano.
- Place the smaller slices of eggplant over each of the disks.
- Repeat with tomato sauce, basil, and the 2 cheeses.
- Repeat the layering again until all the ingredients are used.
- Sprinkle the toasted bread crumbs over the top of the eggplant dish.
- Bake uncovered until the cheese is melts and the tops turn light brown.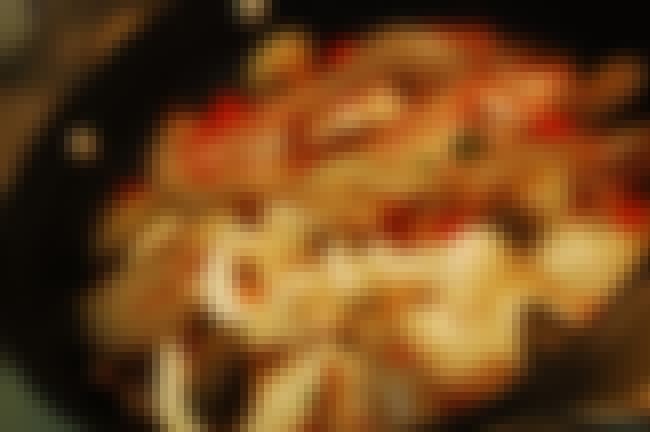 2 cups seasoned fish stock
Flour
8 each scrubbed Manila clams, mussels
16 large shrimp, shelled, deveined
1/2 pound calamari, cut in rings
1/2 pound boneless, skinless, salmon or sea bass, in chunks
Chopped parsley
- Bring fish stock to a simmer.
- Dust seafood with flour.
- Add clams and mussels to saucepan, cover.
- Cook over medium heat until shells open, about 3 minutes.
- Discard any unopened ones.
- Add remaining seafood and parsley.
- Cook 3 to 5 minutes until shrimp turn pink, fish is done.
- Taste and adjust seasoning.
- Ladle into bowls.
- Good with crisp garlic toast.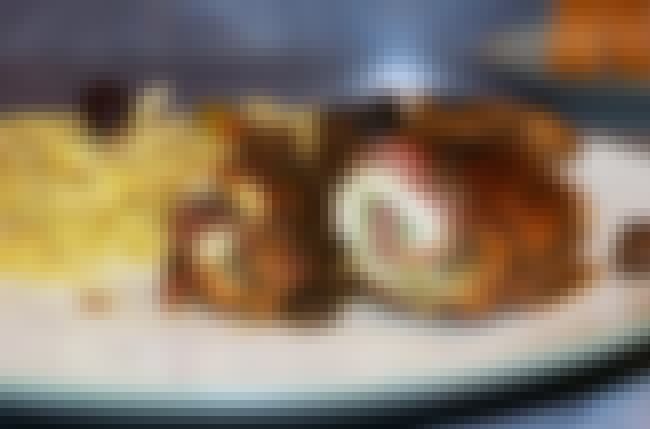 6 (3-ounce) chicken cutlets, pounded to evenly flatten
Salt and freshly ground black pepper
6 paper-thin slices prosciutto
1 (10-ounce) box frozen chopped spinach, thawed
3 tablespoons olive oil
1/4 cup grated Parmesan
1 (14-ounce) can low-salt chicken broth
2 tablespoons fresh lemon juice
- Place the chicken cutlets flat on the work surface.
- Sprinkle the chicken with salt and pepper.
- Lay 1 slice of prosciutto atop each chicken cutlet.
- Squeeze the frozen spinach to remove the excess water.
- Season the spinach with salt and pepper.
- In a small bowl, toss the spinach with 1 tablespoon of oil to coat.
- Arrange an even, thin layer of spinach atop the prosciutto slices.
- Sprinkle the Parmesan evenly over each.
- Beginning at the short tapered end, roll up each chicken cutlet as for a jellyroll.
- Secure with a toothpick.
- Heat the remaining 2 tablespoons of oil in a heavy large skillet over high heat.
- Add the chicken and cook just until golden brown, about 2 minutes per side.
- Add the chicken broth and lemon juice.
- Scrape the browned bits off the bottom of the pan with a wooden spoon.
- Bring the liquid to a boil.
- Reduce the heat to medium.
- Cover and simmer until the chicken is just cooked through, about 8 to 10 minutes.
- Transfer the chicken to a platter.
- Simmer the cooking liquid over high heat until it is reduced to about 2/3 cup.
- Season the cooking liquid with salt and pepper, to taste.
- Remove toothpicks from the chicken.
- Drizzle the reduced cooking liquid over the chicken and serve immediately.