Weird Nature
Photos Of Bunny Succulents That Will Make You Want To Cuddle Up With One

Science has done it again. They have officially discovered the cutest plant in existence and it's name is Monilaria moniliformis. This adorable plant is taking the Internet by storm, and for good reason. Just look at it - it looks like it has lil' bunny ears! Gaww!
The bunny succulent, also known as the "String of Pearls," is a rare type of succulent that can only be found in the wilds of South Africa. They do most of their growing in the winter time and can reach up to eight inches tall. Their bunny ears are obviously super cute, but when this plant flowers it transforms into a true beauty. One of the best things about this little succulent is that it, like most succulents, is fairly low maintenance. All species of succulents have the ability to store water in their leaves, buds, and roots, so they require minimal watering - and can put up with a fare amount of neglect. They can even survive at freezing temperatures, making them one hardy plant.
These bunny succulent photos are sure to make any gardener or novice plant hoarder feel all fuzzy inside. If you can manage to look through these cute bunny succulent pictures without immediately buying one and cuddling with it, than your are stronger than most.
Well, Hello There, Little Fella!
Look At This Fairy-Tail Land Of Bunny Succulents
Meet Papa, Mama, And Baby Bunny Succulent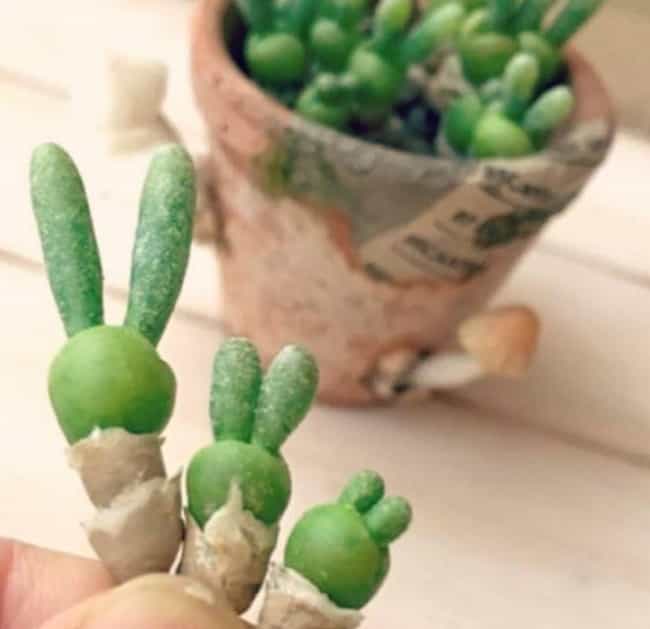 A Little Bunny Succulent Family