Entertainment
Burt Lancaster Western Roles

List of Western movies/films with performances by Burt Lancaster, listed alphabetically with movie trailers when available. These Burt Lancaster Western roles include starring, supporting and cameo appearances. You can sort these Burt Lancaster Western movies for additional information as well, such as who directed the films and when they were released. Over the years Burt Lancaster has become known for playing characters in Western movies, so this list is the perfect resource for finding some you haven't already seen.
List movies range from Vera Cruz to The Professionals.
This list answers the questions, "What Western movies has Burt Lancaster been in?" and "What are the best Burt Lancaster Western roles?"
You can't vote on this list, but if you want to re-order it you can re-rank the list to put your favorites at the top. (14 items)
Apache is a 1954 Western film starring Burt Lancaster. ...more on Wikipedia
Actors: Burt Lancaster, Charles Bronson, Jean Peters, John McIntire, John Dehner, + more
Released: 1954
Directed by: Robert Aldrich
see more on Apache
Buffalo Bill and the Indians, or Sitting Bull's History Lesson is a 1976 revisionist Western directed by Robert Altman and based on the play Indians by Arthur Kopit. It stars Paul Newman as William F. Cody, alias Buffalo Bill, along with Geraldine Chaplin, Will Sampson, Joel Grey, Harvey Keitel and Burt Lancaster as Bill's biographer, Ned Buntline. As in his earlier film MASH, Altman skewers an American historical myth of heroism, in this case the notion that noble white men fighting bloodthirsty savages won the West. However, the film was poorly received at the time of its release, as the country was celebrating its bicentennial. ...more on Wikipedia
Actors: Paul Newman, Burt Lancaster, Harvey Keitel, Shelley Duvall, Joel Grey, + more
Released: 1976
Directed by: Robert Altman
see more on Buffalo Bill and the Indians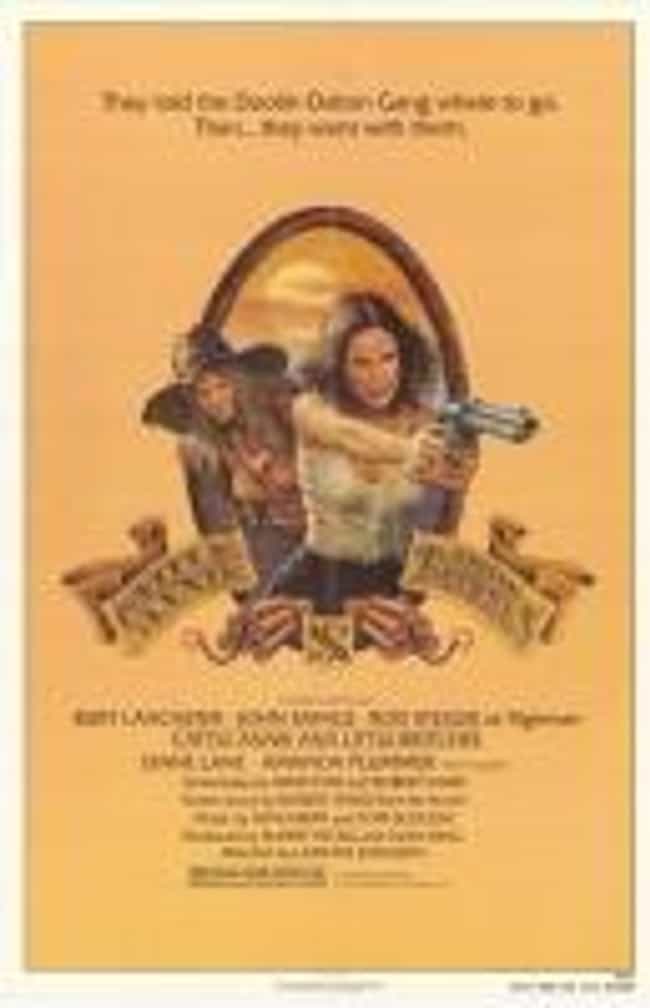 Cattle Annie and Little Britches is a 1981 American film starring Burt Lancaster, Rod Steiger, Diane Lane, and Amanda Plummer, based on the lives of two adolescent girls in the late 19th century Oklahoma Territory, who became infatuated with the Western outlaws that they had read about in Ned Buntline's stories and left their homes to join the criminals. It was scripted by David Eyre and Robert Ward from Robert Ward's book and directed by Lamont Johnson. ...more on Wikipedia
Actors: Diane Lane, Burt Lancaster, Rod Steiger, Scott Glenn, Amanda Plummer, + more
Released: 1981
Directed by: Lamont Johnson
see more on Cattle Annie and Little Britches
Gunfight at the O.K. Corral is a 1957 American film starring Burt Lancaster as Wyatt Earp and Kirk Douglas as Doc Holliday, based on a real event which took place on October 26, 1881. The picture was directed by John Sturges from a screenplay written by novelist Leon Uris. The shootout was crouched in the movie as a heavily-armed firefight that took place at medium range. The historical event itself lasted only about 30 seconds, and was fought at close range with only a few firearms. ...more on Wikipedia
Actors: Kirk Douglas, Dennis Hopper, Burt Lancaster, Lee Van Cleef, Rhonda Fleming, + more
Released: 1957
Directed by: John Sturges
see more on Gunfight at the O.K. Corral