Living
The Best 2019 Black Friday Deals From Cabela's

55 votes
14 voters
15 items
Black Friday is right around the corner, and Cabela's is wasting no time in setting up some incredible sales! This list highlights some of the items Cabela's is discounting this holiday season, so if you're interested in any of these, you better act fast because supplies are limited!
The sales aren't limited to what you can pick up in the store, as Cyber Monday sales are happening as soon as the weekend is over.
Cabela's Black Friday sale will kick off sharply at 5:00 am and will go for only six hours, which means you may need to show up super early to get what you want. Check out these items below (and please note that some deals might be available either online, in-store, or both), and get your wishlist taken care of at your local Cabela's this upcoming Wednesday, November 27th!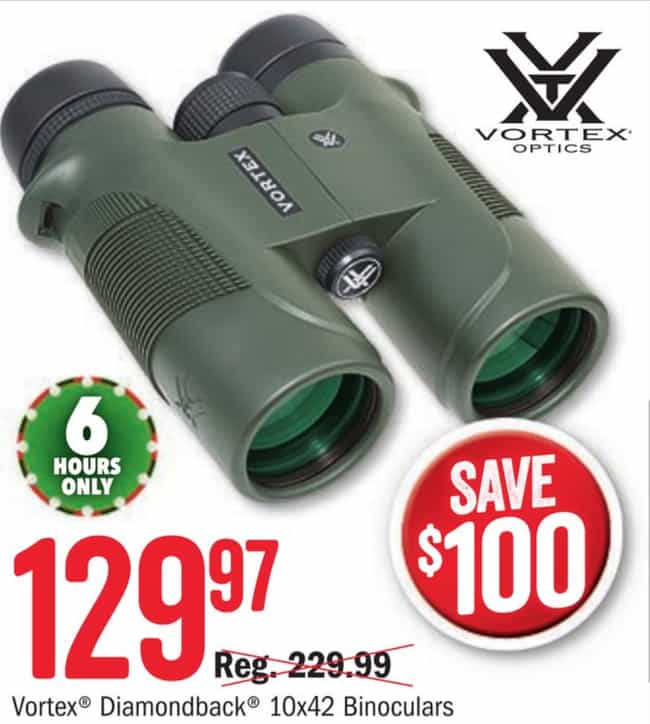 Vortex Diamondback 10x42 Binoculars
SALE PRICE: $129.97
The Deal: Price cut by $100!
Details: These rugged yet high-performance binoculars from Vortex will help you sight game from incredibly far away! Typically, binoculars like these will go for around $230, but these Vortex Diamondback have been cut by $100 for Black Friday, which means there won't be many left if you stroll into the store halfway through the sale! Show up early to get yours this Black Friday!

This a sweet deal?

Cabela's Pro Series Pellet Grills
SALE PRICE: Various Prices - Check Store For Details
The Deal: Save up to $250
Details: It's a great time to buy a new pellet grill from Cabela's, and fortunately, the Black Friday Sale has plenty. You can get as much as $250 off select models, but you're going to have to act fast - these popular grills tend to sell out quickly.

This a sweet deal?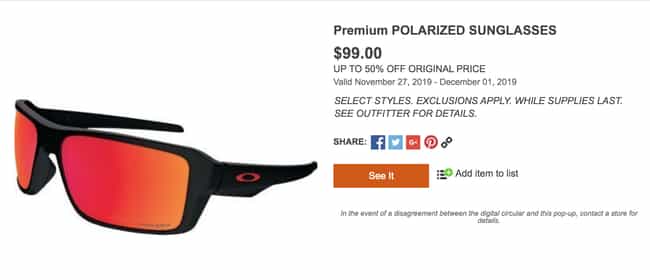 Sunglass Outfitters Premium Polarized Sunglasses
SALE PRICE: $99.99
The Deal: Up to 50% off select models
Details: Buying sunglasses can be difficult, especially if you want to get a quality item at an affordable price. Fortunately, Cabela's is slashing prices by as much as 50% on a wide variety of select styles from Sunglass Outfitters.
This a sweet deal?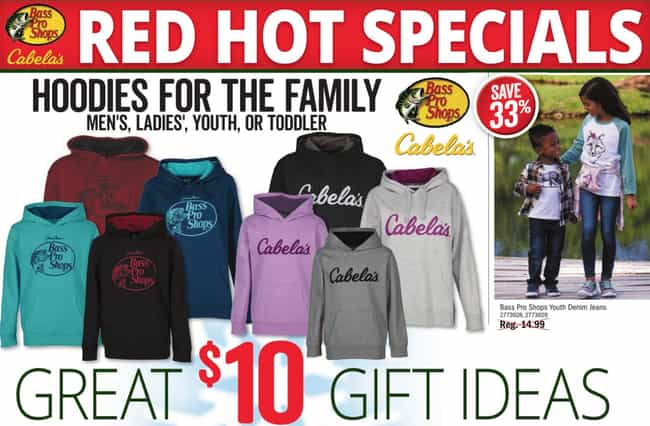 Men's, Ladies', Youth, Or Toddler Hoodies
SALE PRICE: $10
The Deal: Branded hoodies are all $10!
Details: Hoodies are usually around $25, but these Black Friday deals at Cabela's and Bass Pro Shops are offering branded hoodies at a remarkably low $10. All store-branded hoodies for men, women, youths, and toddlers are going for a Hamilton, so make sure you get yours before they're all gone!

This a sweet deal?