READ
Narco Nuns: Sisters Make Oil And Soap From Cannabis Believing It Is A "Gift From God"

Updated November 21, 2017
398.5k views
12 items
The Sisters of the Valley are a group of self-ordained nuns whose order was founded in 2014. They're not ordinary monastics, though. These nuns love weed. Headed by 58-year-old Sister Kate, the order is headquartered in California's Central Valley, where their mini weed empire is flourishing. Their bent is more spiritual than religious and more compassionate than punitive. The sisters are running a successful business and extolling the virtues of marijuana, all while living in a community of shared sisterhood.
It all started when Sister Kate moved from Wisconsin to California in 2009. She and her brother started a marijuana collective called Caregrowers but over time, she was drawn to create types of marijuana that could give users the same health benefits without smoking. After working with other women in the collective, Sister Kate found the need to create her order.
back to page 1
They're Looking To Expand To Canada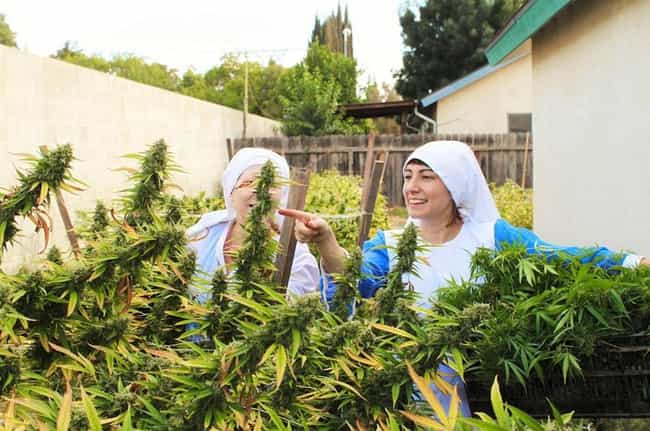 The concern about the business being shut down by the anti-marijuana Trump Administration has led Sister Kate to set her eyes on Canada. "The thing Trump has done for us is put a fire under our butts to get launched in another country," she said. "Our response to Trump is Canada."
Sister Kate has plans to start a Canadian operation in the next few months. While they already sell online to Canadian customers, having a Canadian-based location would help diversify their interests and further spread the cannabis love.
They Aim To Empower Women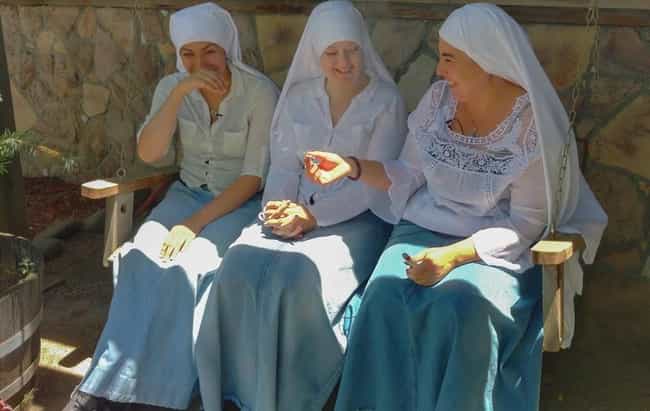 The Sisters call themselves "New Age, anarchist, activist nuns." And as such, they aren't interested in perpetuating the myths and stereotypes that Catholicism has long heaped upon women. In fact, their goal is just the opposite of that. They want their community to empower and free women.
"A sister becomes a sister through a commercial relationship and earning a wage or a commission and we want to grow this way because we want to free the women," said Sister Kate. "We don't want to make them more dependent."
The Head Of The Order Started Dressing As A Nun During The Occupy Movement
Sister Kate may have never been an official Catholic nun but that hasn't stopped her from dressing like one. She first started dressing as a nun during the Occupy Movement, adopting the moniker Sister Occupy. Born Christine Meeusen, Sister Kate was long fascinated by nuns.
The first time she wore a habit to an Occupy protest it was nothing more than an old Halloween costume. Now, it's her calling.
There's No Vow Of Chastity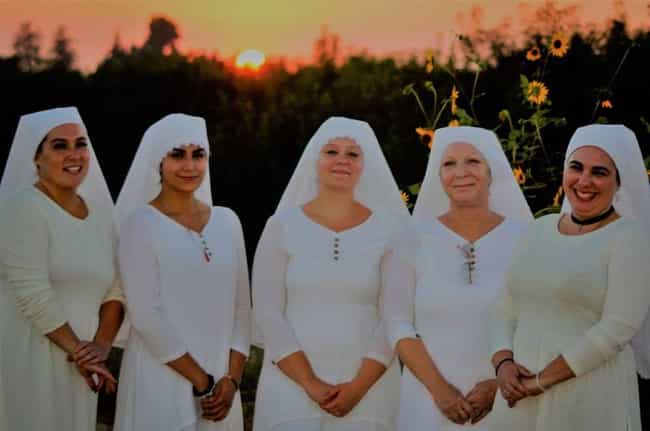 Obviously, as nuns who smoke weed and produce marijuana-infused products, the Sisters of the Valley are already bucking tradition. They're also redefining what it means to be part of a spiritual order. For example, these women are not required to take a vow of celibacy upon joining because their sex lives are their own business. The women do take other vows, though. According to Sister Kate:
"We take a vow of obedience to the moon cycles, we take a vow of chastity (which we don't think requires celibacy), and a vow of ecology, which is a vow to do no harm while you're making the medicine."