Landmarks

List of Famous Camden Buildings & Structures

List of the famous landmarks that make up the Camden skyline, listed alphabetically with photos when available. Camden architectural landmarks as well as other major buildings, dwellings, and other structures in Camden are included on this list. Information about these Camden buildings is included on this list, such as when the building first opened and what architectural style it falls under. List includes both new buildings in Camden and older historic landmarks.
Buildings on this list include Curtis Island Light and Benjamin Franklin Bridge.
This list answers the question, "What are the most famous buildings in Camden?"
This is a good reference for research into the historical architecture in Camden. Famous architectural houses within the city of Camden are included as well, sometimes by address, other times listed by the name of the original home owner.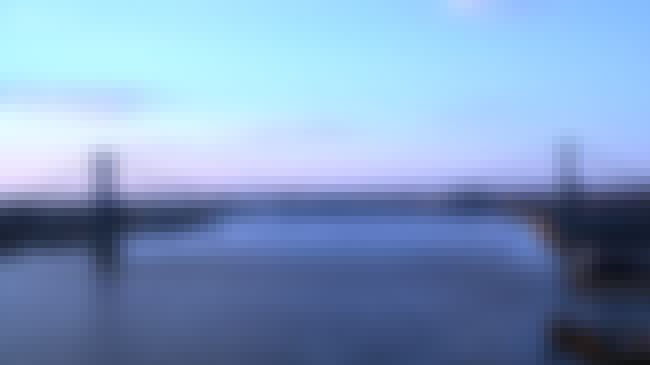 The Benjamin Franklin Bridge, known informally as the Ben Franklin Bridge and originally named the Delaware River Bridge, is a suspension bridge across the Delaware River connecting Philadelphia, Pennsylvania, and Camden, New Jersey. Owned and operated by the Delaware River Port Authority, it is one of four primary vehicular bridges between Philadelphia and southern New Jersey, along with the Betsy Ross, Walt Whitman, and Tacony-Palmyra Bridges. It carries Interstate 676/U.S. Route 30. The chief engineer of the bridge was Polish-born Ralph Modjeski, the design engineer was Leon Moisseiff, and the supervising architect was Paul Philippe Cret. At its completion on July 1, 1926, its 1,750-foot ...more on Wikipedia
City/Town: Philadelphia, Pennsylvania, USA
Opened: Jul 01 1926
see more on Benjamin Franklin Bridge
3
Bethesda Presbyterian Church
Bethesda Presbyterian Church, in Camden, South Carolina, was built in 1822 and is one of few surviving churches designed by Robert Mills. It was declared a National Historic Landmark in 1985. According to the South Carolina Department of Archives and History, "Mills displayed in Bethesda the work of a maturing architect strongly influenced by Jeffersonian classicism. Bethesda, with its neo-classical temple form, represents an important stage in Mills' creation of a distinctly American classical style." It is a contributing property within the City of Camden Historic District. ...more on Wikipedia
City/Town: Camden, South Carolina, USA
Opened: Jan 01 1822
4
Camden County Courthouse
Camden County Courthouse is a historic county courthouse located at Camden, Camden County, North Carolina. It was built in 1847, and is a five bay by four bay one-story brick building on a raised basement. It is in the Greek Revival style and features a pedimented porch and large windows. It was listed on the National Register of Historic Places in 1972. ...more on Wikipedia
City/Town: Camden, North Carolina, USA
Opened: Jan 01 1847
Style: Greek Revival