Food
Capital Grille Recipes

1k votes
818 voters
156.1k views
10 items
Capital Grille recipes, a helpful guide to preparing your favorite dishes from the Capital Grille menu at home. These copycat recipes are typically not based on exactly the method used at Capital Grille, but are modeled closely on the flavor and texture of Capital Grille's food, making it easier than ever to bring these great tastes to your house for cheap.
Capital Grille is an upscale chain of fine dining restaurants. Popular menu items include dry-aged steaks, seafood, and pasta dishes, as well as specialty items like lamb chops. Capital Grille also boasts an extensive wine list serving bottles from all over the world.
From the cheesy biscuits at Red Lobster to the amazing sauces at Buffalo Wild Wings, it's always tempting to go out for a delicious treat at one of the numerous chain and franchise restaurants dotting the landscape. But eating out at restaurants all the time can be a costly proposition. Not to mention the fact that, at restaurants, you have no portion control, and can't alter the recipes, ingredients or style of cooking to suit your own taste.
Making Capital Grille recipes in your home gives you all of these options, while saving you money, and providing the same great diversity and taste that you'd find at your favorite casual dining spot. This list collections the best copycat Capital Grille recipes from around the Web.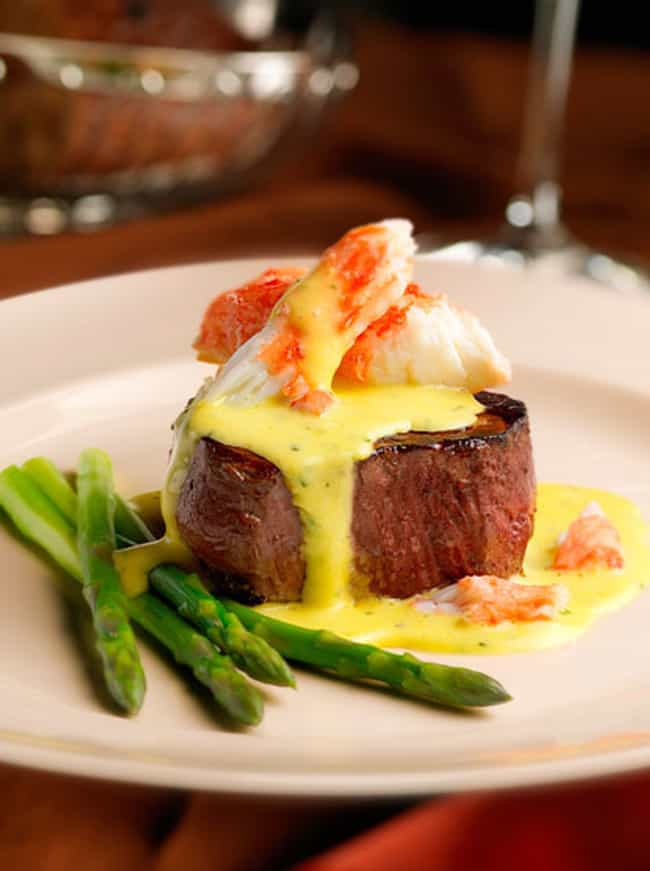 For the steak*
1 Tbsp olive oil
1 Tbsp butter
4 beef tenderloin steaks
Sea salt and cracked black pepper
For the Bearnaise sauce:
1/4 cup white wine vinegar
1/4 cup dry white wine
1/4 cup shallot, finely chopped
1 Tbsp fresh tarragon
3 eggs yolks
1 stick butter, cut into 8 pieces
1/2 tsp lemon juice
To assemble:
8 oz lump crab, picked over for shells
Tips from 1 lb asparagus, blanched
- Preheat oven to 375.
- Steam the crab legs, place the king crab legs in a loose-fitting foil pouch.
- Before sealing tightly, add a small amount of water.
- Place in the oven for 10-12 minutes.
- Remove the meat from the crab legs.
- Place in a medium bowl.
- Gently break up any overly-large pieces with your hands.
- To blanch the asparagus tips:
- Bring a small pot of salted water to boil.
- Add tips and cook for 60-90 seconds, just until the asparagus tips turn bright green.
- Remove and immediately place in a bowl of ice water to stop cooking.
- Drain and add to the crab.
To cook the steaks:
- Melt butter and olive oil over medium-high heat until very hot.
- Pat the steaks dry and season both sides liberally with sea salt and cracked black pepper.
- Place the steaks in the pan and sear 3-4 minutes.
- Flip, sear for 3 minutes more and place the pan into the oven.
- Cook to an internal temperature of 135 (medium rare).
- Remove from oven.
- Tent with foil while you finish the sauce.
To make the Bearnaise sauce:
- Boil wine, vinegar, shallots, and fresh tarragon in a small heavy saucepan until liquid is reduced to 2 tablespoons.
- Strain through a fine-mesh sieve set into a medium bowl, pressing on and then discarding solids.
- Whisk the yolks into the vinegar mixture.
- Set bowl over a double boiler and cook until hot.
- Whisking constantly until yolks have thickened slightly.
- Whisk in butter 1 piece at a time, adding each piece before previous one has melted completely.
- Remove from heat and whisk in lemon juice, 1/2 teaspoon salt, and 1/2 teaspoon pepper (or to taste).
- Keep warm, if necessary, by leaving it on the double-boiler but make sure to turn off the heat.
To assemble:
- Add about 1/3 cup of the sauce to the bowl of crab and asparagus.
- Lightly toss to coat.
- Plate the steaks and top with a generous portion of the crab-asparagus mixture.
- Top with additional Bearnaise sauce.

Would you try this?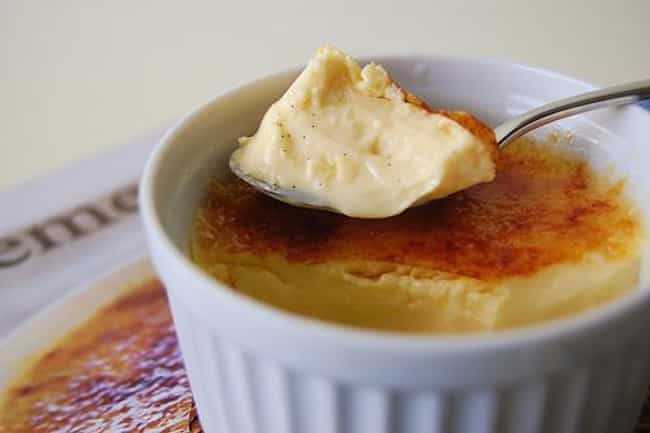 6 egg yolks
6 tablespoons white sugar, divided
1/2 teaspoon vanilla extract
2 1/2 cups heavy cream
2 tablespoons brown sugar
- Preheat oven to 300 degrees F (150 degrees C).
- Beat egg yolks, 4 tablespoons sugar and vanilla in a mixing bowl until thick and creamy.
- Pour cream into a saucepan .
- Stir over low heat until it almost comes to boil.
- Remove the cream from heat immediately.
- Stir cream into the egg yolk mixture; beat until combined.
- Pour cream mixture into the top of a double boiler.
- Stir over simmering water until mixture lightly coats the back of a spoon; approximately 3 minutes.
- Remove mixture from heat immediately and pour into a shallow heat-proof dish.
- Bake in preheated oven for 30 minutes.
- Remove from oven and cool to room temperature.
- Refrigerate for 1 hour, or overnight.
- Preheat oven to broil.
- In a small bowl combine remaining 2 tablespoons white sugar and brown sugar.
- Sift this mixture evenly over custard.
- Place dish under broiler until sugar melts, about 2 minutes.
- Remove from heat and allow to cool.
- Refrigerate until custard is set again.

Would you try this?
Lobster and Crab Stuffed Shrimp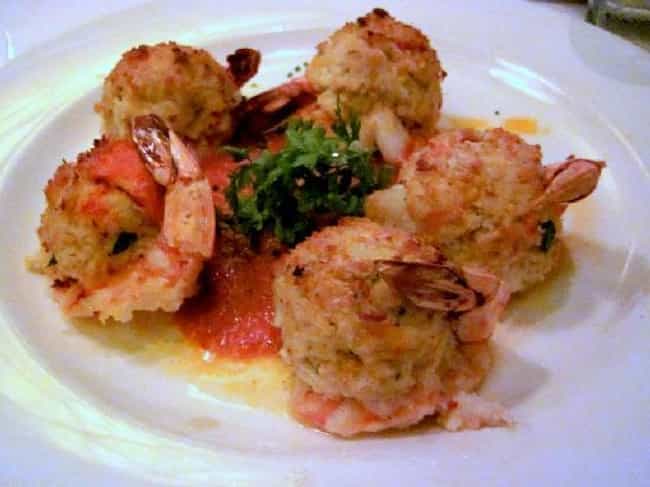 jumbo shrimp
can of crab meat
scallions
celery
soy sauce
fresh bread crumbs
egg white
flour
salt, pepper
dry Italian seasoned bread crumbs
- Shell and devein shrimp, slice to butterfly.
- Gently pound to flatten.
- Leave on tails.
Prepare stuffing:
- Drain crab meat.
- Combine with 1 teaspoon soy sauce, 2 chopped scallions (white ends and a little green), 1 stalk of celery and one cup of fresh bread crumbs.
- Beat egg whites.
- Place about one tablespoon crab mixture on the center of each shrimp, press in shrimp sides (it won't close all the way) - Dip in flour (mixed with salt and pepper) then in the beaten egg, then in the dried bread crumbs.
- Place on cookie sheet and refrigerate for at least one hour.
- Carefully place in hot (350-375°F) oil, for not more then a minute or two on each side.
- They should be golden brown and the tails should be pink.
- Serve with lemon wedges.

Would you try this?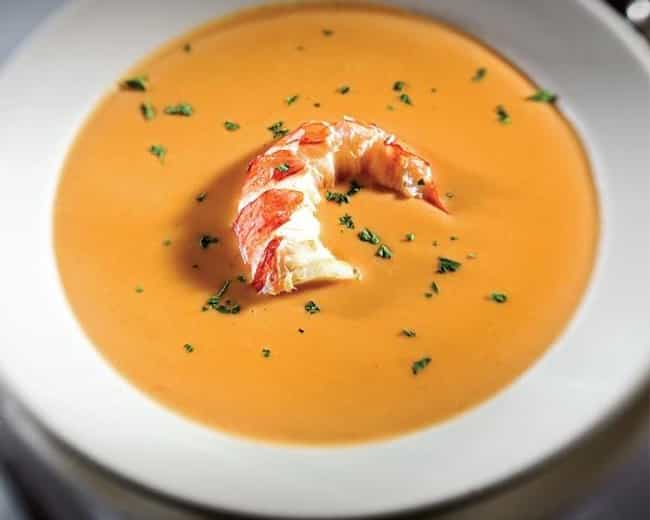 3 1 1/2 pound live female lobsters
2 carrots,peeled and small dice
3 stalks celery, small dice
4 medium shallots, small dice
2 cloves garlic, peeled and minced
3/4 cup vegetable oil
6 tbsp butter
4 tbsp flour
1 tbsp chopped fresh tarragon
4 tbsp cognac
1 cup heavy cream
1 cup white wine
2 1/2 quarts fish stock
1 6 oz can tomato paste
Bouquet Garni with 2 sprigs fresh tarragon added
pnch of cayenne
cracked black pepper
salt
- Cut the lobster down the center of the head between the eyes.
- Leave the tail whole.
- Separate the tail, the head, and remove the claws.
- Keep any juices, the tomalley and the roe in a bowl.
- Refrigerate.
- Heat a 12 inch saute pan on high heat.
- Add the oil.
- Sear the cut pieces of lobster cut side down.
- Add the tail and claws whole.
- Cook until the shells are bright red and the flesh is almost cooked, about 8 minutes.
- Remove lobster from the pan and set to the side.
- Add 2 tbsp butter to the pan and saute the shallots, carrot, celery and garlic until lightly browned.
- Add tomato paste and saute for 2 minutes.
- Add white wine, cook for 3 minutes, whisking to evenly disperse the tomato.
- Add fish stock.
- Add bouquet garni and lobster to the pot.
- Bring to a boil, skimming any froth or fat with a 4 oz ladle.
- Season with salt, pepper and cayenne, and simmer for 15 minutes.
- Remove lobster and set aside.
- Remove boquet garni and discard.
- Melt remaining 4 tbsp of butter in a small saucepan.
- Add flour and whisk to make the roux.
- Add reserved lobster juices, tomalley, roe and chopped tarragon.
- Whisk until smooth.
- Add the cognac to the roux, 1/3 at a time.
- Add the roux to the bisque, whisking to remove any lumps before each addition.
- Simmer for 15 minutes.
- Strain through a china cap.
- Add cream and season with salt and pepper.
- Remove meat from lobster and cut into bite size chunks.

Would you try this?