Food
Carino's Italian Recipes

197 votes
132 voters
19.4k views
10 items
Carino's Italian recipes, a helpful guide to preparing your favorite dishes from the Carino's Italian menu at home. These copycat recipes are typically not based on exactly the method used at Carino's, but are modeled closely on the flavor and texture of Carino's Italian food, making it easier than ever to bring these great tastes to your house for cheap.
Carino's is a chain of casual dining restaurants based in Austin, TX. The menu offers traditional American Italian cuisine, including steak, chicken, and seafood dishes in pastas and soups. Boasting a "made from scratch" approach to cooking, Carino's Italian desserts range from mini cheesecake to tiramisu.
From the cheesy biscuits at Red Lobster to the amazing sauces at Buffalo Wild Wings, it's always tempting to go out for a delicious treat at one of the numerous chain and franchise restaurants dotting the landscape. But eating out at restaurants all the time can be a costly proposition. Not to mention the fact that, at restaurants, you have no portion control, and can't alter the recipes, ingredients or style of cooking to suit your own taste.
Making Carino's Italian recipes in your home gives you all of these options, while saving you money, and providing the same great diversity and taste that you'd find at your favorite casual dining spot. This list collections the best copycat Carino's recipes from around the Web.
Check out more lists like
the essentials everyone should have in their kitchen
,
most inspirational cooking magazines
and
the tastiest Chinese food
.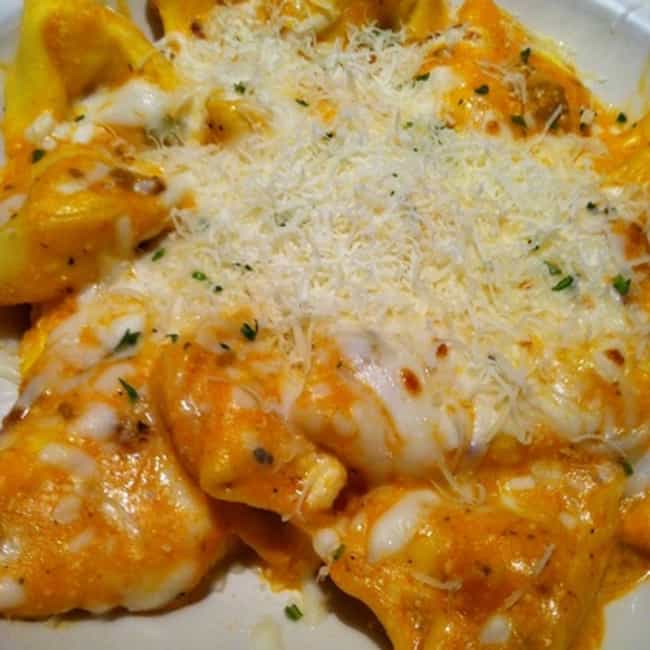 Olive oil
2 cups marinara sauce
1/3 cup mascarpone cheese
1/4 cup chopped fresh Italian parsley leaves
2 teaspoons chopped fresh thyme leaves
1 pound purchased cheese tortellini
2 ounces thinly sliced smoked mozzarella
1/4 cup freshly grated Parmesan
- Preheat the oven to 350 degrees F.
- Lightly oil an 8 by 8 by 2-inch baking dish.
- Whisk the sauce, mascarpone cheese, parsley and thyme in a large bowl to blend.
- Cook the tortellini in a large pot of boiling salted water until just tender, about 2 minutes.
- Drain.
- Add the tortellini to the sauce and toss to coat.
- Transfer the tortellini mixture to the prepared baking dish.
- Top the mixture with the smoked mozzarella and Parmesan.
- Cover and bake until the sauce bubbles and the cheeses on top melt, about 30 minutes.

Would you try this?
Timballo - Chicken Sausage or Com
1 pound fresh pasta sheets
1/4 cup butter, melted, plus 1/4 cup
Basic tomato sauce, recipe follows
2 cups 1/4-inch diced mozzarella
Bechamel sauce, recipe follows
Ground veal, recipe follows
1 cup grated Parmigiano-Reggiano
- Preheat oven to 375 degrees F.
- Cook the pasta sheets in boiling, salted water until al dente.
- Shock the pasta in cold water.
- Lay the pasta out onto a clean kitchen towel and dry.
- Take 1/2 of the melted butter and coat the bottom a 13 by 9 by 2-inch pan.
- Place a layer of pasta to cover bottom of pan.
- Ladle a thin layer of tomato sauce over the pasta.
- Sprinkle with 1/4 of the mozzarella.
- Add another layer of pasta sheets over the cheese.
- Ladle a thin layer of bechamel sauce over the pasta.
- Sprinkle 1/4 of the ground veal and 1/4 of the Parmigiano evenly over the bechamel.
- Repeat layering, until there are 3 layers of each.
- Add the final layer of fresh pasta and cover top layer with the remaining mozzarella, veal, Parmigiano and tomato sauce. - Finally, ladle the remaining 1/4 cup of melted butter over the top and cover the pan with aluminum foil.
- Bake approximately 30 minutes.
- Let stand for about 10 minutes before serving.
Tomato Sauce:
1/4 cup onion, diced fine
3 tablespoons olive oil
1 (14-ounce) can whole peeled tomatoes
Salt and freshly ground black pepper
6 to 8 leaves fresh basil
- Saute the onion in olive oil until brown.
- Add the tomatoes and bring to a simmer.
- Crush tomatoes with a fork as they soften.
- Season with salt and pepper and add basil.
- Simmer for about 1 hour.
Bechamel Sauce:
6 cups milk
2 tablespoons butter
2 tablespoons flour
1/8 teaspoon nutmeg
- Salt and freshly ground black pepper
- Bring the milk to a simmer in a saucepot.
- In a saute pan, combine the melted butter with the flour to make roux.
- Whisk the milk into the roux. Bring to a simmer and cook for 2 minutes.
- Remove from the heat .
- Set aside.
Ground Veal:
2 tablespoons butter
1 1/2 pounds ground veal
Salt and freshly ground black pepper
1/4 teaspoon nutmeg
- Melt the butter in a saute pan.
- Add the veal and cook until brown and cooked through.
- Season with salt, pepper, and nutmeg.
- Drain off excess liquid.
- Set aside.
Skilletini - Chicken Sausage or Com
8 oz uncooked spaghetti
1 1lb mild Italian sausage, casings removed
1 med onion, diced
1 medium green bell pepper, diced
1 medium size red bell pepper, diced
2 to 3 garlic cloves
1 TBSP olive oil
1- 28 oz diced tomatoes wiht basil, oregano & garlic
½ tsp salt
¼ tsp pepper
½ cup grated parmesan cheese
- Prepare pasta according to package.
- Cook sausage in a large dutch oven over medium high heat 8 to 10 minutes until meat is no longer pink.
- Remove sausage and drippings and drain well on paper towels.
- Saute onion and next 3 ingredients in hot oil in Dutch oven over medium high heat 5 to 6 minutes or until vegatables are crisp tender.
- Stir in tomatoes, salt, and pepper.
-Cook 4 minutes or until thoroughly heated.
- Stir in sausage, pasta and cheese.
- Transfer to mixture.
- To freeze cook 20 minutes.
- Place in 13 ×9 dish
- Cover tighty with plastic wrap and aluminum foil.
- .Preheat oven to 350.
- Cover with foil and bake for 40 to 45 minutes.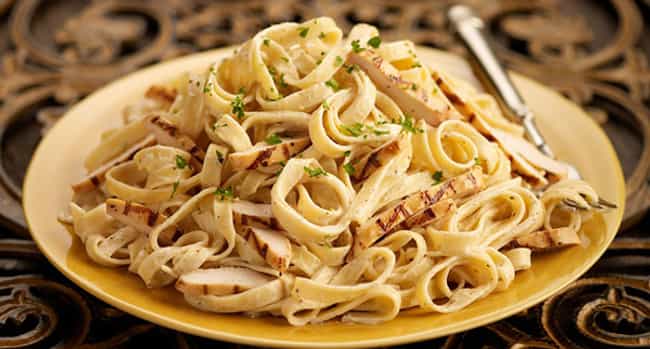 1 stick butter
2 lbs boneless, skinless chicken breast
1 cup half and half or cream
1/3 cup Parmesan cheese
1/4 cup green onions, chopped
2 cloves garlic, minced
1 T lemon juice
- Melt butter in skillet and saute chicken which has been cut into 2 inch chunks.
- When chicken begins to take on color, add garlic and green onions.
- Add remaining ingredients except lemon juice, cover and simmer over low heat until mixture thickens and chicken is tender.
- Serve over cooked and drained fettuccine.
- Sprinkle with lemon juice and additional Parmesan cheese if desired.
Would you try this?