Watchworthy
Cars 2 Movie Quotes

Updated June 8, 2017
195 votes
104 voters
56.1k views
17 items
Disney Pixar's 'Cars 2' movie quotes are, not surprisingly, hilarious. 'Cars 2' is a really quotable movie, filled with great one-liners and longer, clever dialogue between the movie's main characters, including Lightning McQueen (Owen Wilson) and his best buddy Mater (Larry the Cable Guy). If you missed the film in theaters, you'll be glad to know that the 'Cars 2' DVD was set for release on November 1, 2011. Check out some of the best 'Cars 2' quotes around, right here, and be sure to vote for your favorites (and add more quotes if you have 'em). Ka-Chow!
'Cars 2' also features the voices of Michael Caine (Finn McMissile), Emily Mortimer (Holley Shiftwell), Eddie Izzard (Sir Miles Axlerod) and John Turturro (Francesco Bernoulli). This time out, the gang goes international, with Lightning competing in the prestigious World Grand Prix.
Audiences responded to 'Cars 2,' buying up a lot of tickets when the film opened on June 26, 2011 (more than $66 million worth). By mid-September of 2011, 'Cars 2' had grossed well over $189 million at the U.S. box office.
Are you a huge 'Cars' fan? If so, check out this list of
quotes from the original 'Cars' movie.
For more kids comedy movie quote goodness, enjoy these lists for the
best 'Smurfs' movie quotes
and quotes from
'Captain America'
,
'Harry Potter and the Deathly Hallows'
,
'X-Men First Class'
and
'The Zookeeper!'
Data-driven recommendations based on voting from over 40 million monthly visits to Ranker.
Try the free app
Mater: "What you got here that's free? How about that pistachio ice cream?"
Food Vendor: "No, no - wasabi."
Mater: "Oh same ole same ole. What's up with you? That looks delicious..."
Oh dear. Mater may need to get some bottled water. Or a lake, if he plans on eating that wasabi (ice cream, eeek!).
Should this be higher or lower?
Randolph Strauss added
Wise Car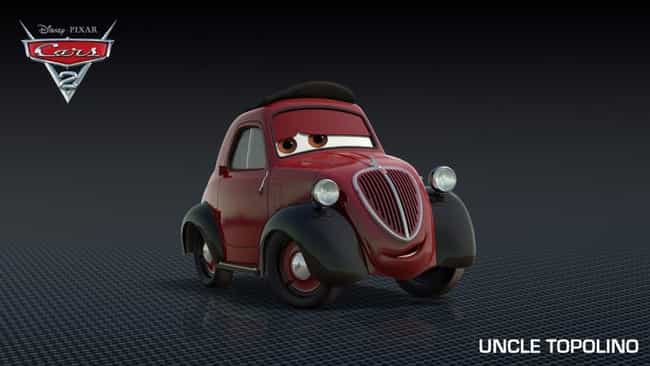 Uncle Topolino: "A wise car hears one word and understands two..."
Should this be higher or lower?
Mater: "Is the Popemobile Catholic?"
Mater had some of the funniest lines in the original 'Cars' movie, and this seems true for the sequel as well.
Should this be higher or lower?
Finn McMissile: "Finn McMissile, British intelligence."
Mater: "Tow Mater, average intelligence."
Kind of sums things up - but we all know Mater is selling himself way, way short. James Bond meets Larry the Cable Guy. What a pair!
Should this be higher or lower?