Total Nerd
Famous Cartoon Characters Whose Appearances Were Based On Real People

Caricatures in The New Yorker often derive their wit from flesh-and-blood targets, but real people also inspired classic cartoon characters. From the vultures in The Jungle Book (based on John, Paul, George, and Ringo) to Ursula the Sea Witch (based on John Waters muse Divine), animation inspiration can often be traced to actual people.
Some celebrities who inspired cartoon characters, such as Betty Boop muse Helen Kane, weren't happy with their depictions. Others, like The Little Mermaid inspiration Alyssa Milano, were delighted. But there's no doubt that animated icons are much more than whimsical figures invented for children.
You'll be surprised to learn the real-life origins of your favorite cartoon characters, and how these drawings eventually took on lives and legends of their own.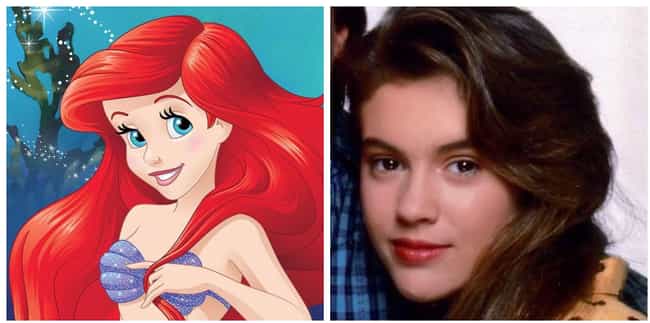 Animaniacs voice actress Sherri Stoner served as the live-action body model for Ariel. However, Who's the Boss star Alyssa Milano also inspired the character - although she didn't know it at the time. It wasn't until Milano hosted a special called The Making of The Little Mermaid that she learned the film's animators used pictures of her as inspiration for the aquatic teen.
see more on The Little Mermaid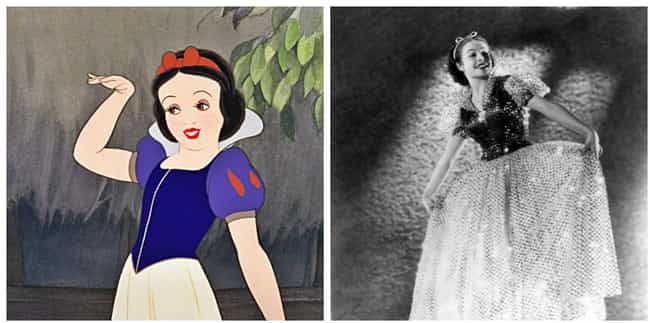 Marge Champion is a living legend of the silver screen. She's well known for starring in musicals like Show Boat, but her breakout role, in a sense, was as the inspiration for Walt Disney's Snow White, which began production when she was just 14.
As Champion remembered it, the producers selected her because she knew how to both dance and act elegant: "My father was British and he had trained me to curtsy and do things that were like Snow White would be doing."
When working with the animators, she said, "There was no choreography: I was making it up as we went along and showing them how to dance."
Champion went on to inspire other Disney characters like the Blue Fairy in Pinocchio and the whimsically dancing hippos in Fantasia.
see more on Snow White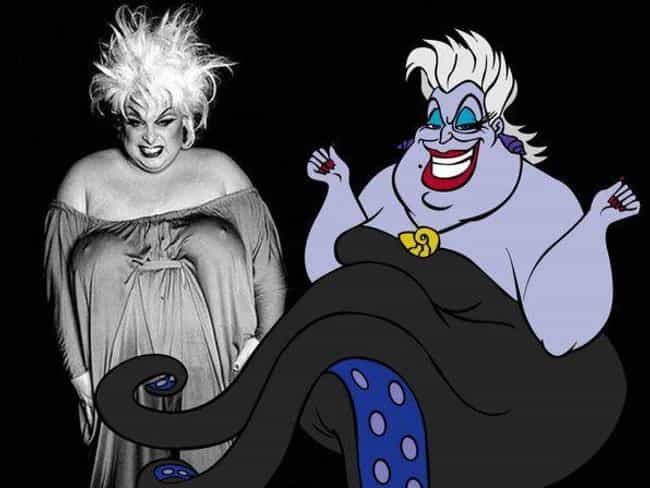 Though John Waters muse and drag icon Divine (AKA Glenn Milstead) is known for being fabulously bizarre, he's less known for inspiring Ursula, The Little Mermaid's flamboyantly sinister sea witch. But, according to Nicole Pasulka and Brian Ferree at Hazlitt, animator Rob Minkoff based the character directly on Divine. Milstead died before the film was completed and never knew he inspired one of the most famous Disney villains.
see more on Ursula
The Vultures In 'The Jungle Book': Based On The Beatles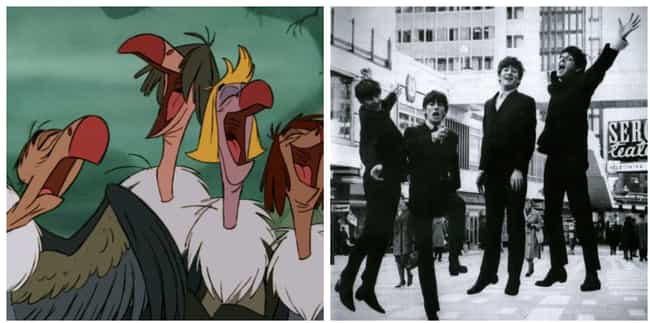 If you've always thought the vultures from Disney's The Jungle Book were reminiscent of the Beatles, you're dead on the money... or carrion. The animated foursome, with their mop-top haircuts, were indeed directly inspired by John, Paul, George, and Ringo.
Originally, they were supposed to supply the birds' voices, too - until John Lennon vetoed the idea.