Food
You Can Totally Make Your Favorite Tasty-Looking Cartoon Foods IRL

Updated January 3, 2018
990 votes
234 voters
9.8k views
13 items
List Rules Vote up the yummiest looking cartoon food brought to life.
Ever wondered what it's like to sink your teeth into a sizzling Krabby Patty from SpongeBob SquarePants? Wish you could try one of Chef's infamous Chocolate Salty Balls, as immortalized on South Park? Wonder no more. Some brave culinary masters have created real-life cartoon food, taking the most delicious animated dishes from cartoons and bringing them into three-dimensional reality.
These internet chefs aren't afraid to let their geeky fandom show. They certainly got the spark they needed to explore the real flavors behind the fictional food. Their cartoon foods brought to life are incredibly impressive, and these sweet cakes and pies and savory specialties are sure to make your mouth water.
From petite pastries to full-blown meals, cooks go all-out when it comes to recreating foods from these smash-hit animated movies and TV shows. Next time you hear your tummy rumbling while you're tuning into Stephen Universe or The Simpsons, cook up some recipes for cartoon food and get snacking.
Homer Simpson's Donut From The Simpsons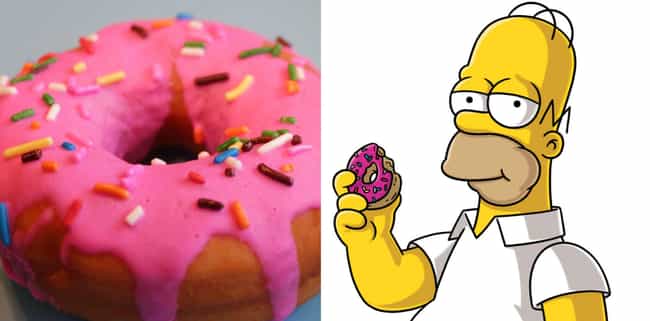 Any fan of The Simpsons knows that Homer goes absolutely nuts for donuts with a pretty pink glaze. Make some mouthwatering confections that Homer himself would be drooling over with this recipe from Let's Eat Fiction!
Ingredients:
6 1/2 cups all-purpose flour
1 1/2 teaspoons salt
1/2 teaspoon ground cinnamon
1/3 cup all-vegetable shortening
1 1/2 cups whole milk, warmed
1 teaspoon vanilla extract
1/3 cup warm water
2 (1/4 oz) packets instant yeast (4 1/2 teaspoons)
1 teaspoon sugar
2 whole eggs
1/4 cup sugar
Flour for dusting
Vegetable oil for frying
Parchment paper
1 (15-16 oz) tub of ready-made frosting in hot pink
Rainbow sprinkles
Instructions:
Donuts:
Whisk the flour, salt, and cinnamon together in a large bowl.
Put the shortening in a second bowl. Heat the milk in a microwave or on the stovetop, then pour over the shortening and whisk until the shortening is melted.
Pour warm water (110 F) into a third bowl, and sprinkle both packets of yeast on top. Add the sugar, and let it sit for 5 minutes. Then, pour in the milk and shortening mixture. Add the eggs and the rest of the sugar, and mix on low with an electric mixer. Mix in half of the flour mixture, then add in the rest of the flour mixture and mix on low for 1 minute. Move the speed up to medium and mix for 3-4 more minutes. Cover the finished dough with a plate and let it rise for an hour.
Cut some parchment paper into 4-inch squares.
After the dough has doubled in size, dump it out onto a flour-covered surface. Knead it for two minutes until it is no longer sticky. Cut it in half, and roll out the dough to 1/2 inch thickness. Cut out circles using a 3-inch cookie or biscuit cutter, and add center holes with a 1-inch cutter. Put the cut doughnuts onto the parchment paper squares.
Add about 2 inches of oil in a large pot, and heat to 365 F. Heat the donuts in the oil until golden brown, making sure to flip them. Once they're fried, let them drain on a paper towel-covered plate, and cool them on a rack for 10-15 minutes.
Frosting:
Remove the lid and seal from the tub of icing, and heat in the microwave until it's liquid. Spoon the frosting over the donuts and top with rainbow sprinkles. Let them set for about 15 minutes, and enjoy.
Does this look delicious?
Cookie Cat Ice Cream Sandwiches From Steven Universe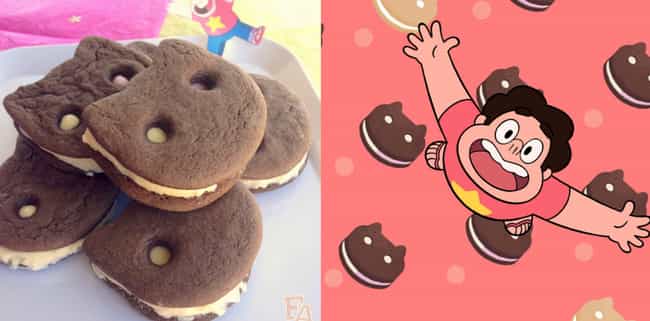 Steven's favorite ice-cream cat sandwich is marketed as being "super-duper yummy," but what does it really taste like? Food-Fiction Cafe has an idea, and it's delicious. It doesn't require any special tools other than a cat-shaped cookie cutter.
Ingredients:
Vanilla ice cream
Strawberry ice cream
1/2 of a 15.25 oz. box of chocolate cake mix (about 1 1/2 cups cake mix)
1 egg
1/4 cup shortening or room-temperature butter
1/4 cup all-purpose flour
1 1/2 teaspoon water
Instructions:
Let the ice cream sit out to soften (but not melt), and cover a tray with sides with parchment paper.
On the tray, spread a 1/2 inch thick strip of vanilla ice cream (it should be half as wide as your cookie cutter). Spread an identical strip of vanilla ice cream right next to it. Repeat until the tray is full. Cover the tray in plastic and freeze it overnight.
Blend the rest of the ingredients in a bowl until just combined. Wrap the finished dough in plastic and chill in the freezer for 15 minutes. While you're waiting, preheat the oven to 375 F and dust a piece of parchment paper with flour.
After the dough is chilled, roll it to 1/8 inch thickness on the floured paper using a floured rolling pin. Use the cookie cutter to stamp out an even number of shapes. Cut out eyes in half of the shapes. Place the shapes and the parchment paper onto a tray and bake for 5-6 minutes. Let the cookies cool completely on a wire rack. When the cookies are cool, flip the cookies without eyes.
Pull out your tray of ice cream. Then, starting at the bottom of the tray, press the cookie cutter into the ice cream. Use a knife to transfer the cut-out ice cream to one of the upside-down cat cookies. Gently press it down on the cat cookie, then top with one of the cookies with the eyes cut out.
After you've finished, wrap each cat cookie in plastic wrap and let them harden in the freezer overnight.
Does this look delicious?
Bacon Pancakes From Adventure Time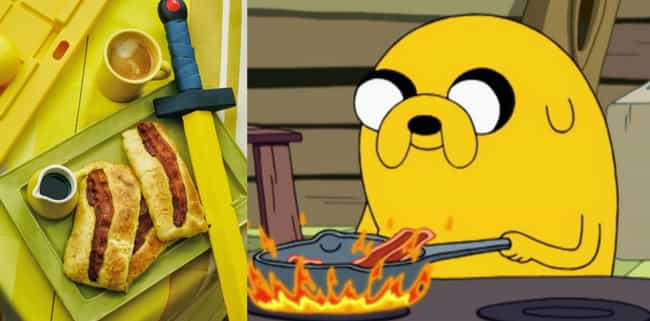 It's just as easy (and delicious!) as Jake the Dog says: you make some bacon and you put it in a pancake! This is simple and mouth-watering breakfast from The Geeky Chef is perfect for any venturing hero.
Ingredients:
10 strips of bacon, fried until crispy
1 cup flour
2 tablespoons sugar
1 teaspoon baking powder
Pinch of baking soda
2 tablespoons of melted butter, plus extra for frying
¾ cup buttermilk
1 egg
Pinch of salt
Maple syrup for serving
Instructions:
Stir together the flour, sugar, baking powder, and baking soda in a mixing bowl. In a separate bowl, whisk the melted butter and buttermilk together, then add the egg. Combine the flour mixture with the buttermilk mixture and whisk until they're combined and free of lumps.
Melt some additional butter on a large skillet, and add bacon strips with space between each. Pour the batter down each bacon strip until it is covered. Make sure to leave space between each cake!
Cook until the batter bubbles, then flip. Serve the pancakes drizzled with maple syrup.
Does this look delicious?
Krabby Patty From SpongeBob SquarePants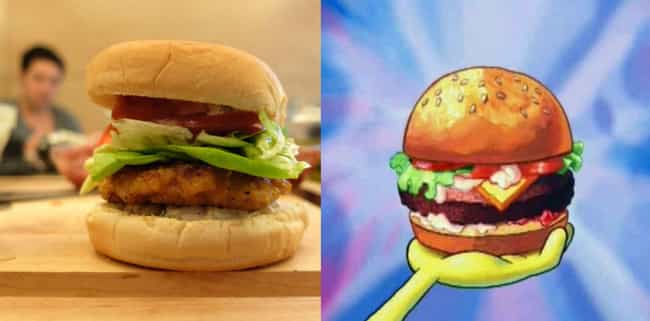 The Krabby Patty is the food of choice in SpongeBob SquarePants. While its secret ingredient remains an elusive mystery in the show, this recipe from Instructables ensures you can make your own Krabby Patty at home.
Instructions:
1 1/2 pounds of peeled, deveined shrimp
1 egg
10-12 regular-sized or smaller hamburger buns
Lemon zest to taste
Old Bay seasoning
1 tablespoon of your favorite hot sauce
1 teaspoon celery seed
1 teaspoon garlic powder
1 teaspoon paprika
1 teaspoon salt
1 teaspoon black pepper
1 teaspoon cayenne pepper
Vegetable oil and/or butter for frying
Butter lettuce
Thinly sliced tomato
Pickled onions
Tartar sauce
Cocktail sauce
Instructions:
Place 3-4 hamburger buns in a food processor. Add the dried spices and blend into a breadcrumb mixture. Pour it out into a large bowl.
Pulse the shrimp in the food processor until they're broken into small pieces. Add the shrimp to the bowl with the breadcrumbs, pour in the lemon zest and hot sauce, crack in an egg, and mix it all together.
Form golf ball-sized amounts of the mixture into patties, and lay them out on parchment paper or wax paper on a sheet pan. This should make 8 patties. Once they're all formed, put them in the refrigerator for 30 minutes or the freezer for 15 minutes.
Heat some vegetable oil in a non-stick pan. Cook the chilled patties in the oil, flipping after about 3-4 minutes. Dress the finished patties with the toppings of your choice.
Does this look delicious?