Food
You Can Totally Make Your Favorite Tasty-Looking Cartoon Foods IRL

Updated January 3, 2018
1k votes
238 voters
10.2k views
13 items
List Rules Vote up the yummiest looking cartoon food brought to life.
Ever wondered what it's like to sink your teeth into a sizzling Krabby Patty from SpongeBob SquarePants? Wish you could try one of Chef's infamous Chocolate Salty Balls, as immortalized on South Park? Wonder no more. Some brave culinary masters have created real-life cartoon food, taking the most delicious animated dishes from cartoons and bringing them into three-dimensional reality.
These internet chefs aren't afraid to let their geeky fandom show. They certainly got the spark they needed to explore the real flavors behind the fictional food. Their cartoon foods brought to life are incredibly impressive, and these sweet cakes and pies and savory specialties are sure to make your mouth water.
From petite pastries to full-blown meals, cooks go all-out when it comes to recreating foods from these smash-hit animated movies and TV shows. Next time you hear your tummy rumbling while you're tuning into Stephen Universe or The Simpsons, cook up some recipes for cartoon food and get snacking.
back to page 1
Katsudon Pirozhki From Yuri!!! On Ice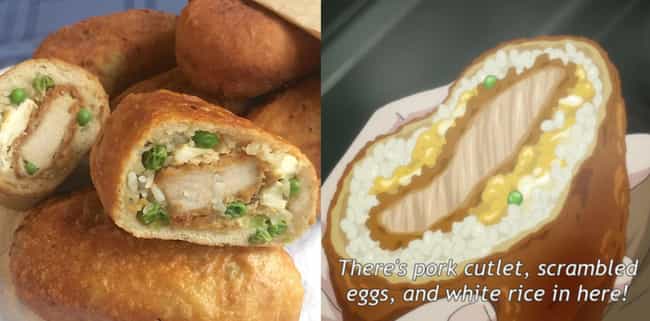 A hybrid of Japanese and Russian meals, katsudon pirozhki is not only a symbol of two skaters' friendship, it's a tasty comfort food. Fiction-Food Cafe has a great recipe to replicate it yourself.
Ingredients:
Piroshki Dough:
1/2 tablespoon active dry yeast
1/2 cup water
1/4 cup plus two tablespoons milk
1 tablespoon oil
2 teaspoons sugar plus a pinch extra to sprinkle in yeast
2 teaspoons salt
2 1/4 cups flour
Oil for frying
Tonkatsu:
1 pound pork cutlets (about four) with fat trimmed
Salt and pepper to taste
1/3 cup flour
1 egg, beaten
1/2 cup panko bread crumbs
Oil for frying
Katsudon:
1 cup water
1 teaspoon dashi powder
4 tablespoons aji mirin
2 tablespoons soy sauce
2 tablespoons sugar
1 large onion, julienned
8 eggs
2 cups cooked white rice
Frozen peas
Instructions:
Piroshki Dough:
Put the yeast in a large bowl. Mix the water and milk and heat for a few seconds in the microwave, then pour this warm mixture over the yeast. Stir in some sugar, and let the mix sit for about 15 minutes until foamy. Add the oil, 2 tablespoons of sugar, salt, and flour, and mix on low in a stand mixer fitted with a dough hook until the dough comes together.
Flour your hands and pull the dough into a rough ball in the center of the bowl. Cover with plastic wrap and let it rise for about an hour. Scrape the dough down again, and mix it again with the mixer on low for another minute. Cover it again and let it rise for a second hour (this is the perfect time to make the filling!).
Tonkatsu:
Bring about an inch of canola oil to 350 F in a heavy pan. Rinse the pork and pat it dry, then score each piece with a knife and season with salt and pepper. Cut each cutlet in half lengthwise. Place the flour, egg, and panko crumbs in small bowls, and dredge each piece of pork in flour, egg, and panko to coat.
Fry the coated pork in the oil until the pieces are golden brown and crispy on both sides (this should take about 4 to 5 minutes). After the pork is cooked, let it sit on a wire rack covered with paper towels.
Katsudon:
Combine 1/4 cup of dashi stock, 1 tablespoon of mirin, 1/2 tablespoon of soy sauce, and 1/2 tablespoon of sugar with a quarter of the cut onions in a small pan. Bring the mixture to a boil and stir the onions until they are tender.
Cut each piece of pork into horizontal strips (make sure each piece is still connected). Put the pork into the pan and break an egg over each piece, then cover with a lid until the eggs are cooked. Remove the pork to a large place. Repeat as necessary until every piece of pork has been cooked with egg and onion.
Making Piroshki:
Heat an inch-and-a-half of canola oil to 350 F in a heavy pan, and flour your hands and a flat surface. Grab a palm-sized portion of your proved dough, flatten it on the surface, and roll it out to approximately 4 1/2 inches by 6 inches.
Sprinkle a tablespoon's worth of cooked rice down the center of the dough, top with frozen peas, and then add an egg-and-onion covered piece of pork. Top with another tablespoon of rice and more peas. Enclose this with the dough, and shape it into an oblong form (kind of like a potato). Repeat until all of the pork is encased in dough.
Put each piroshki into the hot oil and cook until it is a deep golden brown color (make sure the oil stays at 350 F). Let them cool a bit on a wire rack lined with paper towels before eating.
Does this look delicious?
ChimiCherryChanga From My Little Pony: Friendship Is Magic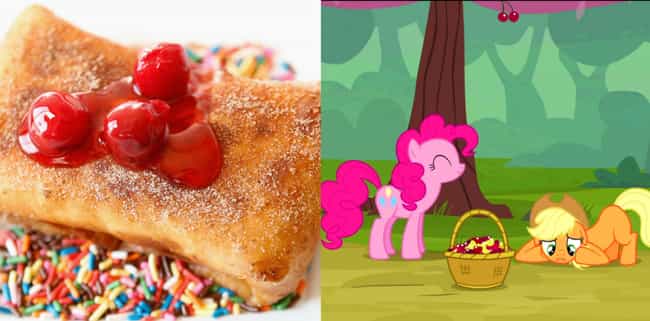 In My Little Pony: Friendship is Magic, Pinkie Pie won't stop obsessing over the idea of making a chimichanga packed with cherries. Luckily, the genius at The Geeky Chef whipped one up for her.
Ingredients:
5 extra-large soft flour tortillas
8 oz. cream cheese
1/2 cup ricotta cheese
1/2 cup sour cream
2 teaspoons lemon zest
1 teaspoon vanilla extract
1/2 cup sugar
21 oz. canned cherry filling
Canola or vegetable oil for frying
Cinnamon sugar for coating
Instructions:
In the bowl of a stand mixer, combine the cream cheese, ricotta, sour cream, vanilla extract, and lemon zest.
Fill a deep fryer or pot with oil and heat it to 340 F.
Spoon the cheese mixture into the center of the tortillas. Then, layer some cherry filling on top of the cheese, and fold the tortillas up.
Carefully fry each tortilla in the oil for about two minutes, or until golden brown. Sprinkle with cinnamon sugar and enjoy.
Does this look delicious?
Chocolate Salty Balls From South Park
Chef's Chocolate Salty Balls might sound suspect, but thanks to The Geeky Chef, in real life they're an awesome treat.
Ingredients:
2/3 cup salted butter
1 1/2 cups sugar
1/4 cup brandy
4 cups semisweet chocolate chips
2 teaspoons vanilla extract
4 eggs
2 tablespoons cinnamon
1 1/2 cups all-purpose flour
1/2 teaspoon baking soda
1/2 teaspoon table salt
Coarse sea salt, to taste
Instructions:
Preheat the oven to 325 degrees. Stir the butter, sugar, and brandy in a saucepan until they come to a boil. Remove the saucepan from the heat, and stir in two cups of chocolate chips until melted. Let the mixture cool a bit, then add the vanilla.
Beat the eggs in a separate large bowl, then add the chocolate and mix it all together.
Mix the flour, baking soda, cinnamon, and salt together, and mix it into the chocolate mixture. Add the remaining chocolate chips, and spread the mix into a greased baking pan. Bake the mixture for 35-45 minutes.
Let the baked mixture cool, and sprinkle a cutting board with sea salt. Then, scrape up the mixture and shape it into one-inch balls. Roll the balls lightly in the salt, and enjoy!
Does this look delicious?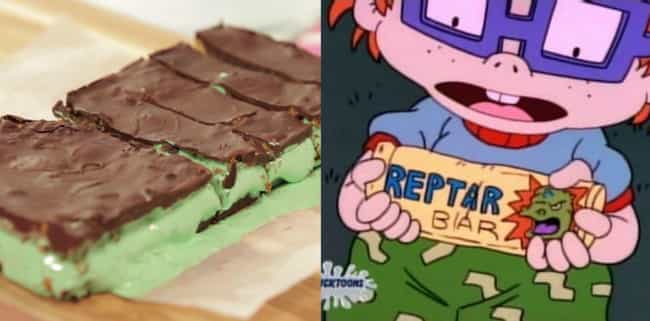 Reptar Bars are the perfect chocolate snack, fit to satisfy the sweet tooth of even the most ravenous of reptiles. Try this recipe from Genius Kitchen – once you take a bite, you'll realize why Tommy and his friends were always trying to snag some.
Ingredients:
24 oz. semi-sweet chocolate chips
1⁄2 cup marshmallow cream
1⁄2 cup caramel candy
2-3 tablespoons heavy cream
4 drops green food coloring
1⁄4 cup graham cracker crumbs
Chocolate bar mold
Instructions:
Melt the chocolate until smooth, either in a double boiler or in a heatproof bowl on top of a pot of simmering water. Add the chocolate to the mold, but reserve half for the last layer of the bar. Set the mold in the freezer.
Heat the heavy cream and caramel candies in a microwave in one-minute intervals until the caramels are melted. Then, heat the marshmallow fluff for 15 seconds, and add green food coloring until the fluff is as green as you wish.
Take the mold out of the freezer and top the chocolate with the green fluff. Layer on graham cracker crumbs and caramel, and place the mold back in the freezer. After the layers set, add the final coating of chocolate. Freeze the finished bars for 15-30 minutes, or until they're firm.
Does this look delicious?