Total Nerd You Can Totally Make Your Favorite Tasty-Looking Cartoon Foods IRL

307 votes
90 voters
1.6k views
13 items
Follow
Embed
List Rules Vote up the yummiest looking cartoon food brought to life.
Ever wondered what it's like to sink your teeth into a sizzling Krabby Patty from SpongeBob SquarePants? Wish you could try one of Chef's infamous Chocolate Salty Balls, as immortalized on South Park? Wonder no more. Some brave culinary masters have created real-life cartoon food, taking the most delicious animated dishes from cartoons and bringing them into three-dimensional reality.
These internet chefs aren't afraid to let their geeky fandom show. They certainly got the spark they needed to explore the real flavors behind the fictional food. Their cartoon foods brought to life are incredibly impressive, and these sweet cakes and pies and savory specialties are sure to make your mouth water.
From petite pastries to full-blown meals, cooks go all-out when it comes to recreating foods from these smash-hit animated movies and TV shows. Next time you hear your tummy rumbling while you're tuning into Stephen Universe or The Simpsons, cook up some recipes for cartoon food and get snacking.
Homer Simpson's Donut From The Simpsons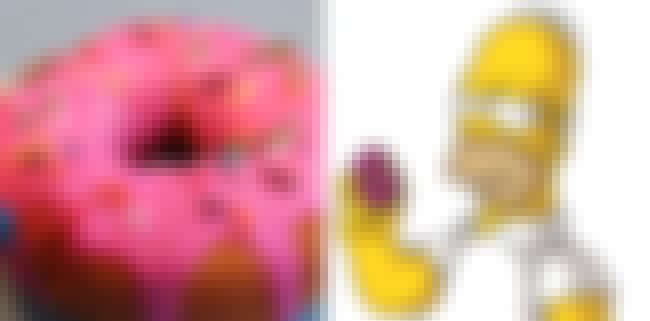 Any fan of The Simpsons knows that Homer goes absolutely nuts for donuts with a pretty pink glaze. Make some mouthwatering confections that Homer himself would be drooling over with this recipe from Let's Eat Fiction!
Ingredients:
6 1/2 cups all-purpose flour
1 1/2 teaspoons salt
1/2 teaspoon ground cinnamon
1/3 cup all-vegetable shortening
1 1/2 cups whole milk, warmed
1 teaspoon vanilla extract
1/3 cup warm water
2 (1/4 oz) packets instant yeast (4 1/2 teaspoons)
1 teaspoon sugar
2 whole eggs
1/4 cup sugar
Flour for dusting
Vegetable oil for frying
Parchment paper
1 (15-16 oz) tub of ready-made frosting in hot pink
Rainbow sprinkles
Instructions:
Donuts:
Whisk the flour, salt, and cinnamon together in a large bowl.
Put the shortening in a second bowl. Heat the milk in a microwave or on the stovetop, then pour over the shortening and whisk until the shortening is melted.
Pour warm water (110 F) into a third bowl, and sprinkle both packets of yeast on top. Add the sugar, and let it sit for 5 minutes. Then, pour in the milk and shortening mixture. Add the eggs and the rest of the sugar, and mix on low with an electric mixer. Mix in half of the flour mixture, then add in the rest of the flour mixture and mix on low for 1 minute. Move the speed up to medium and mix for 3-4 more minutes. Cover the finished dough with a plate and let it rise for an hour.
Cut some parchment paper into 4-inch squares.
After the dough has doubled in size, dump it out onto a flour-covered surface. Knead it for two minutes until it is no longer sticky. Cut it in half, and roll out the dough to 1/2 inch thickness. Cut out circles using a 3-inch cookie or biscuit cutter, and add center holes with a 1-inch cutter. Put the cut doughnuts onto the parchment paper squares.
Add about 2 inches of oil in a large pot, and heat to 365 F. Heat the donuts in the oil until golden brown, making sure to flip them. Once they're fried, let them drain on a paper towel-covered plate, and cool them on a rack for 10-15 minutes.
Frosting:
Remove the lid and seal from the tub of icing, and heat in the microwave until it's liquid. Spoon the frosting over the donuts and top with rainbow sprinkles. Let them set for about 15 minutes, and enjoy.

Does this look delicious?
Bacon Pancakes From Adventure Time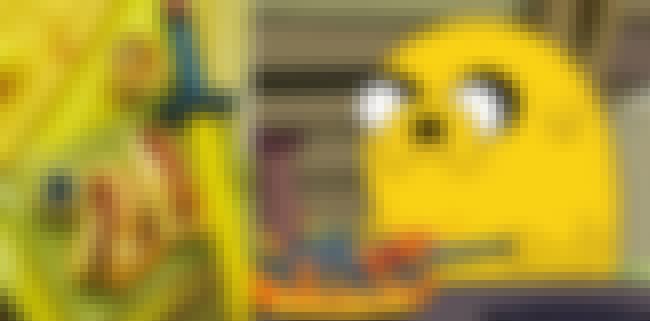 It's just as easy (and delicious!) as Jake the Dog says: you make some bacon and you put it in a pancake! This is simple and mouth-watering breakfast from The Geeky Chef is perfect for any venturing hero.
Ingredients:
10 strips of bacon, fried until crispy
1 cup flour
2 tablespoons sugar
1 teaspoon baking powder
Pinch of baking soda
2 tablespoons of melted butter, plus extra for frying
¾ cup buttermilk
1 egg
Pinch of salt
Maple syrup for serving
Instructions:
Stir together the flour, sugar, baking powder, and baking soda in a mixing bowl. In a separate bowl, whisk the melted butter and buttermilk together, then add the egg. Combine the flour mixture with the buttermilk mixture and whisk until they're combined and free of lumps.
Melt some additional butter on a large skillet, and add bacon strips with space between each. Pour the batter down each bacon strip until it is covered. Make sure to leave space between each cake!
Cook until the batter bubbles, then flip. Serve the pancakes drizzled with maple syrup.

Does this look delicious?
Poutine On The Ritz From Bob's Burgers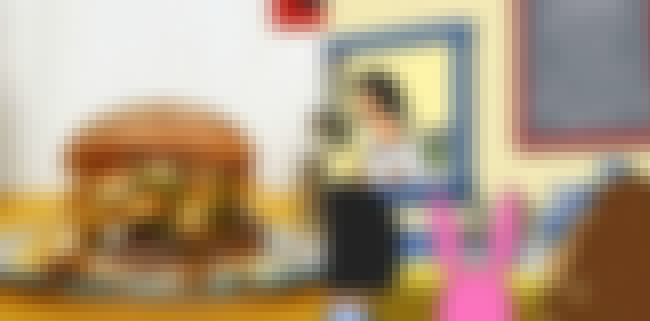 Bob's Burgers is filled with appetizing treats, but if you've got a craving for something sopped with gravy, this one's for you. Bon Appetit's recipe for Bob's Poutine on the Ritz burger is downright indulgent.
Ingredients:
1 ounce dried porcini mushrooms
3 tablespoons unsalted butter
3 tablespoons all-purpose flour
1 tablespoon olive oil
½ medium onion, sliced
½ medium shallot, sliced
½ medium leek, white and pale-green parts only, sliced
1 garlic clove, smashed
2 teaspoons tomato paste
2 cups veal demi-glace or homemade veal stock
2 teaspoons black peppercorns
1 teaspoon apple cider vinegar
1 teaspoon green peppercorns
1 teaspoon Worchestershire sauce
2 sprigs parsley
2 sprigs thyme
1 bay leaf
1 pound frozen, wide-cut steak fries, fried as directed
Unsalted butter, room temperature (for buns)
4 sesame seed buns, split
Vegetable oil for pan
1½ pounds ground beef chuck (20% fat)
Kosher salt, freshly ground pepper
Mayonnaise, dill pickle slices, cheddar cheese curds or halloumi, and chopped chives for serving
Instructions:
Cover the mushrooms with boiling water in a small bowl, and let them sit until they're tender. Strain the mushrooms and save the soaking liquid.
Melt the butter over medium-high heat. Add the flour and cook until the mixture is deep golden brown and smells nutty (about 2-4 minutes). Set this mixture aside.
Heat the oil in a medium saucepan over medium-high heat. Add the onions, shallots, leeks, and garlic and stir until they're caramelized (about 10-12 minutes). Add the tomato paste and cook for another minute or two. Add the mushrooms and their soaking liquid, demi-glace, black and green peppercorns, vinegar, Worchestershire, parsley, thyme, and bay leaf. Bring the mixture to a boil, then reduce the heat and simmer for about 30 minutes. Strain this stock into a large bowl and toss the solids.
Put the stock back in a suacepan and bring to a boil. Whisk in the flour mixture (roux) from earlier and stir until the gravy is thick and smooth (about 2-3 minutes). Butter and toast the buns in a large griddle or cast-iron skillet.
Heat the griddle or skillet until very hot and lightly brush it with oil. Divide the beef into 4 equal portions (not patties), and transfer each to the griddle. Smash them to form imperfect patties. Season with salt and pepper and cook until they're browned around the edges (about 2 minutes). Turn and repeat on the other side.
Transfer each patty to a bun, and garnish as desired with toppings and the gravy. Just don't forget the fries!

Does this look delicious?
Katsudon Pirozhki From Yuri!!! On Ice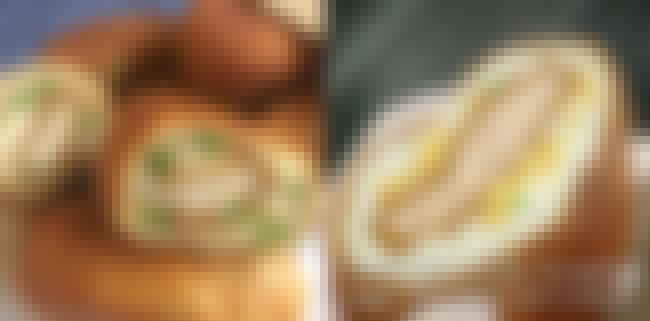 A hybrid of Japanese and Russian meals, katsudon pirozhki is not only a symbol of two skaters' friendship, it's a tasty comfort food. Fiction-Food Cafe has a great recipe to replicate it yourself.
Ingredients:
Piroshki Dough:
1/2 tablespoon active dry yeast
1/2 cup water
1/4 cup plus two tablespoons milk
1 tablespoon oil
2 teaspoons sugar plus a pinch extra to sprinkle in yeast
2 teaspoons salt
2 1/4 cups flour
Oil for frying
Tonkatsu:
1 pound pork cutlets (about four) with fat trimmed
Salt and pepper to taste
1/3 cup flour
1 egg, beaten
1/2 cup panko bread crumbs
Oil for frying
Katsudon:
1 cup water
1 teaspoon dashi powder
4 tablespoons aji mirin
2 tablespoons soy sauce
2 tablespoons sugar
1 large onion, julienned
8 eggs
2 cups cooked white rice
Frozen peas
Instructions:
Piroshki Dough:
Put the yeast in a large bowl. Mix the water and milk and heat for a few seconds in the microwave, then pour this warm mixture over the yeast. Stir in some sugar, and let the mix sit for about 15 minutes until foamy. Add the oil, 2 tablespoons of sugar, salt, and flour, and mix on low in a stand mixer fitted with a dough hook until the dough comes together.
Flour your hands and pull the dough into a rough ball in the center of the bowl. Cover with plastic wrap and let it rise for about an hour. Scrape the dough down again, and mix it again with the mixer on low for another minute. Cover it again and let it rise for a second hour (this is the perfect time to make the filling!).
Tonkatsu:
Bring about an inch of canola oil to 350 F in a heavy pan. Rinse the pork and pat it dry, then score each piece with a knife and season with salt and pepper. Cut each cutlet in half lengthwise. Place the flour, egg, and panko crumbs in small bowls, and dredge each piece of pork in flour, egg, and panko to coat.
Fry the coated pork in the oil until the pieces are golden brown and crispy on both sides (this should take about 4 to 5 minutes). After the pork is cooked, let it sit on a wire rack covered with paper towels.
Katsudon:
Combine 1/4 cup of dashi stock, 1 tablespoon of mirin, 1/2 tablespoon of soy sauce, and 1/2 tablespoon of sugar with a quarter of the cut onions in a small pan. Bring the mixture to a boil and stir the onions until they are tender.
Cut each piece of pork into horizontal strips (make sure each piece is still connected). Put the pork into the pan and break an egg over each piece, then cover with a lid until the eggs are cooked. Remove the pork to a large place. Repeat as necessary until every piece of pork has been cooked with egg and onion.
Making Piroshki:
Heat an inch-and-a-half of canola oil to 350 F in a heavy pan, and flour your hands and a flat surface. Grab a palm-sized portion of your proved dough, flatten it on the surface, and roll it out to approximately 4 1/2 inches by 6 inches.
Sprinkle a tablespoon's worth of cooked rice down the center of the dough, top with frozen peas, and then add an egg-and-onion covered piece of pork. Top with another tablespoon of rice and more peas. Enclose this with the dough, and shape it into an oblong form (kind of like a potato). Repeat until all of the pork is encased in dough.
Put each piroshki into the hot oil and cook until it is a deep golden brown color (make sure the oil stays at 350 F). Let them cool a bit on a wire rack lined with paper towels before eating.

Does this look delicious?